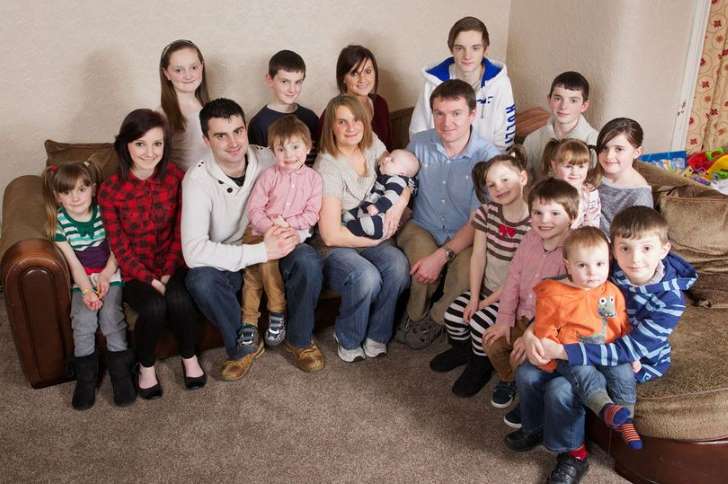 Britain's Largest Family Add Baby Number 20 to The Clan
The family behind the reality show, "19 Kids and Counting" have welcomed baby number 20 to the clan.
The Radfords have been classed as Britain's largest family, and their recent addition born, last Monday, has been vowed to be the last baby added to the family.
The 42-year-old mum, Sue Radford, gave birth to Archie on Monday after a one hour labour. She and her husband, Noel, 46, have been procreating for nearly 30 years. That's a lot of sleep deprivation right there.
But the couple love their big family and are happy to have it completed on an even number.
The Sun reported the mum saying, "We're happy to be finishing on a nice even number.
"I'm just chuffed he is here safe and sound.
"It's strange knowing you're not going to have any more.
"Our daughter Chloe said: 'I believe you now.' I don't think she has before, but because I've said (this is the last) a few times now she does."
Sue and Noel are parents to Chris, 28, Sophie, 23, Chloe, 21, Jack, 20, Daniel, 18, Luke, 16, Millie, 15, Katie, 14, James, 13, Ellie, 12, Aimee, 11, Josh, nine, Max, eight, Tilly, seven, Oscar, five, Casper, four and toddler Hallie.
The couple from Heysham, Lancashire, were childhood sweethearts and originally wanted three children, but they loved the experience, they continued to add more to their family.
Sue fell pregnant at 14 with her first child Chris and the new additions have multiplied to make a family comprising of 22 members. Sue and Noel are also grandparents, with three grandchildren.
The Radfords admit their household is generally stress-free. But it takes a lot of organization.
Noel shared on their TV show, "Bathing the little ones is like having a sheep dip.
"We go through gallons of shampoo."
The couple do not claim any extra benefits, apart from regular child benefit most parents are entitled to.
The couple use their own earnings to raise their family.
At Christmas, which is usually an expensive time of year for most families, the couple purchase 3 turkeys, 3.5 kilos of potatoes, 56 Yorkshire puddings and a huge supply of vegetables to keep everyone full on Christmas Day. They also budget £100 to £250 per child for Christmas gifts.
While this family situation isn't everyone's ideal, I'm sure we could learn a few things from these parents in efficiency and budgeting.
We send our Congratulations to the family on the birth of Archie. What an amazing family!