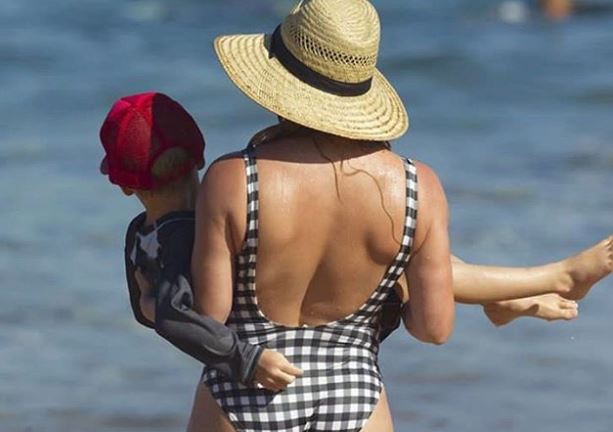 Hilary Duff Shares Her 'Flawed' Behind in a Swimsuit And Tells Body Shamers to #KissMyAss
I love Hilary Duff.
If you don't follow her Instagram page, do yourself a favour and make sure it's in your scroll feed.
This mum tells it like it is and doesn't use her celebrity status to gloss over the realities of motherhood.
The young actress is being applauded for her recent post on Instagram where she shared an empowering message for young girls and women around the world, with a pointed message to body shamers.
The actress shared a photo of herself in a swimsuit, from behind on Instagram, describing the realities of post-partum bodies – more specifically her own.
The young mum was on a beach vacation with her 5-year-old son Luca when the photo was captured.
Duff was happy to share her 'celeb flaws', while acknowledging how incredible her body is to have given life to her son Luca, 5 years ago.
"I'm turning 30 in September and my body is healthy and gets me where I need to go. Ladies, lets be proud of what we've got and stop wasting precious time in the day wishing we were different, better, and unflawed. You guys (you know who you are!) already know how to ruin a good time, and now you are body shamers as well."
She then finished her post with the best hashtag of all #kissmyass.
The actress has never been afraid to share how life really is. Earlier this year, she said in an interview with Redbook, being a divorced mum sucks. No filters are used by this mum.
It's refreshing when celebrities share the realities of life in a way we can all relate to. Duff's most recent post is definitely one all Australian mums need to read with swim season around the corner.