No One Talk to Chelsea Peretti About Her Pregnancy… She Will Have a Funny Comeback
You can never tell what will rock someone's boat and tip it over the edge. But when you're talking to a pregnant woman, and a comedian at that, be prepared for some backchat.
Chelsea Peretti, who is pregnant with her first child, went on a Twitter rampage, by answering the common questions most pregnant women are asked when they're expecting.
The Twitter rant had comebacks to typical questions people ask pregnant women in public.
The Brooklyn Nine-Nine actress tweeted, "IF U C A PREG WOMAN OUT & ABOUT & FEEL INCLINED 2 SHOUT SOMETHING IN HER FACE ABOUT HOW SHE LOOKS – GET READY FOR A SHOUT BACK ON UR LOOKS."
"'UR BABY LOOKS READY TO DROP!' 'THANKS MISS, UR PANTS LOOK HEMMED AT A WEIRD LENGTH' Good talk," she tweeted.
"'WHEN ARE U DUE?' WHAT DIFFERENCE COULD IT POSSIBLY MAKE IN YOUR LIFE AS A STRANGER AT THE GROCERY STORE," she added.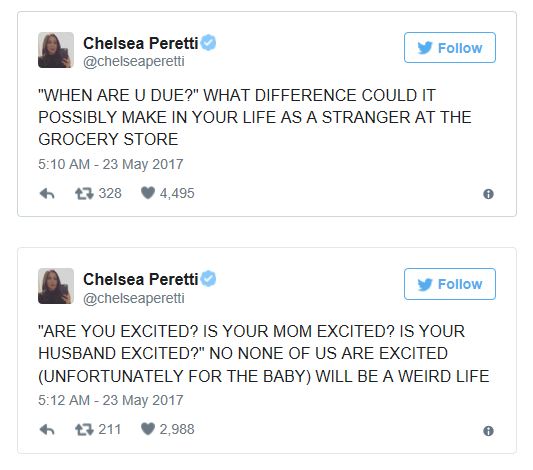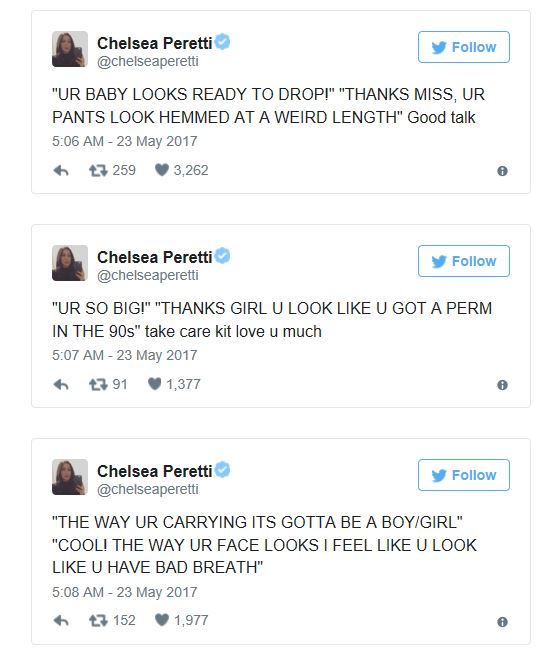 The constant stream of tweets were relatable, but one Twitter user responded "You gotta get that baby out, gurl. You getting salty."
Peretti responded back, "NO SHIT SHERLOCK! GLAD TO HAVE U ON THE CASE."
Someone sounds a bit over pregnancy…
Did you get annoyed or offended by strangers making comments about your pregnancy?