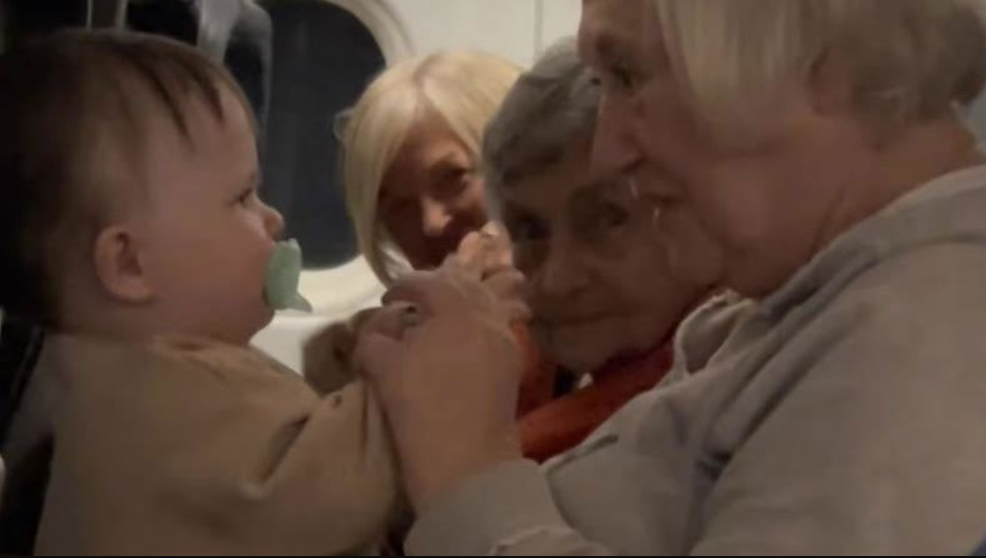 What's better than one nanna to cheer you up when you're feeling down? Three nannas!
A heartwarming clip has surfaced on TikTok of a trio of grandmothers playing with a baby girl after she became inconsolable during her first flight on an aeroplane.
Tired and overwhelmed, mum Isabella LaLonde explained that she was travelling alone with her baby daughter Grey when she began to cry about half an hour into the flight.
It wasn't long before one of the nannas reached out to take the little one and quickly soothed her tears with cuddles and songs.
"This was Gray's first plane ride. She started screaming 30 minutes into the flight. These women saw how overwhelmed I was and held out their arms to offer help," the text on the clip reads.
"Gray immediately stopped crying," she continued. "The lady holding her was a teacher for over 40 years. Thank you for your kindness. It meant the world to me."
The touching clip has amassed a lot of attention on social media and commenters couldn't love it more.
"Angels!!!! Or Fairy Godmothers. Flora, Fauna and Merryweather," wrote one, referring to the three good fairies in Disney's Sleeping Beauty movie.
"I can't stop crying," penned another. "As a mum of a three-year-old and a six-month-old, I can get pretty overwhelmed at times. We need more of these women in our lives."
Yes, everyone needs more nannas!
"This is how it should be. This is how our village should work. Giving of love, patience, and knowledge," wrote a third.
It didn't go unnoticed how much the women were also enjoying playing with little Grey.
"All three of them are smiling ear to ear," wrote one. "I can't tell who's having more fun," said another.
"Trust me; those beautiful women were in heaven with that beautiful baby," was another comment.
"They needed that as much as you and your precious baby did!"
Source: TikTok/Isabella LaLonde