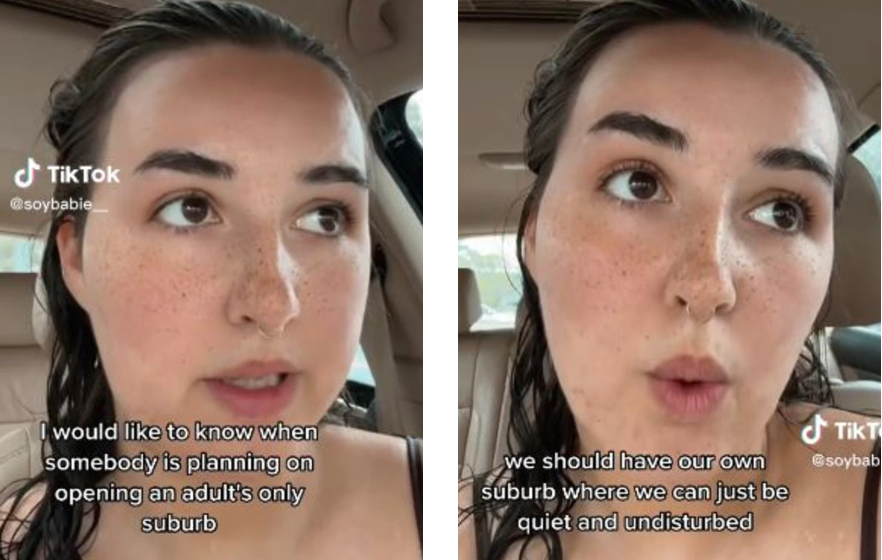 A young childfree Melbourne woman has posted a rant on TikTok blasting all the screaming kids at her local pool and calling for adults-only suburbs where she can live in peace.
A retirement village. This woman is thinking of a senior lifestyle community. But for younger adults who don't have, or, more specifically, don't like children.
I mean, that does sound all kinds of awesome. And I happen to have four children myself.
"I would like to know when somebody is planning on opening an adult's only suburb, where everything in it is only for adults," the TikTok user who goes by the name Baby Soja says in her clip.
"Because I am so sick of going places and kids are just everywhere screaming and I just have to put up with it."
Explaining that she had just gone for a swim at her local pool, she complained that despite there being a separate pool for children there were kids "jumping and screaming" in the larger lap lane pool.
"And that is just allowed because they are allowed everywhere," she said stroppily.
"I just feel like for people like me that are evil and hate kids we should have our own suburb where we can just be quiet and undisturbed."
As much as we understand where she's coming from, kids screaming at the local pool is kind of a given, isn't it? Unless, of course, you turn up early in the morning for a few quiet laps before the families arrive.
Before long, lots of different viewpoints were raised in the comments.
"You used to be a kid mate.. ya know," the top commenter wrote. "So get over getting older."
"As a parent of two small children, I completely understand what you're saying and respect that childfree people need space too," wrote another.
"I think there should definitely be more kid free places, and I'm sure as less people have kids we'll start to see them pop up," penned a third.
What are your thoughts? Sound off in the comments!