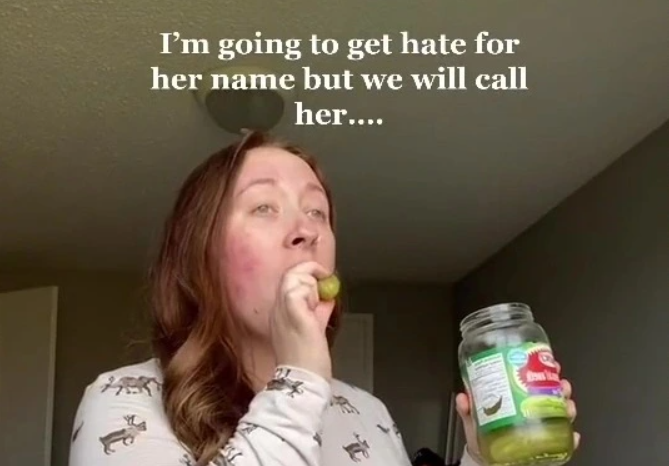 It can be a struggle to decide on a baby name — do you opt for a traditional name or go with something a little more unique? Take your cues from pop culture or go for something nature-themed? Name your infant after a family member or come up with a new tradition?
A mum has taken baby name inspiration from her favourite pregnancy snack and, well, it seems to have backfired somewhat.
Chantel Schnider took to TikTok to explain her unique choice of baby name. Her video begins with a clip of herself heavily pregnant and chowing down on a big old jar of pickles. Not unusual for a pregnancy snack, granted.
What is unusual, however, is the name Chantel ended up deciding upon for her human child.
Pickle.
I'm going to level with you guys. Pickle is one of my most favourite nicknames for little children. The looks of surprise back at their parents and "she called me PICKLE!!" just tickles me in a way that I can't explain. Same with Chicken, Peanut and Pumpkin. Don't ask me why they are all foodstuffs, can't explain it.
But to actually name your child Pickle? That's a bit out there.
Chantel actually confirmed that Pickle is, in fact, her child's real, registered name.
Her video has racked up over 11 million views since she uploaded it earlier this year, with more than 32,000 comments expressing their opinions on her name choice.
One person said: "Don't be surprised when she comes back from school crying."
Another added: "And she will impatiently wait to grow up so she can change it."
A third commented: "Why did you do this."
Another user stated: "Pickle is cute for a pet… BUT A CHILD!"
There's no questioning that Pickle is an adorable nickname, but honestly, I feel it might hold her back some as an adolescent and grown adult.
What are your thoughts?