Mum Told She Was Rude for Refusing to Leave the Room While Breastfeeding in Her Own Home
In what has to be one of the more ridiculous stories that has crossed my desk, a new mum has been called out for refusing to leave the room while breastfeeding her newborn in her own home.
That's right, a guest who popped round to meet her newborn baby had the nerve to call the breastfeeding mother rude for not covering up fast enough in front of "other people's husbands".
In her own home.
The audacity of this bitch!
The new mum took to Reddit to ask if she was in the wrong for not going into another room when visitors came over to meet their new baby.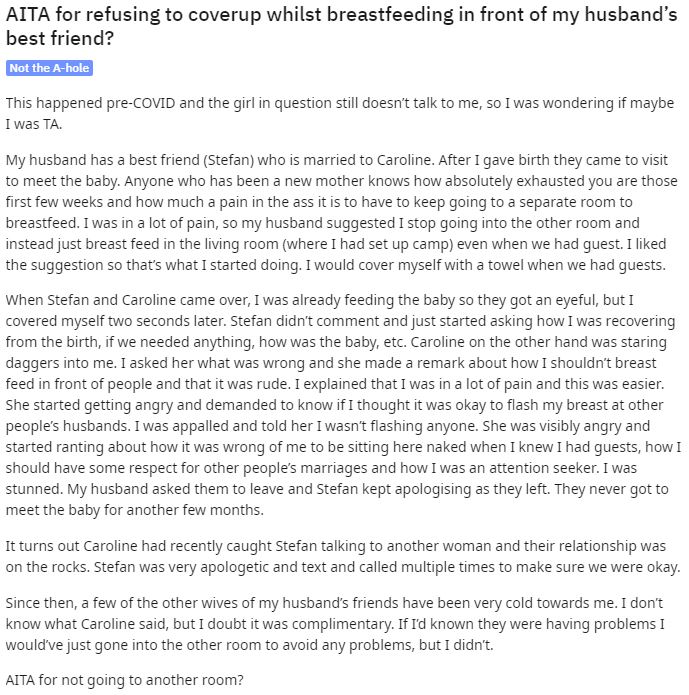 Aside from the fact that if she wanted to sit there on her own lounge completely topless whenever she pleased, this mum has every right to decide what she's comfortable with in her own home. Besides, she covered herself with a towel as soon as she could.
And who shouts at new mums, anyway? Caroline can jog on. It sounds like she's projecting her insecurities and unhappiness about her marriage onto this new mum who probably has everything that she wants for herself. Whatever issues she has shouldn't be brought into other people's homes where she is a guest.
Unsurprisingly, all the comments were in support of this breastfeeding mother feeding her child where she is most comfortable. As they should be.
Absolutely no one should be able to dictate when where or how you breastfeed. Especially not in your own home.
Source: Reddit/Am I The Asshole