Mum Warns of the Dangers of Aftermarket Car Seat Accessories After Her Baby Was Thrown from Her Seat in a Crash
A mum has warned other parents of the dangers of using aftermarket car seat accessories after her three-month-old baby was thrown from her car seat when her aunt's car flipped and rolled in a horror car accident.
Hannah McKinney Pope posted on Facebook that her child, Robin Pope, was involved in a bad rollover crash and was ejected from her car seat and thrown to the back of the van, despite being tightly strapped in.
Luckily, baby Robin survived,  suffering a hairline fracture in her arm and a few cuts from broken glass but, amazingly, no other serious injuries.
Hannah shared an image of the sheepskin seatbelt covers that she understands were the cause of her baby being thrown from her car seat.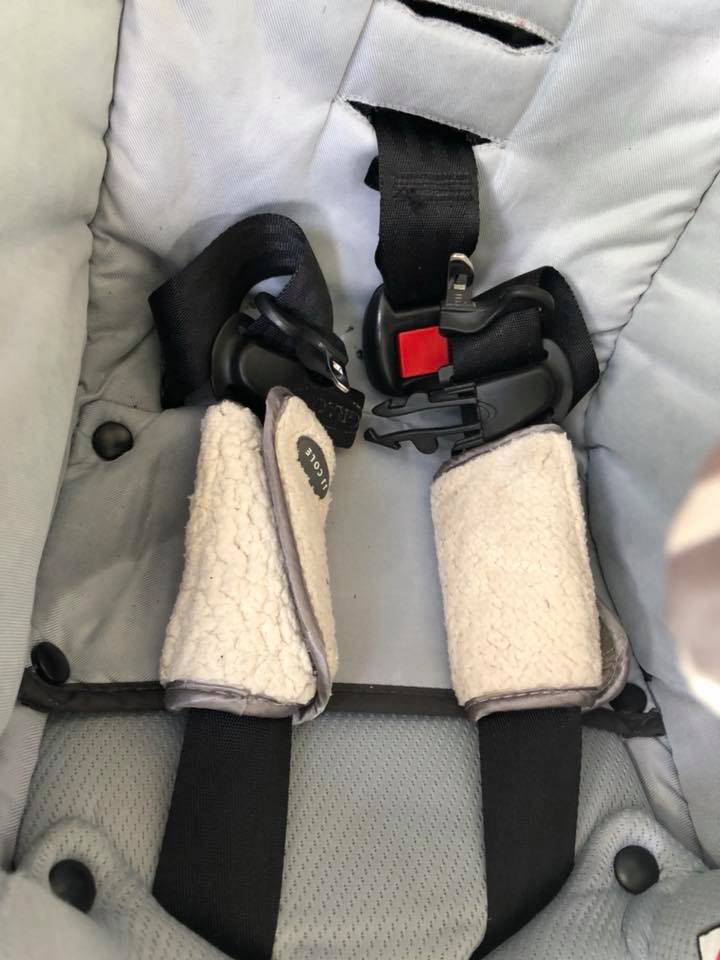 "PSA to all parents and soon to be parents! These were on my 2-month-old daughter's car seat when she was involved in a flip over car accident.
"The vehicle cartwheeled twice and rested on its side, she was ejected from the seat due to the sheepskin seat belt covers. When we got to the vehicle all straps were tight and intact plus car seat still in base still attached to seat but with the force of the vehicle the sheep skin slid against her shirt and made her go flying out.
"Please please please people DO NOT put things on a car seat that did not come that way from the manufacturer. Plus anything on a car seat in an accident voids the warranty!
"We had to learn the hard way and I thank god every day that he had his hands on her! They may look cute and it may be soft but for your child's safety don't do it. We attended a car seat safety class at children's health care of Atlanta and it was a real eye-opener."
Products such as these seatbelt covers might be legal to purchase but that doesn't mean they are safe to use. According to the the ACCC website Product Safety Australia, it is not safe to alter or modify carseat restraints in any way. This includes strap or harness covers.
According to Autobytel, the types of car seat accessories that we should avoid are:
Seatbelt harness covers, which can change the position of your baby's chest buckle and can alter the effectiveness of the harness.
Headrests or baby-sized travel pillows, which can change the position of your baby's head and affect head movement in the event of a crash.
Newborn body swaddlers, which can change the position of your baby in its seat and increase the chance of ejection.
Car seat swaddlers/covers, which can alter the installation of your car seat.
Attachable toys and mirrors, which can quickly turn into projectiles in the event of a crash (or even a sudden stop).
Seat protectors, which can alter the installation of the car seat base.
Car seat angle adjusters, which can alter the installation of the car seat base.
Pope was interviewed by WSB-TV Atlanta, where she told her story and met with a car seat safety expert to spread the word about aftermarket car seat accessories.
As much as we want to ensure our baby's comfort in their carseat, it is much more important to consider their safety first. This mum's warning is one we should all heed.
Source: Facebook/Hannah McKinney Pope