Parents are being reminded to anchor their chests of drawers after another tragic accident involving the death of a toddler after being crushed from an IKEA MALM dresser.
22-month-old Theodore 'Ted' McGee died when the dresser fell on top of him on the 14th Feb this year.
In July 2015, IKEA and the Consumer Product Safety Commission announced a 'repair program' for their dressers and chests after the deaths of two toddlers in separate incidents in 2014.
Despite IKEA chests being supplied with the anchor for wall attachment, customers very rarely install them, which poses a hazard for children who pull the drawers out and decide to climb.
In a press release the CPSC stated, "The chests and dressers can pose a tip-over hazard if not securely anchored to the wall."
Customers who have not secured their chests to the wall can request a free repair kit that includes anchoring hardware. The recall on the dressers affected 27 million dressers and over 300,000 anchoring kits have been given to IKEA customers.
The McGee family were unaware of the repair program and as a result have started legal proceedings in regards to the case as have the families of the other two toddlers who died. IKEA made a statement to the Huffington Post which stated:
"We at IKEA offer our deepest condolences to the McGee family.
At IKEA, we believe children are the most important people in the world and the safety of our products is our highest priority. Consistent with our ongoing work and cooperation with the CPSC, upon being informed of this incident we immediately reported it to the CPSC and an investigation is taking place. IKEA has been advised that the product was not attached to the wall, which is an integral part of the product's assembly instructions.
We wish to emphasize that the best way to prevent tip-over of chests of drawers is to attach products to the wall with the included restraints and hardware per the assembly instructions. IKEA has included restraints with our chest of drawers for decades, and wall attachment is an integral part of the assembly instructions."
In 2015, CPSC started a campaign in the U.S. to teach parents to anchor their furniture. A child in the U.S. is injured by furniture or a TV falling on them every 24 minutes. The tip-overs cause fatalities in toddlers mostly and these make up two-thirds of the injuries.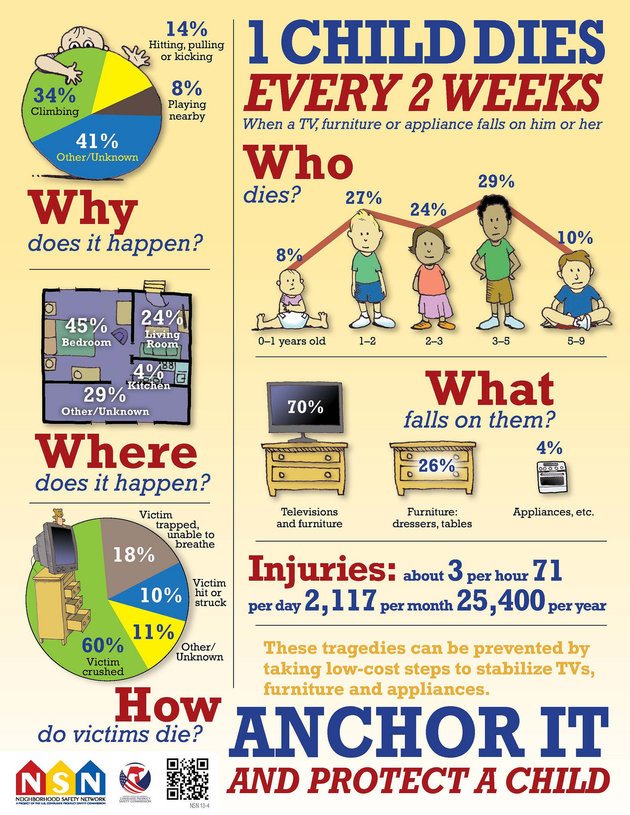 Sadly, these issues are raised at the cost of a young child's life.