A Sydney mum of two, Sandra, has shared a video of her five-week-old daughter Heidi choking and not breathing as she's contracted whooping cough.
The mum wants the video to be viewed by as many people as possible to understand the consequences of not being vaccinated.
Sandra started her Facebook post with:
"This video may distress some people but I'm sharing to show just how scary and dangerous whooping cough is to babies who are too young to be vaccinated," Sandra wrote when posting the video on Facebook.
"This is my 5 week old baby during an episode where she chokes and stops breathing. Babies rely on herd immunity to keep them safe and unfortunately we cannot achieve that without high vaccination rates.
"Whooping cough is not always a loud obvious cough. The scary symptom for babies is when they don't cough but silently choke and turn blue/purple from lack of oxygen. If we weren't in hospital and sitting watching our baby 24/7 the outcome would be fatal."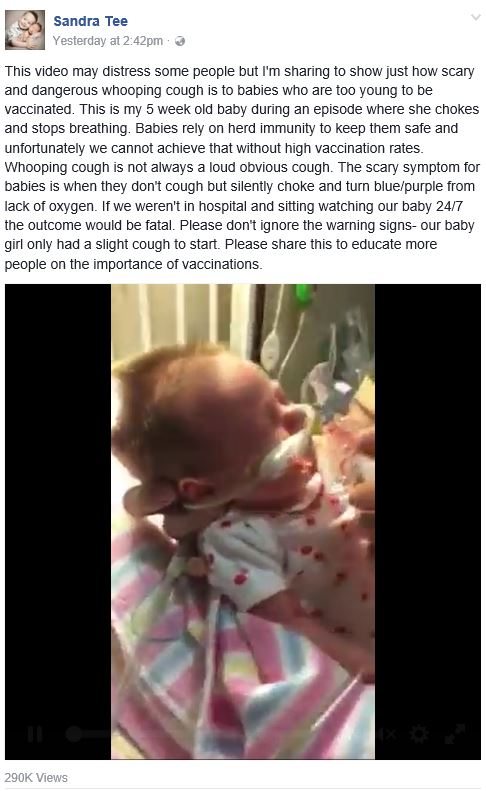 The video goes for one minute and is heartbreaking to watch. So far the video has had over 237,000 views.
Sandra is determined to show others the horrible truth about whooping cough and warn parents of the potentially deadly symptoms of the illness.
Heidi contracted whooping cough after her old brother got it from childcare. The little boy was vaccinated so he had mild symptoms, but unfortunately it was passed to Heidi, who is too young to be immunized.
The family did all they could to prevent Heidi from getting whooping cough after their son had contracted it. Heidi was on antibiotics when she was 10 days old. But sadly, she still got it.
Heidi was so unwell, her firefighter father had to do CPR last Friday after she stopped breathing and went blue after a coughing fit.
Sandra took her daughter to see a doctor who was unhelpful. She then went to emergency hospital, where Heidi has been monitored since.
Sandra told Essential Baby,"She got worse the next few days and started having apnoeas where she would not even cough – just made a very tiny noise and when I looked at her she'd stopped breathing, turned red then deep purple.
"This is the scary part because the first time it happened nurses and doctors rushed in and at first oxygen couldn't get her going so they all got a bit panicky and got a crash cart ready to start working on her.
"As a result we couldn't sleep as we spent every minute watching her to make sure we didn't miss a 'silent episode'. We have been taking turns sleeping and watching her."
Sandra and her husband are exhausted as they've had to watch over their daughter 24 hours a day.
"She's still having these episodes but they are less frequent. It seems worse at night when she is in a deeper sleep as she relaxes and I think forgets to consciously cough or breathe.
"We are very tired but we are taking turns to watch her at night."
Whooping cough is a very contagious respiratory infection. Uncontrolled coughing and vomiting are just some of the symptoms of the deadly disease. It can take several months to get back to full health, but babies under 12 months are at high risk of getting it until they have had at least two doses of the vaccine. The vaccine isn't given until the baby is 4 months of age.
Sandra hopes the video warns other parents about being vigilant with their children's vaccinations. She also wants new parents to learn about the silent symptoms of whooping cough.
"Please don't ignore the warning signs – our baby girl only had a slight cough to start," she said. "Please share this to educate more people on the importance of vaccinations."