What to Do if Your Child is Choking
Choking may be a life-threatening medical emergency, because the brain can only survive a few minutes without oxygen.
Children are curious little things and for the most part we encourage them to be so, it's how they learn new things. But sometimes their curiousness can lead to danger when they start putting things in their mouth. Children learn through touching, feeling and often want to put everything straight into their mouth and it got me thinking, how many of us would know exactly what to do if a child started to choke?
As always prevention is better than cure but accidents do happen. Better Health says a child may show one or more of the following symptoms and immediate medical attention is required.
Signs a child may be choking;
Panicked and distressed behaviour
Inability to talk in complete sentences or at full volume
Frantic coughing
Unusual breathing sounds, such as wheezing or whistling
Clutching at the throat
Watery eyes
Red face.
Face, neck and lips turning blue
Choking is extremely dangerous and can be life threatening, if you believe a child is choking call 000 immediately. St John's Ambulance says that the techniques for managing a child who is choking are different to the techniques used for a baby.
FOR A CHILD UNDER 1 YEAR OLD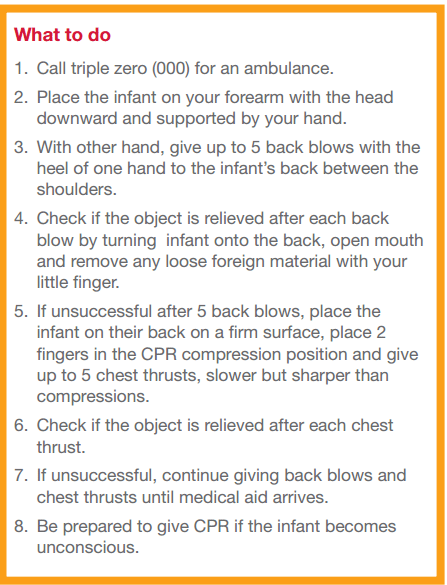 St John's Ambulance guideline
FOR A CHILD OVER 1 YEAR OLD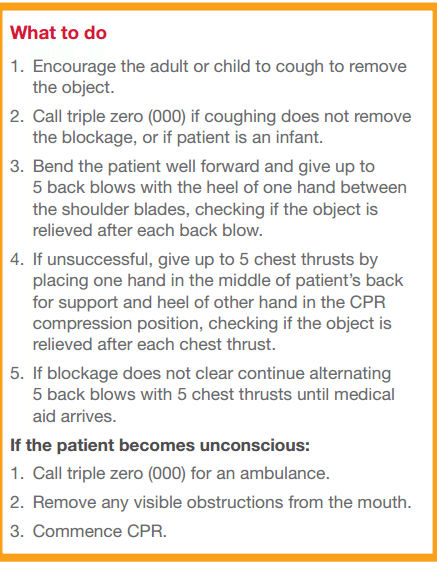 St John's Ambulance guideline