Image source: Facebook Light for Riley
Parents Highlight Importance of Vaccines After the Tragic Death of Their 32 Day Old Son to Whooping Cough
Warning: This article contains content that may be distressing for some.
I should be planning his first birthday party but instead I'm watching these videos and wishing children didn't die from vaccine-preventable diseases.
They don't have to.
Every time you speak in favour of immunisation, you could be helping encourage those who are unsure about vaccination to make the right decision. Thank you for continuing the conversation
– Riley's Mum Catherine x

Source: Facebook Light for Riley
In March 2015, parents Greg and Catherine Hughes lost their 1 month old son Riley tragically to Whooping cough. Determined to prevent further deaths from the disease this month the couple shared a heartbreaking video of their baby coughing in his crib, in order to highlight the importance of vaccines.
The cough that killed Riley Hughes*Warning – contains content that some may find distressing*

These are the final videos of our beautiful son Riley who passed away from whooping cough on the 17th of March, 2015.

I have always kept these videos to myself, as it makes my blood run cold listening to my beautiful boy cough like that. But we are sharing this in the hopes that it will convince just one more pregnant Mum to protect their baby from this disease. I wish I had known about pregnancy vaccination when I was pregnant with Riley.

In the beginning, Riley didn't have a "whoop" sound in his cough, but it certainly developed once he was in hospital. If your newborn baby has a cough, and is too young to be vaccinated, please get them checked out by a doctor! Early intervention CAN help.

I loved being Riley's Mum for those four weeks. I wish it were longer. Please share to help ensure no more babies die from this disease, which I hope one day will be relegated to the history books.

– Riley's Mum x

Posted by Light for Riley on Wednesday, January 6, 2016
In one of many heartfelt and candid posts on the Light for Riley Facebook page Catherine Hughes urges mothers to have their pregnancy vaccinations to protect their baby from Whooping cough.
If I had been offered a whooping cough booster during pregnancy, there is a good chance Riley would still be with us today. Whooping cough boosters are now free for pregnant women in their third trimester in Australia, and recommended in every single pregnancy.
Antenatal care providers need to be recommending these boosters to every single pregnant patient. Antenatal hospitals need to have midwives who can vaccinate available, and not send people away to their GP, as this can lead to confusion or people forgetting. Anybody who has close, regular contact with a newborn also needs to make sure they are up to date on their vaccinations.
Childhood vaccination does not begin when the child is six weeks. It now begins when the mother is pregnant. Please don't forget to have your pregnancy vaccinations and protect your baby from this terrible disease.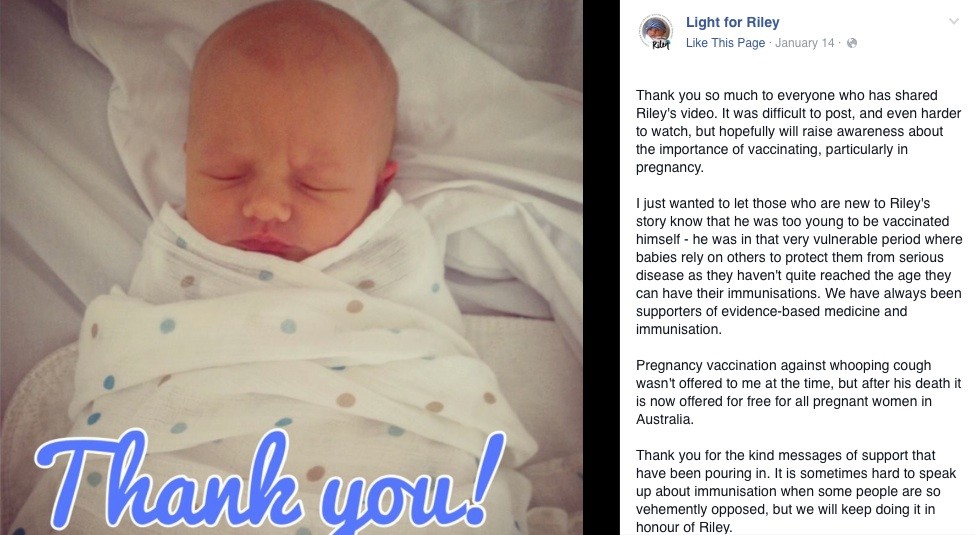 Thank you so much to everyone who has shared Riley's video. It was difficult to post, and even harder to watch, but hopefully will raise awareness about the importance of vaccinating, particularly in pregnancy.

I just wanted to let those who are new to Riley's story know that he was too young to be vaccinated himself – he was in that very vulnerable period where babies rely on others to protect them from serious disease as they haven't quite reached the age they can have their immunisations. We have always been supporters of evidence-based medicine and immunisation.

Pregnancy vaccination against whooping cough wasn't offered to me at the time, but after his death it is now offered for free for all pregnant women in Australia.

Thank you for the kind messages of support that have been pouring in. It is sometimes hard to speak up about immunisation when some people are so vehemently opposed, but we will keep doing it in honour of Riley.

– Riley's Mum Catherine
Pregnant women in their third trimester are recommended to receive the Whooping cough booster – preferably between weeks 28-32. Also, anyone that is likely to come into contact with the newborn such as the father, grandparents, and other family also require a booster if they haven't received one within 10 years.
For more information on the whooping cough vaccine visit www.immunise.health.gov.au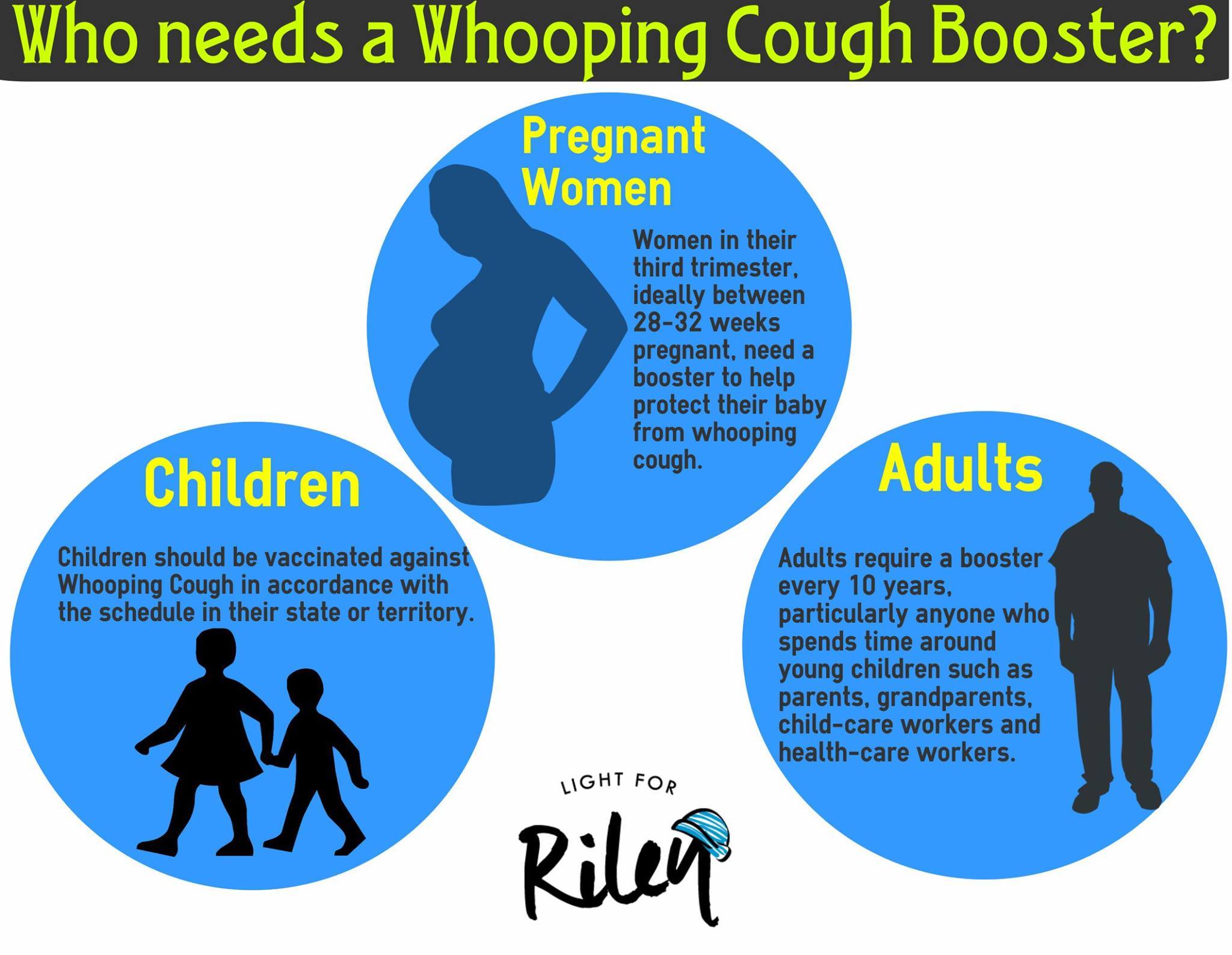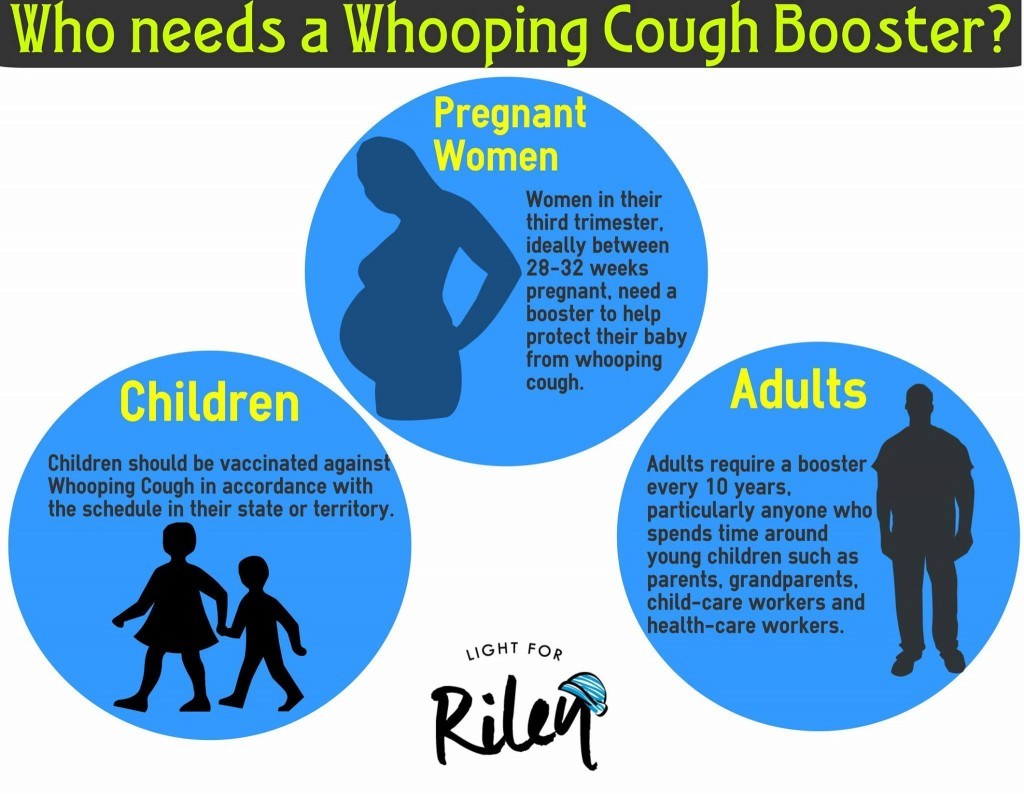 Image source: Facebook Light for Riley
Greg and Catherine Hughes have set up an everyday hero fund raising page in memory of their son Riley.
The couple have so far raised $74,541.46 (far exceeding their goal of $32,000, and have been assured by the Princess Margaret Hospital Foundation that they will have full control over where the funds are allocated within the foundation.  Their intention of course is to  maximise the impact upon horrible childhood diseases like Pertussis and other preventable diseases.
RIP beautiful Riley x
Show your support by visiting Light for Riley Facebook page.
You can give a gift in memory of beautiful little Riley Hughes on the Everydayhero's page here