A gay couple from New Zealand have found themselves and their tripling babies stranded in Mexico.
Gay couple, David and Nicky Beard, used 3 surrogates to carry the world's first 'triplings' – babies born from the sperm of one male and one egg donor but carried by two different surrogates. The gay couple were allegedly scammed by the surrogate agency they used in Mexico which has left them with crippling medical costs and legal issues. They were assured that they would be the last couple to bring their surrogate babies home, despite the tightening of surrogacy laws in Mexico to match those in other countries. But other unforeseen events have caused financial and legal hurdles.
A close friend to the couple, Grace Nixon, has set up a Give A Little Page which has raised over $5,900 under 36 hours.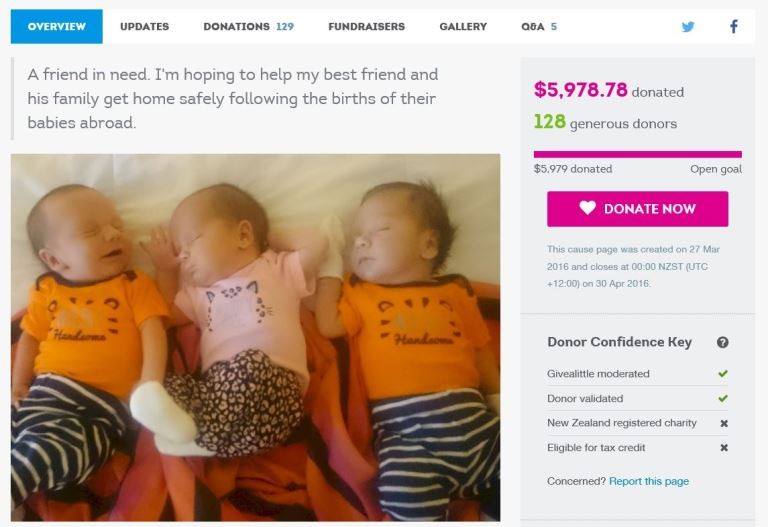 One of the triplings, Lachlan, required extra hospital care which amassed costs of $118,132 New Zealand dollars (approx. $105,000 AUD).
Ms Nixon wrote on the Give A Little page,' Unfortunately the Agency that was supposed to help them (the parents) left them stranded on arrival… and they went into hiding with their final payments for the births.
'The problem now is that they are stranded in this third world country with little or no finances left and another month or so of bureaucracy to get through.'
Ms Nixon told the Daily Mail,' No one could have predicted that any of this was going to happen and that they were going to be left abandoned by the agency, it's such a shame.
'Both Nicky and David are being so strong throughout it all for each other, though, and their beautiful little babies.'
Baby Lachlan has made a full recovery and even though he and his siblings, Kelly and Blake, are less than 1 month old, their parents, are unable to leave Mexico as they can't pay for the flights home or provide the finances needed to obtain passports for their babies and DNA testing to prove their parental status.
GayNZ reported the couple saved for four years to have these children only the have their adoption agency abandon them and leave them in a state of debt due to circumstances that were out of their control.
David and Nicky have pleaded for help from the New Zealand and Mexican governments, and also friends and family around the world, but they are still not able to come home.
The New Zealand government has told the couple international surrogacy is dangerous and there are always legal risks involved, while the Mexican government has assured David and Nicky they will be allowed to take their children home, despite the slow legal process.
Even though David is a prominent lawyer, the couple have had to engage with Margaret Casey QC to help fight their legal battle to bring the triplings home.
David told Stuff, 'If the combination of David Beard and Margaret Casey QC can suffer this kind of conduct then the whole nation should fear for other prospective surrogacy parents who, whether gay or straight, are desperate for children – because this level of desperation is what the international surrogacy agencies bank on.'
Despite the adversity and the poor conditions in which the babies were born, the couple remain upbeat. They are the proud fathers of beautiful babies, Lachlan, Blake and Kelly. But their ending will be happier when they are on a plane to come home.
If you wish to help David and Nicky, you can donate on their Give A Little page here.