In the last 4 years I have had three C-section births. My first born was in the breech position (head up, bum down) and I decided against any procedures to turn her in the womb. After having a minor complication at 26 week with my waters, I was happy to do whatever my obstetrician suggested to ensure a safe delivery for my baby.
If you have been told that you need to have a C-section birth or are deciding on the best method of giving birth, here are sixteen things you need to know before having a C-section. These tips will help you face the coming weeks taking care of yourself and a newborn after major surgery.
1. Planned C-sections usually go according to plan. You may be able to choose the day you want your baby to be born and once the date is set you can organise your partner to get the day off and organise a babysitter for the older siblings. Fridays are always a good day for a C-section because it means your baby's 1st Birthday will be on a Saturday the following year, provided the following year isn't a leap year.
2. In most and I would hope in every circumstance, your doctor or midwife will only offer a C-section delivery if it's for the safety of you and your baby. Of course giving birth naturally is the way to go… but birth plans don't always go to plan. It pays to listen to your doctor. If you have a private doctor, you are paying them for their professional advice.
3. The operating room is clinical. It's cold and in some ways intimidating seeing the bright lights and instruments being prepared for the delivery. When I was in the operating room, I just had grateful thoughts that I could be awake to see the birth and that I was in a First World Country where a C-section delivery was available.
4. The operating room will seem crowded. There's you and your partner, then your anesthetist and their assistant, your obstetrician, maybe three to fourmidwives to help with the operation. And then there will be a paedetrician to check your baby after the delivery.
5. Your knees will nervously shake as the anesthetist places the spinal block or epidural into your spine. It's normal to be scared and have the random thought of worst case scenarios of becoming a paraplegic. In those times I think of how many women have had epidurals and have walked afterwards to tell the tale. I also pray like hell that the anesthetist aims at the right spot.
6. You know the spinal block is working when you feel your legs go hot. The sensation moves up your legs and it kind of feels like you wet your pants. Your feet may feel like they are on fire. Mine did and sadly I have had nerve damage in my feet which will heal over time. Fingers crossed.
7. Once the epidural or spinal block works, you will be placed on a bed and a sheet will be held up above your face so that you and your partner won't see your insides being moved around when the baby is delivered. You feel pressure and movement as your obstetrician pulls your baby out from your tummy. Some find this weird. I found it fascinating.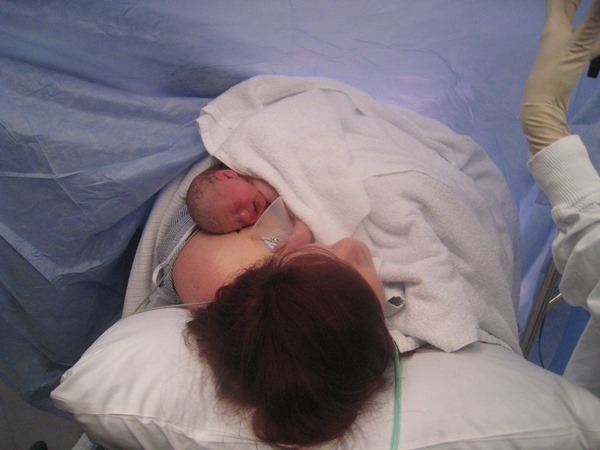 8. You will be on strong pain medication that may make you dopey and sleepy. Don't say no to the drugs because you want to be pain free as much as you can so you can enjoy holding your baby.
9. Just beware that all those drugs may make you constipated. Drink pear juice to help get things moving. Some women don't poo for days.
10. Just because you have had a C-section doesn't mean you can't carry or hold your baby. If you have older children, you won't be able to lift them up.
11. When you sneeze, cough or laugh, you will need to hold a pillow to your incision to prevent pain and feeling like your wound is opening up.
12. Your scar will get itchy and there will be nothing you can do about it. You may acquire a jelly belly after multiple C-sections as it can be hard to keep that area taut.
13. You may be able to have a vaginal birth after a C-section, but it's not always recommended. Once you deliver one way, it's best to use the same method in the future. But make the best decision for you. Personally, I knew what to expect with my C-sections and didn't want to run the risk of a rupture… especially after having my children close together.
14. You can have multiple C-section births, but the operation may take longer due to all the scar tissue from previous births. Again speak to your doctor or midwife on how you can safely deliver the number of children you would like after having a C-section.
15. Check with your insurer on whether you can drive after a C-section. Most suggest you can drive after 2 weeks; others won't cover you until after 6 weeks.
16. The last point is to remember that you are NOT a failure for not giving birth 'naturally'. Remember the reason you decided to have a baby. There is no applause if you give birth naturally or by C-section. Both methods produce the same beautiful result in the end.
What tips can you add after having a C-section?