Finding out you're going to have twins can be a daunting and exciting time in your life. There is so much to think about because you're not only growing one baby, but two.
There's thoughts about having to buy two of everything, and how you will cope with two babies at once.
The other thought that is probably taking over your head space is working out the perfect names for your two little bubbas. You want names that are unique but don't rhyme too much or sound too matchy.
Most couples find it hard to settle on  one baby name, let alone two at once.
If you're struggling to find the perfect twin baby names for your little ones, She Knows has put together a list of 61 trending baby name combinations that 'Have Double the Cuteness Quotient'. They only covered boy and girl twin baby name combos. Some have the same letter while other sets have a nice ring to them.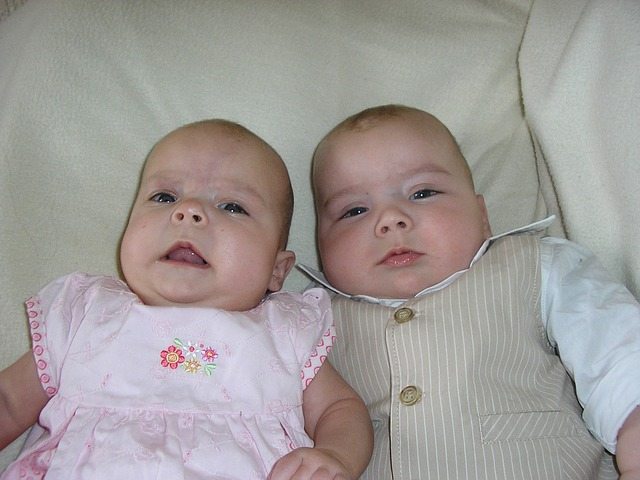 Madison, Mason
Taylor, Tyler
Addison, Aiden
Dillan, Delanie
Drew, Dakota
Emily, Ethan
Emma, Evan
Ella, Ethan
Emma, Ethan
Jayda, Jayden
Jada, Jaden
Lennox, Layla
Matthew, Mazie
Quincy, Quinn
Aidan, Nadia
Aiden, Ava
Emma, William
Madison, Matthew
Anna, William
Emily, Evan
Emma, Jacob
Emma, Noah
Isabella, Isaiah
Madison, Michael
Addison, Andrew
Chloe, Connor
Emma, Jack
Nicholas, Sophia
Noah, Sophia
Olivia, Owen
Zachary, Zoe
Zachary, Zoey
Brian, Brianna
Caleb, Chloe
Ethan, Isabella
Grace, John
Isabella, Michael
Jacob, Jillian
Jada, Jayden
James, Julia
Landon, London
Lily, Luke
Olivia, William
Samuel Sophia
Sophia, William
Abigail, Alexander
Abigail, Benjamin
Alexander, Ava
Andrea, Andrew
Andrew, Emily
Ava, John
Ava, Noah
Emily, Ryan
Emma, James
Hannah, Noah
Adan, Dana
Taylor, Aaron
Preston, Peyton
Mia, Eli
Parker, Harper
Did you find it hard to name your twins? Is finding names for a twins,or multiple babies hard?