When Mallory King, 25, shared a photo of herself on Instagram, she didn't expect to receive a comment about her cellulite.
The fitness trainer, based in Florida, has never been shy of sharing her weight-loss journey on Instagram, by posting photos of her body with little clothing on. The point of the photos was to track her progress and to encourage others to pursue their personal fitness or self-acceptance goals.

Time: 1.5 years apart Lost: 30lbs, most of my issues with emotional eating Gained: Muscle, healthier hair & skin, more confidence in my abilities & knowledge in fitness and nutrition Done by: Loosely tracking macros & lifting weights, trying to be consistent over perfect, respecting my internal health I wish this picture could show the mental changes because they far outweigh the physical. #TransformationTuesday #KingsCoaching by @mallorykingfitness
Most of King's photos receive compliments, but when she received the comment, 'Ewww, work on that cellulite', it didn't sit well with her. The comment has been removed, but King wanted to respond and she did so in the only way she knew how – by posting a side-by-side photo of her bum and thighs, with her cellulite on display, a thumbs up by her husband and a raised middle finger to tell the commenter where their comment could go.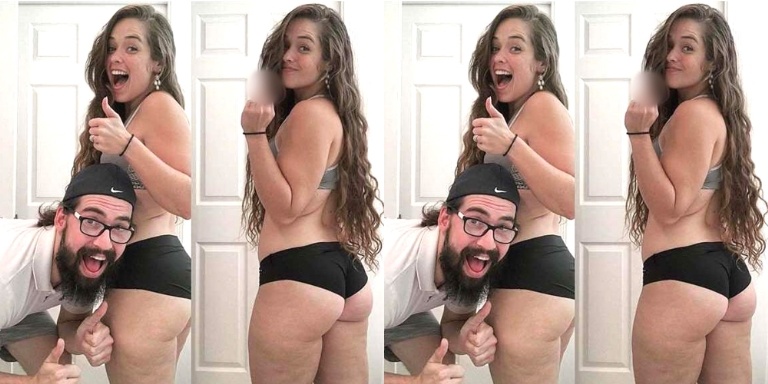 King captioned the photo, "To that guy who made a negative comment about my cellulite yesterday. There are so many worse things in life than cellulite, like your sh*tty attitude. Let people do whatever the f*ck they want and look however they please and post whatever makes them happy. Find a hobby and worry about ya damn self."

If you follow @sundaymorningview you probably saw the image they posted of me that's very similar to this one except I was giving the middle finger to the haters that leave negative comments about my cellulite. The image blew up, getting an overwhelmingly positive response. Well, that image was deleted by @instagram this morning. This upsets me for two reasons 1) Why do thousands of posts go unremoved that show butts and boobs in WAY more vulgar ways than mine? Is it because my cellulite is offensive? Is it because I'm not trying to be sexy? Is it because I don't have the body type that is continuously shared on here? 2) Why are people so threatened by a woman unafraid of showing her body and speaking her mind? People used the excuse that their kid could see the photo. Don't let your kid on social media! No, that's not it. It's either people feel threatened by my fierceness or people are so brainwashed by media that a perfect pair of tits or butt is fine to flash but a body that's outside of the norm is offensive. Fuck that. Y'all can report my photos as much as you want, I'm gonna keep sharing them because the world needs more women unashamed of their bodies and unafraid to share their voice. by @mallorykingfitness
The @SundayMorningView regrammed the photo which got 20,000 likes, but Instagram removed it as it went against their community guidelines.

WAS our POST that OFFENSIVE ??? IG took it down this am. SEE the pic link in BIO?? WE appreciate your feedback…we love you @mallorykingfitness? #sundaymorningview by @sundaymorningview
The guidelines for posting on Instagram outlaw "close-ups of fully-nude buttocks," "content that contains credible threats or hate speech," and "serious threats of harm to public and personal safety."
Middle finger posts can be found all throughout Instagram – there is even hashtag #MiddleFinger, for those who are so inclined.
King has taken Instagram's response personally and responded by asking, "Is it because my cellulite is offensive? Is it because I'm not trying to be sexy? Is it because I don't have the body type that is continuously shared on here?"
No matter the reason for the removal, King is determined to keep sharing her photos, with her thighs on show, because she won't let a troll or Instagram stop her from encouraging others how to be real.
''Y'all can report my photos as much as you want, I'm gonna keep sharing them because the world needs more women unashamed of their bodies and unafraid to share their voice."