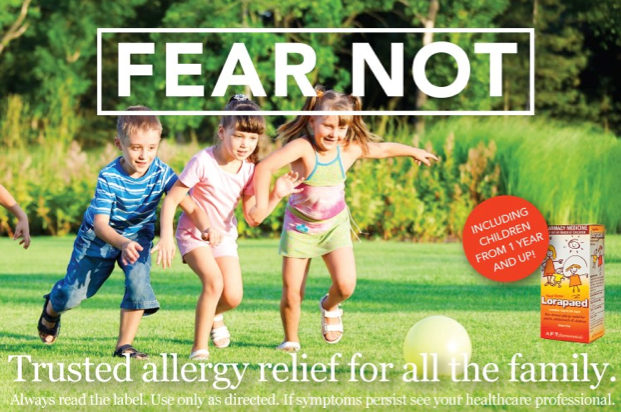 Tips on Minimising Your Child's Hay Fever This Spring (& Suitable Hay Fever Medication for Little Ones)
Whilst many of us are celebrating the return of Spring, the warmer weather and the move towards a more outdoor lifestyle, there are also those of us who struggle during this season…and some of them are the littlest people amongst us.
Spring may bring new blooms, longer days and bouncy baby lambs…but it also brings hay-fever for some, and this can be particularly miserable for small children. (And let's be honest. It's no picnic for their parents either!)
Symptoms and Signs of Hayfever
Common symptoms of hayfever include:
Runny nose
Nasal congestion
Itchy/burning and/or watery eyes
Coughing
Sneezing
Left untreated hay fever can also lead to poor quality sleep, and as we know, that doesn't benefit little people (or the people caring for them!) But according to the Royal Children's Hospital website there are other issues that may arise from hay-fever symptoms that parents might find more difficult or worrisome.
Other Issues Arising From Hayfever in Children Include:
Making asthma more difficult to control
Causing more frequent eye infections (due to the rubbing of eyes)
Increased chance of sinus infection
Bad breath, husky voice or sore throat
Affected learning and performance (in school age children)
What is Causing My Child's Hayfever?
Common triggers for Hay Fever include pollen (from grasses, flowers and tress) dust mites, animal fur or hair and/or mould spores.
If your child suffers from the symptoms above all year round (perennial allergic rhinitis) rather than just during the Spring, it may indicate that they have an allergy to dust mites, animal dander and or mould spores in their immediate environment.
Avoid Triggers
Understanding your child's triggers and avoiding it/them will play an important role in the treatment of their hay-fever symptoms.
But whilst avoiding triggers is the best way to reduce the frequency of hay-fever attacks, it isn't always possible, so it is important to find other ways to minimise it's impact on your child.
Keep track of the pollen count
Avoid taking your child outside when the pollen count is high. Similarly, avoid hanging clothing and bedding out on the washing line to dry when the pollen count is high too, as those pesky particles will get trapped in the fabric and make their way into close contact with your child otherwise.
Invest in Sunglasses
We all know they look cute, but sunglasses (particularly wrap around ones) can protect you child against airborne pollen (and it will also stop them from rubbing their eyes and possibly leading to conjunctivitis).
Location, location, location
Consider taking them for a play or a walk along the beach rather than to a park or a garden where pollen counts will be higher.
Wash them down
Washing your child's face with cool water and a face-washer after being outside will remove pollen from their face. Likewise, changing clothing worn outdoors when you come inside will minimise their contact with the allergens.
Hayfever Medication – Have an Age-Appropriate Antihistamine at Hand
Lorapaed is a non-drowsy antihistamine medication suitable for both children and adults, so there is no need to stock up the cupboards with one for you and another for them. Lorapead can be used for the entire family!
It comes in a liquid formation, so there are no issues with trying to get little people to swallow tablets (it can be used from 1 year and up and has a pleasant peach flavour. Just one dose provides relief for 24 hours, so keep a bottle of it in your medicine cabinet for when symptoms flare up.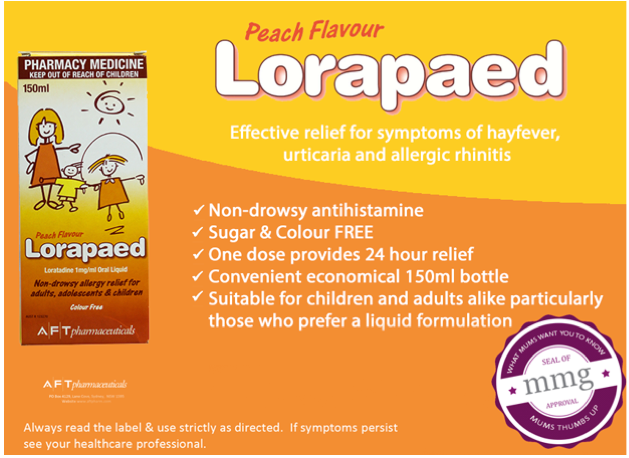 Lorapaed is a generic medicine that costs less than the originator brand, but doesn't compromise on quality or results.
Ask for Lorapaed by name. Available from leading Pharmacies nationally.
Find out more here about generic medicine and how you can help your hip pocket by requesting generic medicine.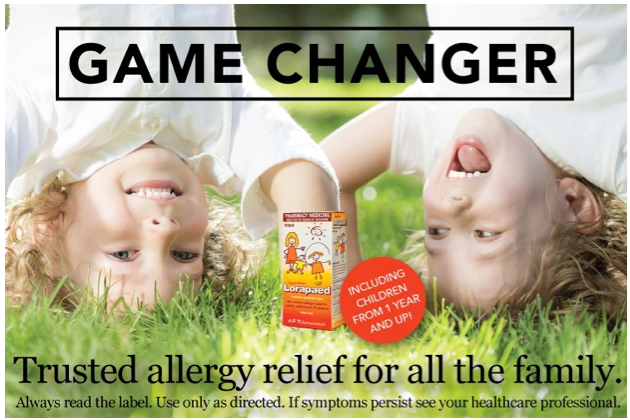 Disclaimer: Always read the label. Use strictly as directed. If symptoms persist see your healthcare professional.
Giveaway
If your child or someone in your family suffers from hay-fever, the folks at Lorapaed are offering you the chance to win a $500 Visa Gift Card to spend on decreasing the allergens in your family environment. Every home may have a different need, whether it be a new HEPA grade vacuum, hypoallergenic bedding, air filter for your car, or something else, you choose! Lorapaed wants what every Mum wants for their kids ….kids being able to enjoy doing, what they enjoy doing!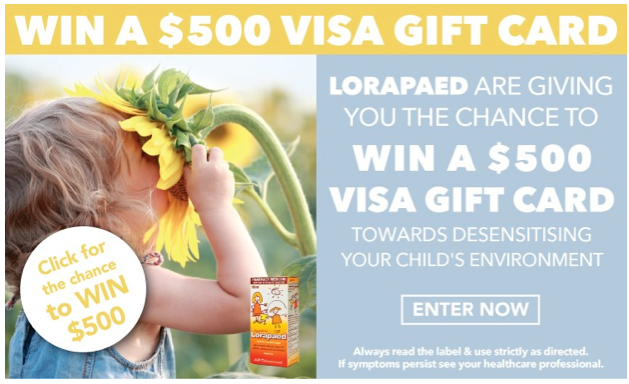 For ideas and inspiration on how to improve your home environment read:
7 Tips for Parents of Allergy/Asthma Sufferers
To enter please complete this short survey