Adorable Photo of Dash the Dog Joining His Best Buddy During Timeout Goes Viral
A precious photo has surfaced on Facebook of a three-year-old boy and his loyal dog serving a timeout punishment together.
Mum Jillian Smith recently gave her young son Peyton two choices following a fight with his big sister Ryleigh: Go to his room or stand in timeout. Their dog, Dash, wouldn't let the little one serve his timeout alone, though, and stood silently by as his best friend completed his punishment.
"When you're in time out but your best pal won't let you serve your time alone," the mum captioned her sweet photo.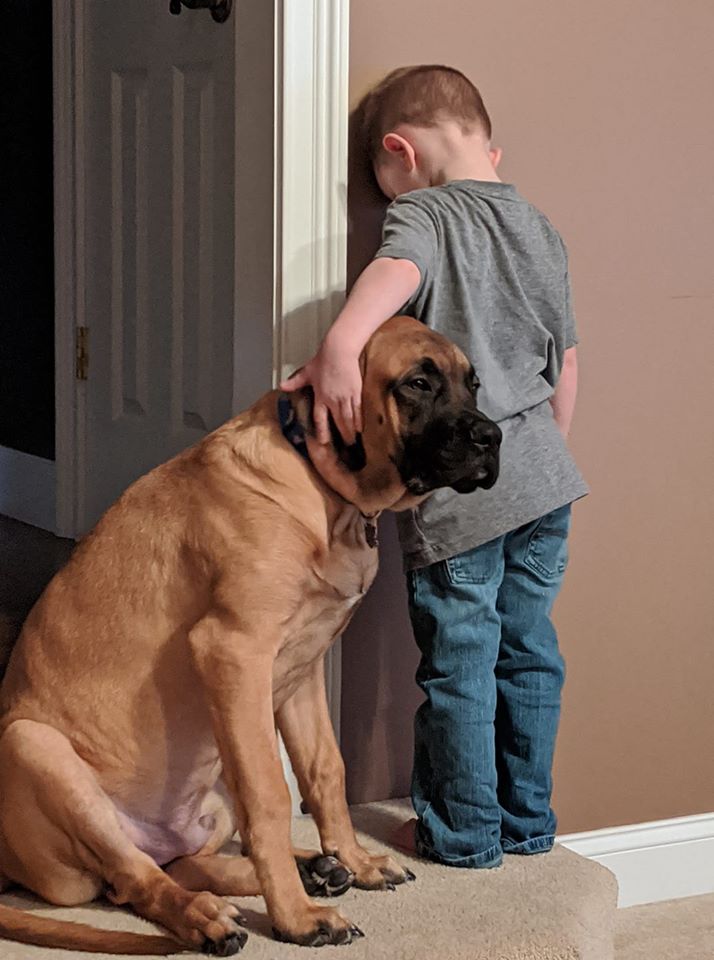 While Peyton patiently rested his head against the wall, he kept his best mate Dash close with a gentle hand on the dog's ear in a sweet moment snapped by Smith. The candid photo has since gone viral on Facebook with nearly 50,000 shares and thousands of comments.
The mum from Ohio in the US said if you ask Peyton, he'll tell you Dash is his best friend.
"Seeing the two in timeout was adorable, it really showed their relationship together, two peas in a pod, or sidekicks, as Peyton would put it," she said of her initial reaction to finding the two in cahoots together.
"I'm still in shock their photo went viral and how much people are enjoying it. Especially from many different countries!" she said, adding that she feels "grateful" that the classic childhood moment has struck a chord with so many.
Dash, an English Mastiff puppy, is just six months old. He is expected to grow almost 100cm in height and to weigh up to 100kg!
"Peyton dresses Dash up in superhero costumes and they act out fight scenes," she said. "I don't think Dash understands what's happening, but he allows Peyton to do whatever."
Seriously, how adorable is the relationship between little boys and their dogs? Just too precious!
Source: Facebook/Jillian Smith