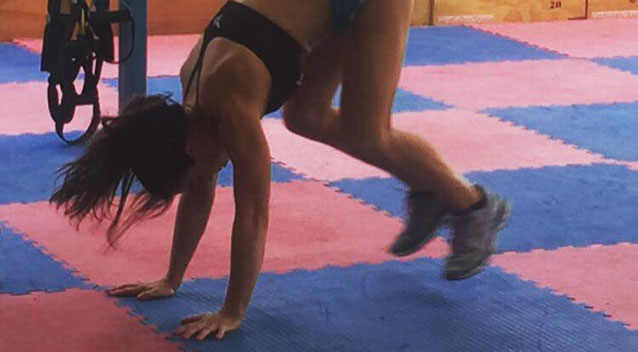 Brisbane mum-of-two sets world record for the most burpees by a woman in one hour and just as quickly is taken down keyboard heroes, critics and judgements ! Boo!
It is sad and it is shameful that in the light of success there's an overshadow of cynicism. Here we have not just a women but a mother, fit, healthy, driven, determined and by all accounts smashing it and rather than applaud, rather than cheer and rather than celebrate, we set out to bring her down. It is embarrassing and it is not ok!
40 year old mum of two, Kate Beeley set the goal and dominated the world record by completing 1,321 repetitions of burpees in one hour! Stop it! I get weak at the knees just thinking about it! Training since October Kate not only matched the record, she smashed it by 49 reps! What a machine! This type of competitive drive is something to be admired, fostered and encouraged, yet in moments of brilliance, the shine is diminished by the ugly side of achievement.
Instantly Kate was met with put downs…
"They aren't actually burpees! Nice try but if u want to earn a World Record,,,, probably make sure the movement is correct"
"Lets give everyone a participating medal because they are a woeful attempt at a burpee."
"I kept waiting for the burpees to start but nope…. 1…….1……1….."
"They aren't proper burpees!! How can that even be a record!!!!"
Just to name a few and I do mean a few!
Instead of seeing the achievement, instead at seeing the success and instead of seeing how F**KING awesome she truly is we sink to our lower selves and attack differing views on technique…huh? What's wrong with this picture? When did we become so jaded? When did a woman being an emblem of health and fitness become a negative? More and more we are seeing a flip and in many ways a shaming of women embracing fitness and healthy lifestyle choices, that in some bizarre way you are less of a woman and less of a mother by bouncing back and having a six pack. Immediately we aim to tarnish and take away seeded in our own sense of insecurity.
What I see here is a women owning what she's set her mind to, pushing herself beyond her limits and scaling higher than most of us could ever hope to reach. She is boosting and promoting healthy and active women. She is showing what it is to have motivation and ambition and she is setting and kicking goals and exactly the sort of woman i want my daughter, our future women, looking up to. Kate, you are nothing short of inspirational and we were fist pumping you all the way!