Identical Twin Sisters Marry Identical Twin Brothers Making Their Future Children Genetic Siblings
Last weekend there was a special event in the Deane and Salyers families — a double wedding featuring two identical sets of twins!
Briana and Jeremy and Brittany and Josh exchanged vows in matching gowns and suits, officiated by identical twin ministers at the 2018 Twins Day Festival, in Twinsburg city, Ohio. The couples met exactly one year ago when all four attended the annual Twins Days festival and spotted each other from across the room.
"I remember vividly the first time Brittany and I saw Josh and Jeremy at the twins festival," Briana says. "I also remember the first time we all spoke the last night of the festival. Its sort of like everything was in slow motion."
The 32-year-old twin sisters had always dreamed of marrying twin brothers one day, and now their dream has come true.
"It's really been a fairy tale come true. Marrying twins is something that's very important to us," Briana told PEOPLE, describing the ceremony as a "double fairy tale."
"Even when we were little girls I can remember being in kindergarten, knowing that that is what we saw for ourselves."
Brittany adds: "We knew that the chances were incredibly scarce. The stars had to align for our dreams to come true. I get to marry the man of my dreams and at the same time I get to look over next to me and see my twin sister marrying the man of her dreams."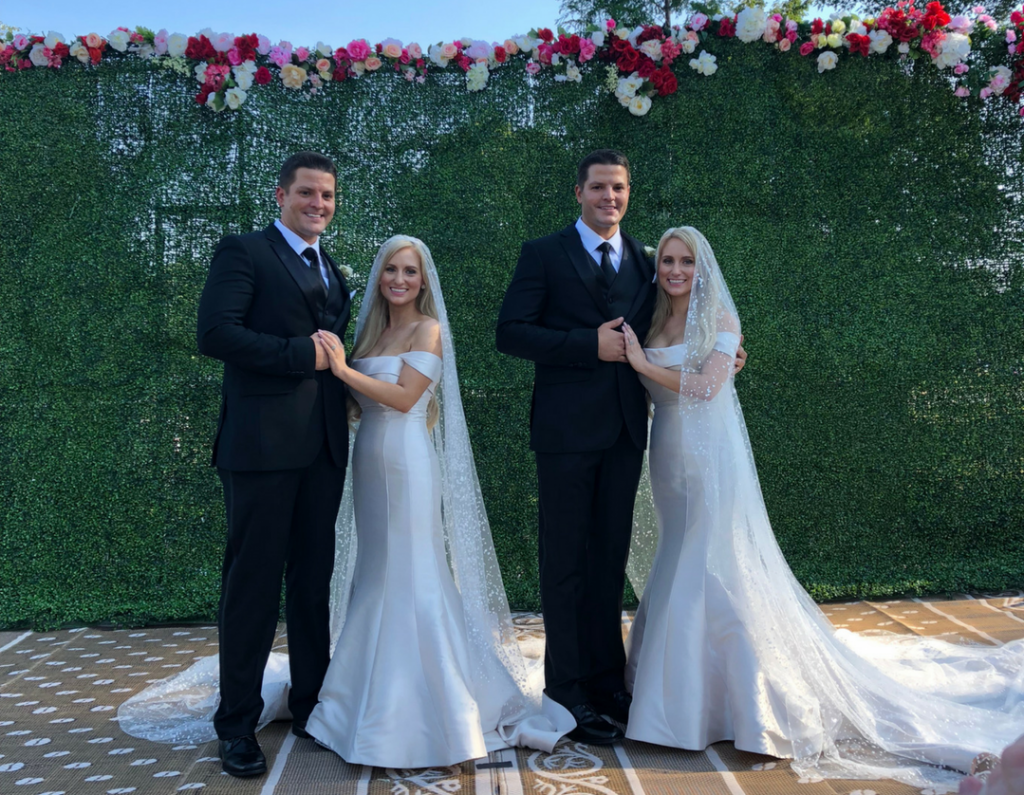 The couples are happily planning to live together in one big house and raise their children together.
"When we have children, my and Josh's children will be genetic siblings to Briana and Jeremy's children," Brittany says. "Even though they're cousins, they're technically genetic siblings. We imagine it will be like two mums and two dads all raising our families together."
Gosh, it's lucky they all get along so well! We can't help but wonder how their family dynamics will play out when it comes to parenting their children. Not only will they be genetic siblings, but living in the same house would blur the lines between cousins and siblings even further.
And that's before we even consider the odds of the newlyweds conceiving twins themselves! Can you imagine how many sets of identical twins could end up living together?!
One thing is for certain, there will be a lot of love in that home.
The twins' wedding will air in an hour-long special in early 2019 on TLC in the US, and will likely hit our screens shortly afterwards.
Source: TLC