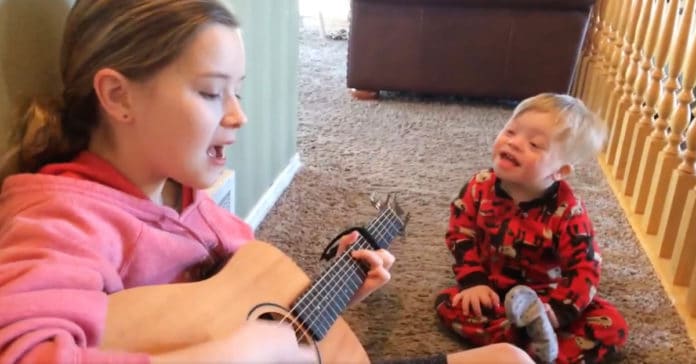 Little Bo Singing with His Big Sister Is the Sweetest Thing You'll See All Day
Amanda Gray is a mother to five children, and her youngest is little Bo. Bo is two-years-old and has Down syndrome.
By the age of 2, toddlers are usually quite vocal, and are expected to use about fifty words as they go about their busy little days. Young children with learning difficulties often use much fewer words and it is important to try out different ways to improve their vocabulary.
Bo can only say 12 words, which he has learnt by singing with his big sister as she plays her guitar. His mum explains:
"My daughter Lydia was watching Bo while I was in the shower. Came out to this. If she didn't have a guitar I don't know if she would know how to babysit him. This is her go to. It's proof that music therapy works. Bo is 25 months old and has a 12 word vocabulary. Every word he has learned has been through music and singing."
As Lydia plays and sings the song 'You are my sunshine', she stops at the end of the sentences to give Bo a chance to finish off the lines and the results are extraordinary.
Watch Amanda's heartwarming video here:
The love that the siblings share is beautifully apparent in mum Amanda's video, as well as Lydia's talent for playing her guitar.
The wonderful video was shared on 'Love What Matters' and within 17 hours the video had amassed over 150,000 shares and over 175,000 likes. It seems that a lot of people appreciate the beautiful bond that Lydia and Bo share as she patiently aids her baby brother in his learning.
Seriously beautiful!
Source: Facebook/Amanda Bowman Grey