A South Australian toddler was hospitalised after swallowing novelty beads that were marketed as 'sensory learning toys' at a local country market. The beads, which look like lollies, are used in floral arrangements, as sensory toys, and as decorative items. When they come in contact with moisture, the beads expand up to 400 times their size, similar to that of a golf ball. This poses a serious health risk as they have the ability to obstruct airways and the bowel, as well as cause discomfort and dehydration.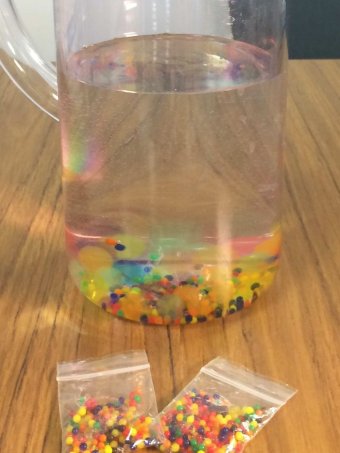 Image: ABC
After being admitted to hospital with uncontrollable salivation, the South Australian toddler required an endoscopy under full anaesthetic. The beads are unable to be detected by an x-ray, meaning that an invasive procedure is required if it is suspected that the beads have been ingested. To date, four cases have been reported nationwide of young children ingesting the 'novelty beads' and a six month old boy in Pakistan died after a similar product was found to have blocked his bowel.
Health Minister Jack Snelling has called for the Office of Business and Consumer Affairs to look into the 'novelty beads' to see whether further safety requirements need to be put in place. He has not advocated for a ban on the products due to their alternative uses, however, he has urged all parents to exercise caution and keep the beads out of reach of their children. It has also been recommended that the novelty beads are no longer sold as 'toys'.

Image: ACCC
Mr Snelling also acknowledged that given the bright and colourful appearance of the beads and their likeness to lollies, they do appear very tempting to children. Indeed, in the case of the South Australian toddler, she had found the beads in a cupboard and removed them before consuming them, clearly having no idea that they were unsafe.
This case, along with the other reported cases, show a clear safety risk to children from the 'novelty beads'. Not only should they be be rebranded to display clear warnings on the packets, they should also not be allowed to be sold as 'sensory toys'. If the beads are to be sold for the purpose of use in floral arrangements, then perhaps there is also an argument that they should be redesigned so as to not look like lollies.
The ACCC has advised parents to seek immediate medical advice if they believe their child has ingested the beads.
What do you think of these 'novelty beads'. Do you think it's important to have clear labelling on the packets which highlight the health and safety risks? Or do you think the product should be banned altogether?