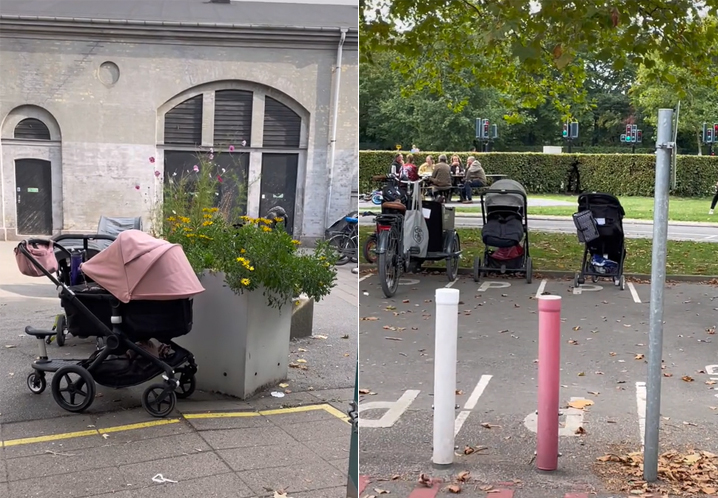 An American woman living in Denmark has recently caused a bit of a stir on social media after sharing a clip of Danish babies happily sleeping in their prams outside all by themselves.
Babies are often left to sleep outside in Danish and Scandinavian countries. They even have designated pram parking spaces to allow them to gather neatly while their parents watch from afar.
Sharing the jaw-dropping viral clip, TikToker Annie In Eventyrland compiled a video of unattended prams with sleeping babies inside, explaining that it was a cultural norm for babies to nap in the fresh, cold, open air, giving them added health benefits and better sleep.
But what is the norm in some European countries is far from what others consider acceptable behaviour in their own communities. A mother was arrested in New York City for leaving her child unattended in a pram outside the cafe where she was drinking a coffee.
This is no doubt why so many were shocked in her comments section!
"Imagine feeling this safe in a country," commented one follower.
"I can't even leave my lunch in the fridge at work!" quipped another.
"We don't even feel safe sending our kids to school in America so yeah I know this doesn't happen here," added a third. "We can't even leave our bikes or dogs outside without them being stolen."
"I am really thankful that Denmark is so safe," Annie told Bored Panda. "Copenhagen is listed as the safest city in the world, and I'm extremely grateful to be able to raise my children here. For that, I do prefer Denmark, but I would be lying if I said I didn't miss the occasional Target run from time to time.
"One of the biggest differences between American and Danish parents is how relaxed they are, and with nearly a year of maternity leave, paid vacation and sick days, living in such a safe country, affordable childcare and no medical costs, why wouldn't they be?"