The Benefits of Playing with Building Bricks for Preschoolers (and Our Top Picks if Your Looking for a Gift)
Creative activities are a fantastic way to stimulate your child's development, and what toy could be more creative or fun for a pre-schooler than LEGO Duplo? Not only do the colourful building bricks inspire big ideas in young minds, they can also encourage self-expression and develop fine motor skills as they build, deconstruct, and build again.
We've put together a list of our favourite LEGO Duplo sets that are perfect for children 2-5 years old,  plus some ideas on how to play with them to help your child learn and practice  new skills. But really, as the LEGO company likes to say, the possibilities really are endless.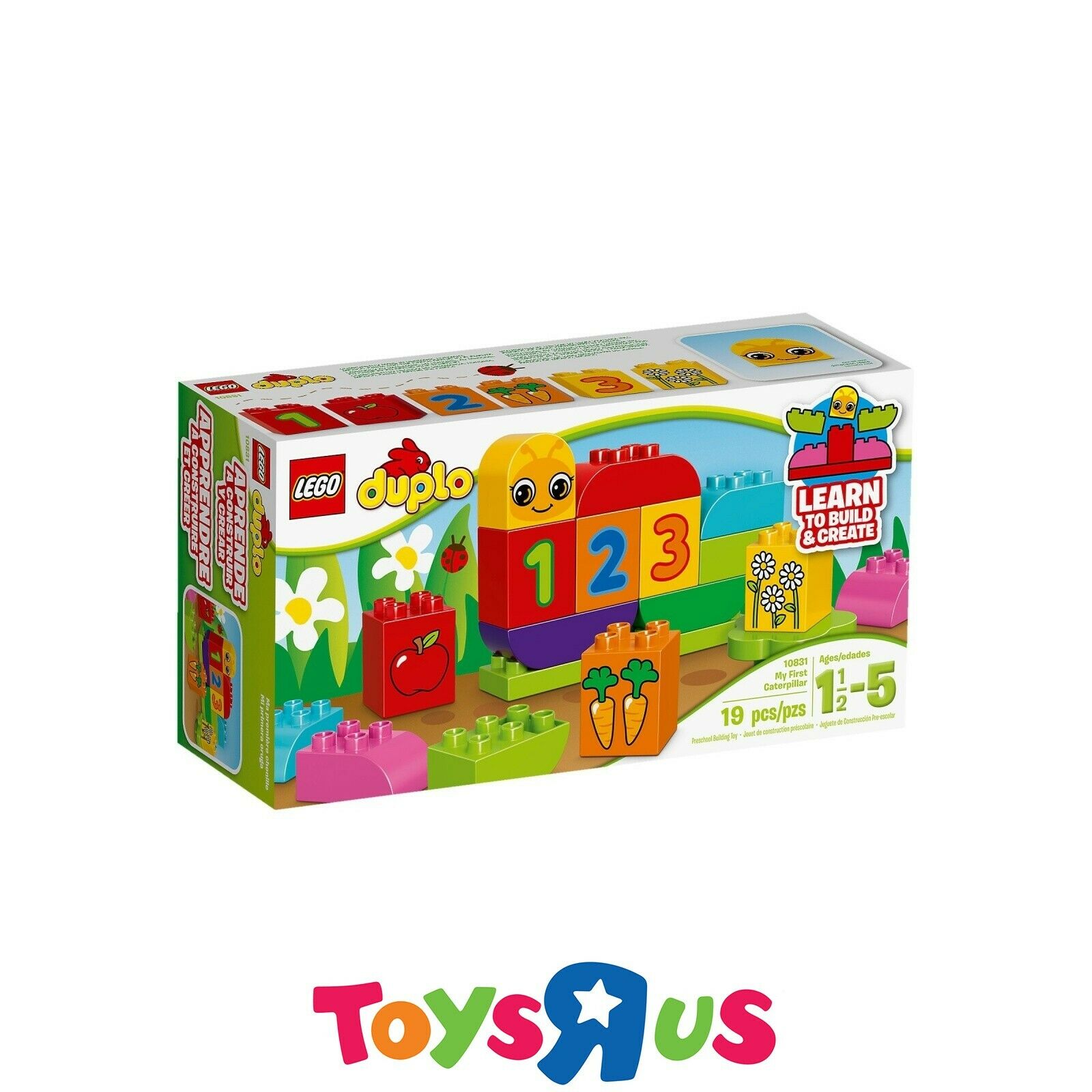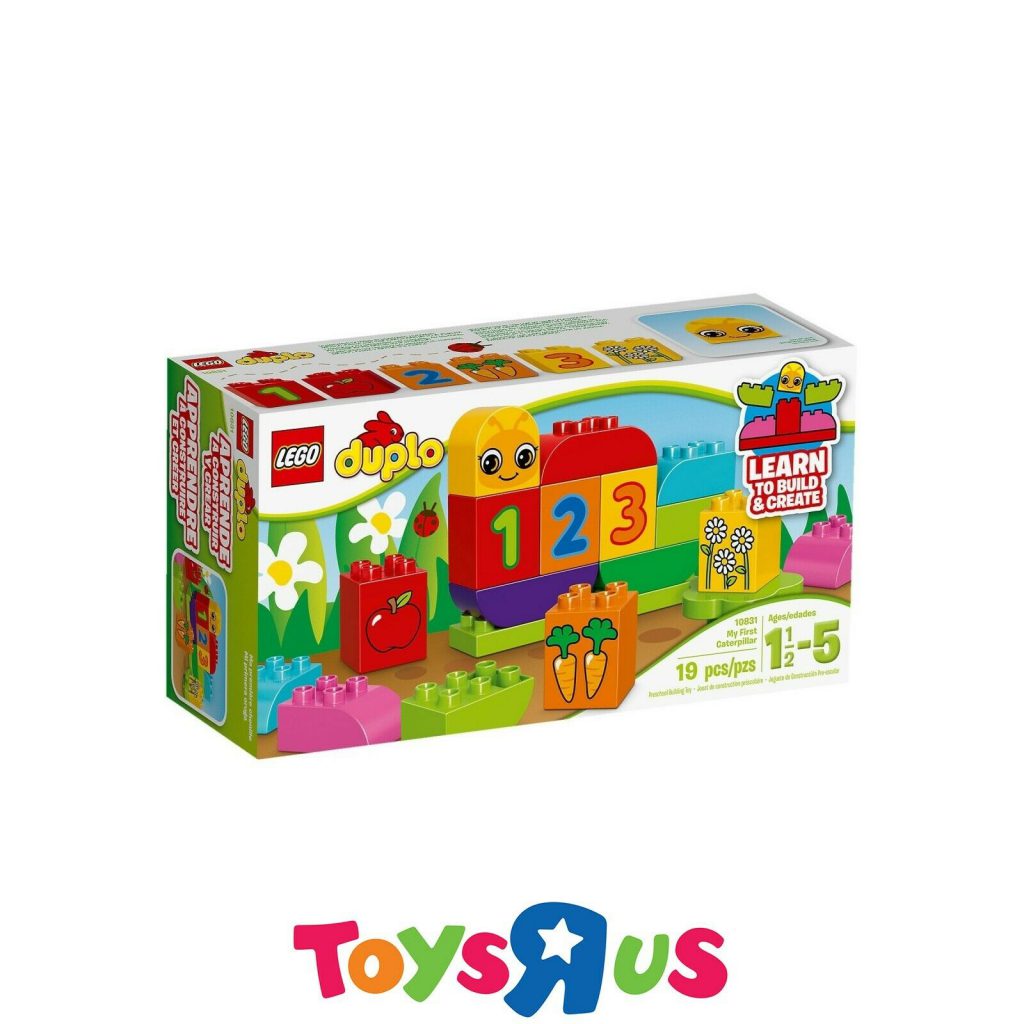 LEGO DUPLO My First Caterpillar
Young children will love learning to build and create with LEGO® DUPLO® My First Caterpillar. The colorful DUPLO bricks are specially designed to be safe for little hands, and building cards make it easy to change a caterpillar into a beautiful butterfly. Use the special decorated bricks to encourage counting an apple, 2 carrots and 3 flowers, there's so much to learn!
Encourage your toddler s creativity with this great selection of basic LEGO DUPLO bricks. A helicopter, a fish, a flower, a heart what will they build today? Fire your toddler's imagination with this great selection of basic LEGO DUPLO bricks for endless building fun! With these brightly coloured bricks including some with double-sided decorations, a propeller and building cards for inspiration, they can build just about anything imaginable a plane, a boat or a little house! DUPLO bricks are specially designed to be fun and safe for little hands. Features 80 colorful LEGO DUPLO pieces in different shapes and sizes. Includes double-sided decorated bricks and a propeller. This set provides endless building options to help little imaginations flourish. Help your toddler make a helicopter, a fish, a flower or anything else they can think of! Building cards are included to nurture early building skills. A great supplement to any LEGO DUPLO collection. LEGO DUPLO products are specially designed to be fun and easy for little hands. This set offers an age-appropriate build and play experience for ages 1 -3 years.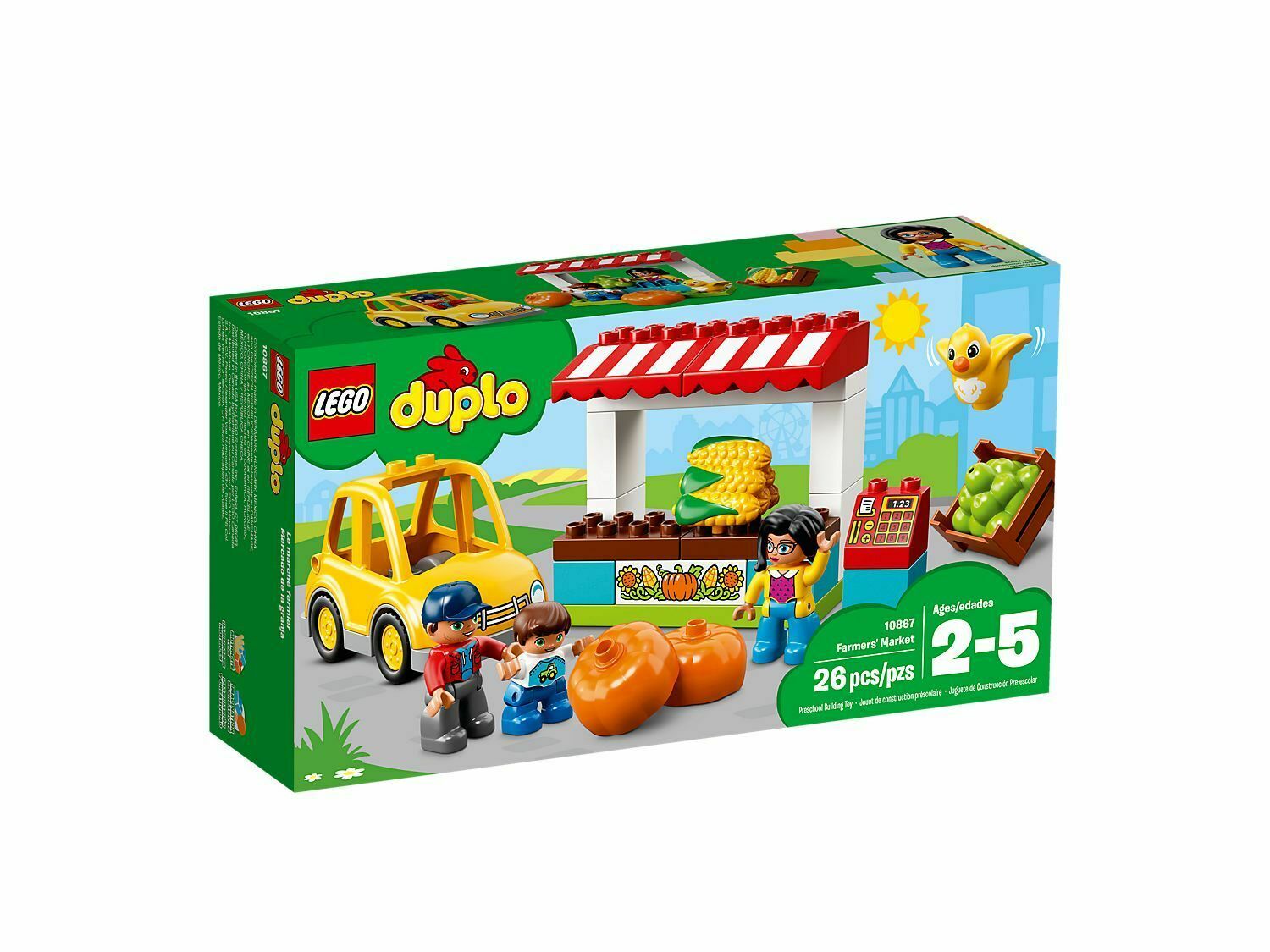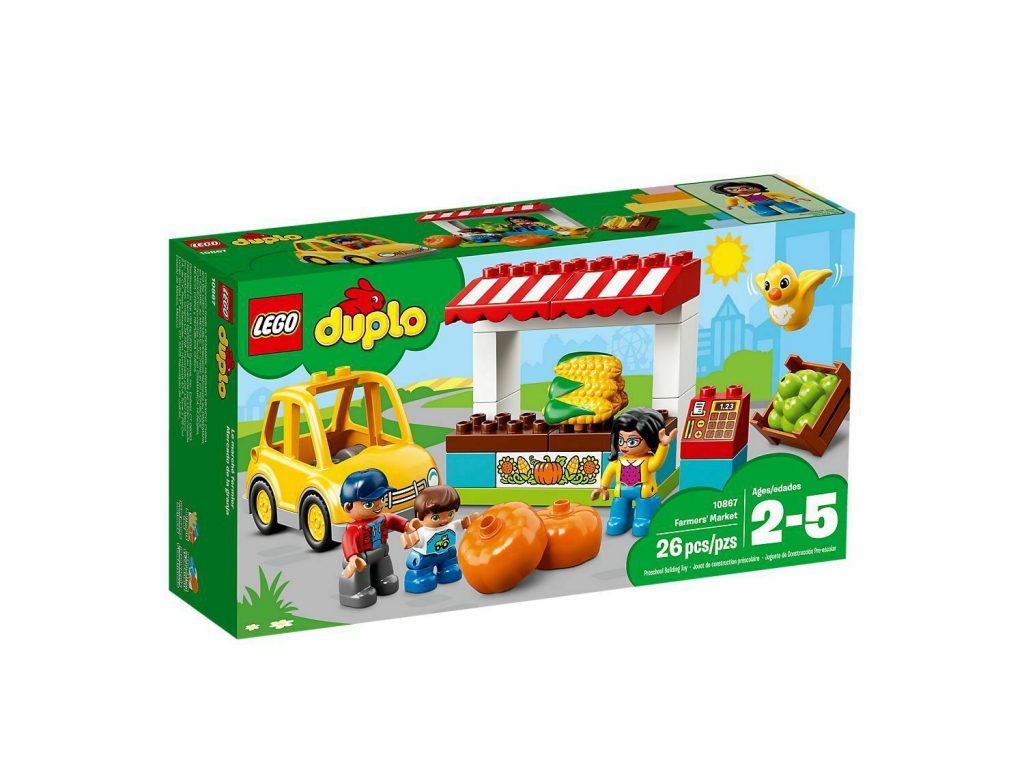 Play out real-life scenarios in LEGO® DUPLO® Town: a recognizable world with modern DUPLO figures. Toddlers will love to take a trip to the Farmers' Market and learn about all the fresh produce on offer. When they've practiced the routines of buying from a market stall with the 3 DUPLO figures, they can load up the family car and drive away! This set is easy to build with large building bricks and helps develop fine motor skills.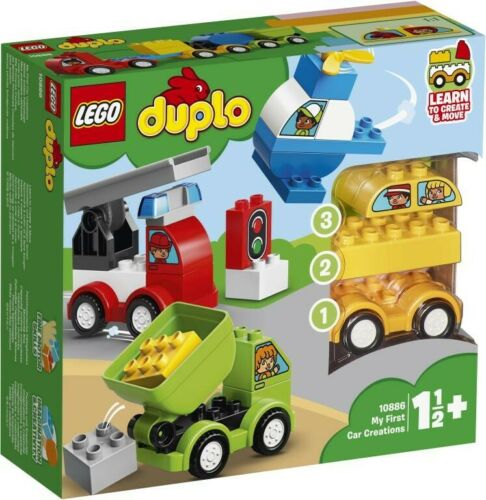 LEGO DUPLO My First Car Creation
Preschoolers will love to build and rebuild colourful vehicles with LEGO DUPLO My First Car Creations. Help them sort the colours to build a toy helicopter, taxi, garbage truck and fire truck for toddlers, or mix up all the bricks and create endless easy-to-build car creations by combining just a few chunky DUPLO bricks. Developing their fine motor skills as you go, this toddler toy car set is great for igniting any preschooler's imagination as they learn to create and move with classic car play.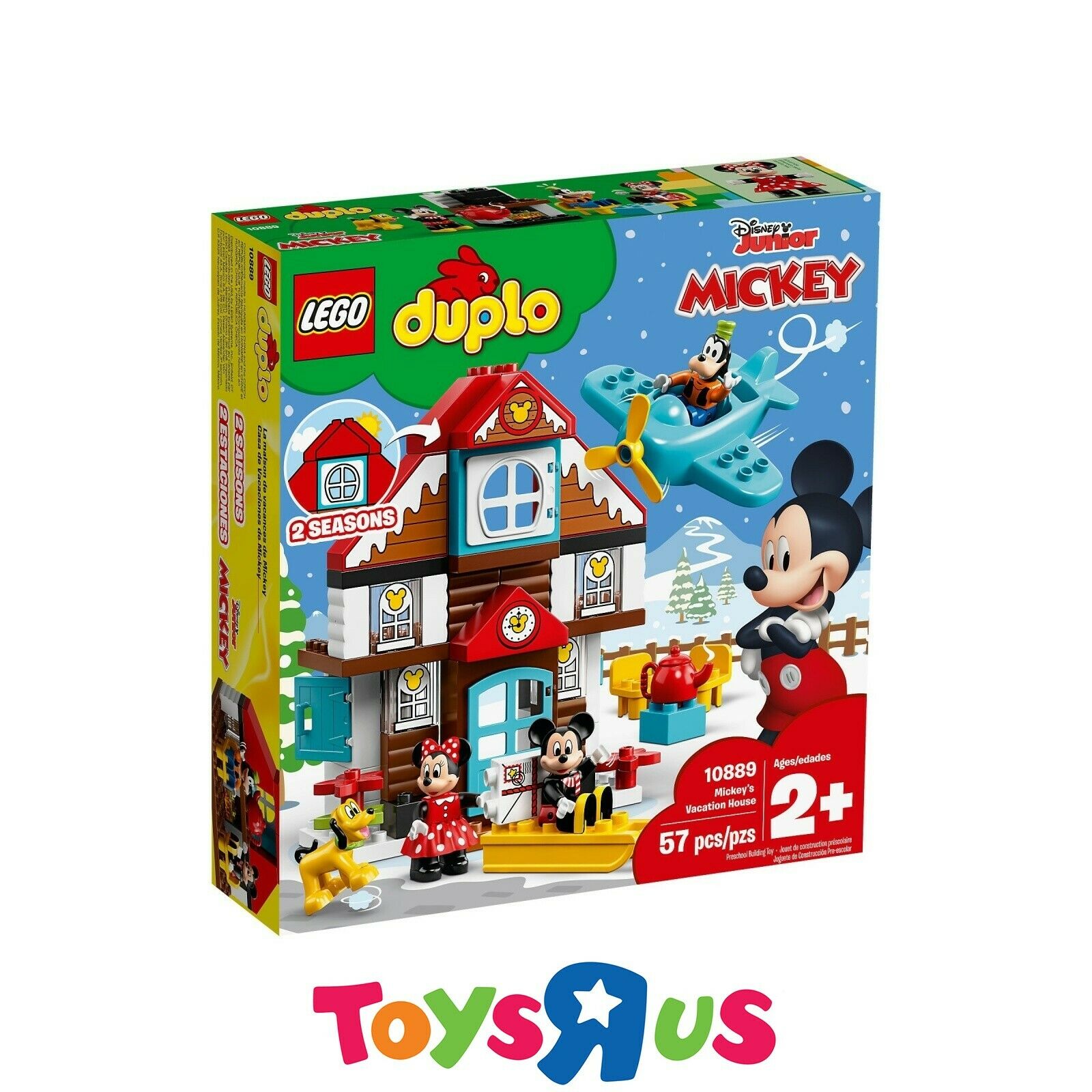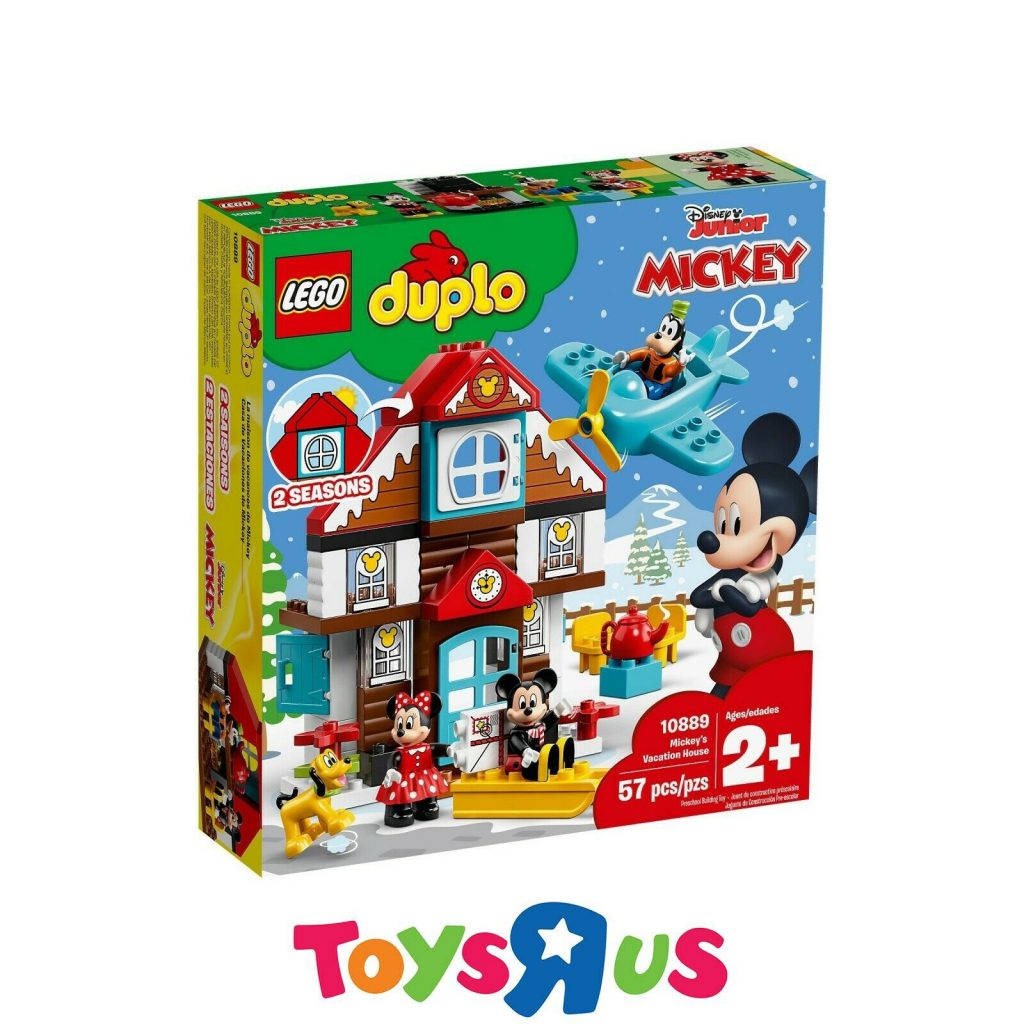 LEGO DUPLO Mickey's Vacation House
Head to LEGO DUPLO Disney 10889 Mickey's Vacation House for open-ended imaginative play with Disney Mickey Mouse and friends. With the reversible roof bricks turned to show their red-hot summer side, preschoolers will love watering flowers with Minnie Mouse, flying an airplane with Goofy and drinking tea at the garden table. Turn the reversible roof bricks to show their snowy white winter side, and your toddler can enjoy sleighing with Mickey and sharing a hot drink by the fireplace. The easy-to-handle building bricks develop kids' social and emotional awareness plus early construction and fine motor skills. With 4 DUPLO figures and so many ways to play and learn, this fun-packed Mickey Mouse and Minnie Mouse toy construction set is ideal for sharing precious moments with your toddler.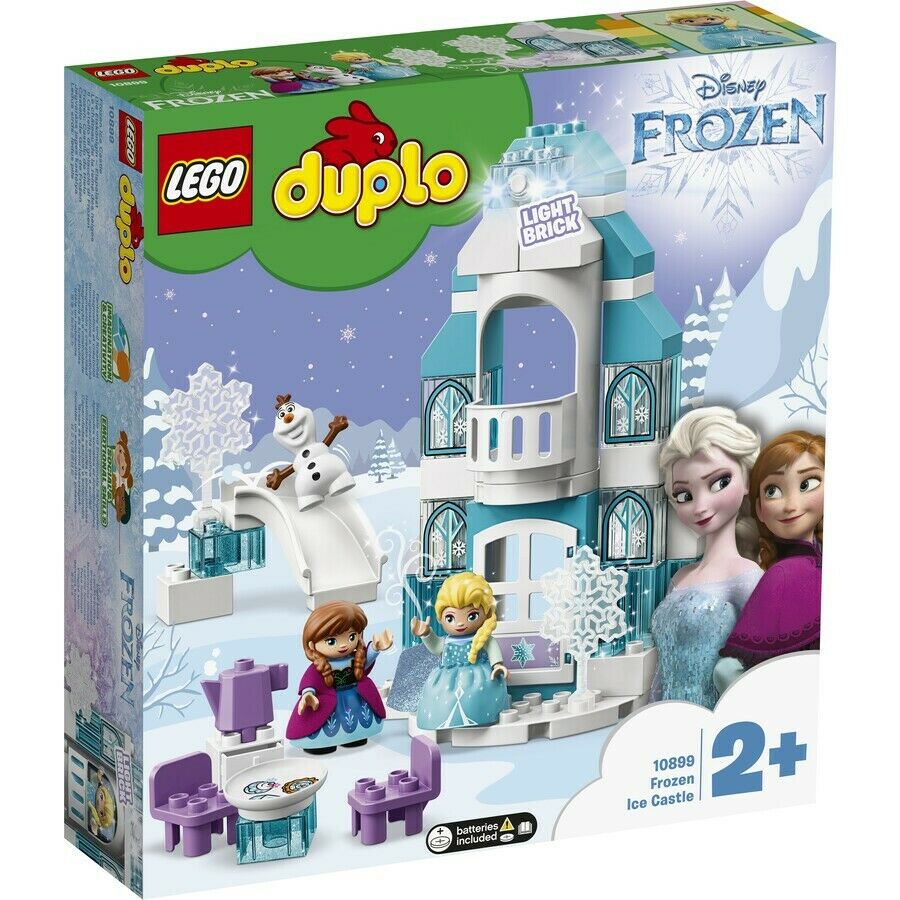 LEGO DUPLO Disney Frozen Ice Castle 
As toddlers role-play with their favourite Frozen characters, they improve their language and fine motor skills, and develop social and emotional awareness. Talk about Elsa's relationship with her sister, Anna. Enjoy open-ended creative fun with Olaf the snowman. With a multicoloured light brick feature illuminating the castle at the push of a button, you and your toddler will have endless enjoyment recreating scenes from the Frozen movie and dreaming up stories of your own with this sparkling, buildable educational toy for toddlers.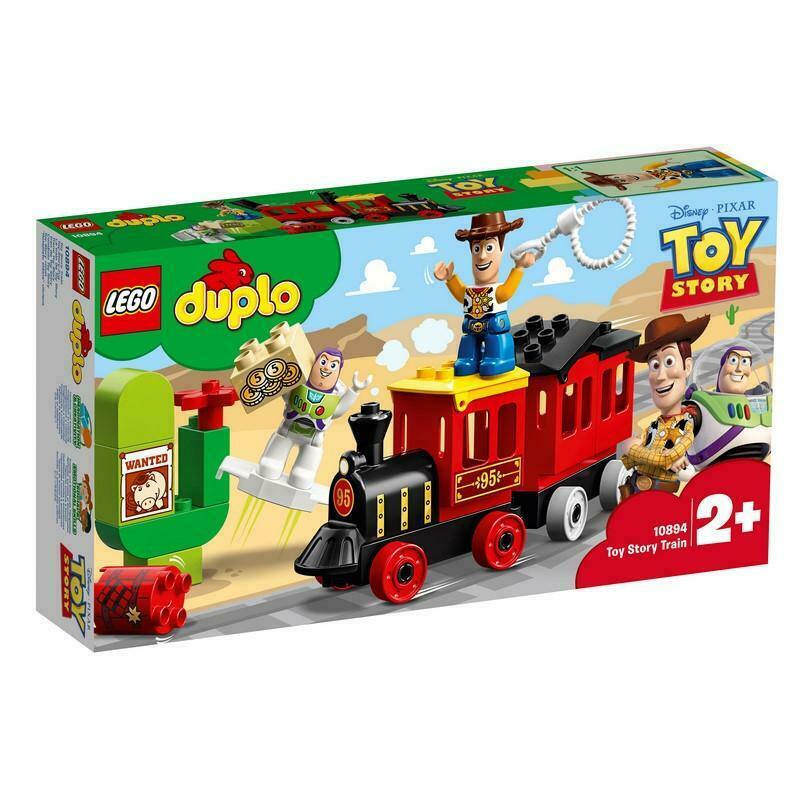 LEGO DUPLO Disney Toy Story 4 Train
Let your pre-schooler join forces with iconic Disney Pixar characters on the Toy Story Train! Inspire imagination and role-play adventures with your little Disney Pixar Toy Story fan, as Woody and Buzz Lightyear take a ride on the Toy Story Train. Teach them about teamwork and help build social and emotional skills as these two iconic characters work together to protect the bank vault from the evil Dr. Porkchop, who is featured on a 'Wanted' poster. The classic buildable steam train toy is easy to build, helping pre-schoolers develop early construction and fine motor skills in a much-loved Pixar setting. Includes 2 LEGO® DUPLO® figures: Woody and Buzz Lightyear.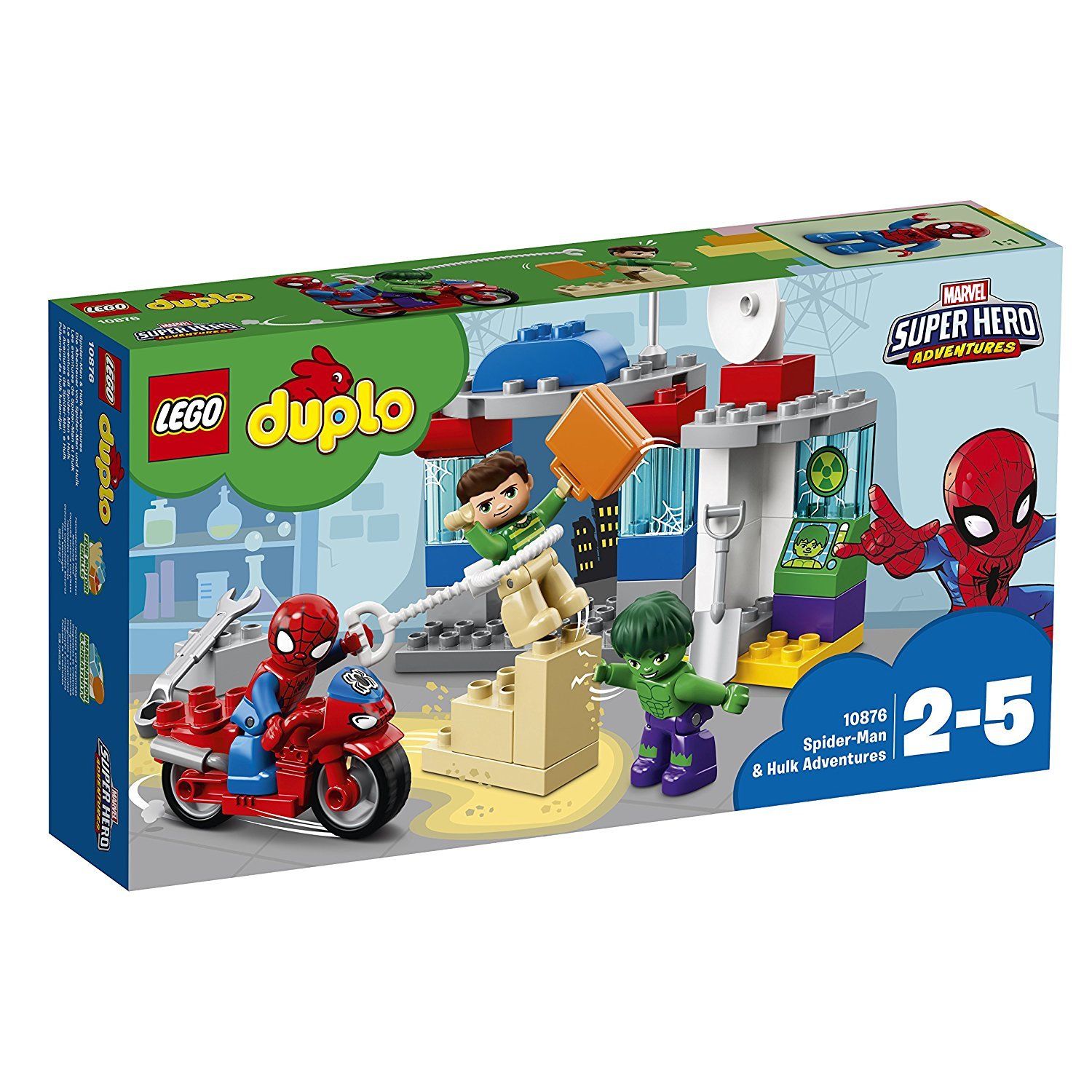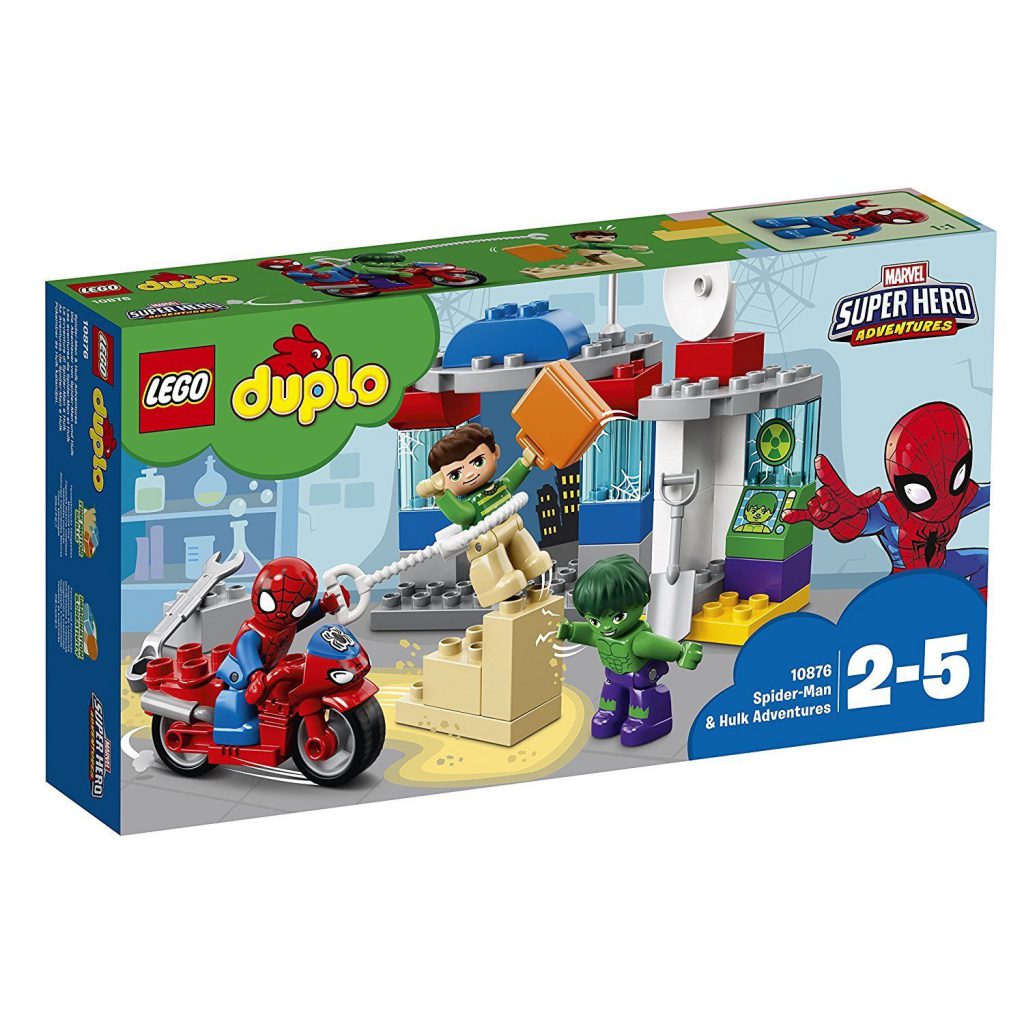 LEGO DUPLO Spider-Man & Hulk Adventures
Little superheroes will love to create endless role-play adventures with this Marvel superhero toy, as Marvel s Spider-Man and Hulk try to stop Sandman from stealing an important suitcase. Help young children develop fine motor skills as they build and rebuild Spider-Man's garage and Hulk's laboratory at Avengers HQ, then use the wrench to fix up the motorbike before Spider-Man speeds off to save the day! Includes 3 LEGO Duplo figures: Spider-Man, Hulk and Sandman.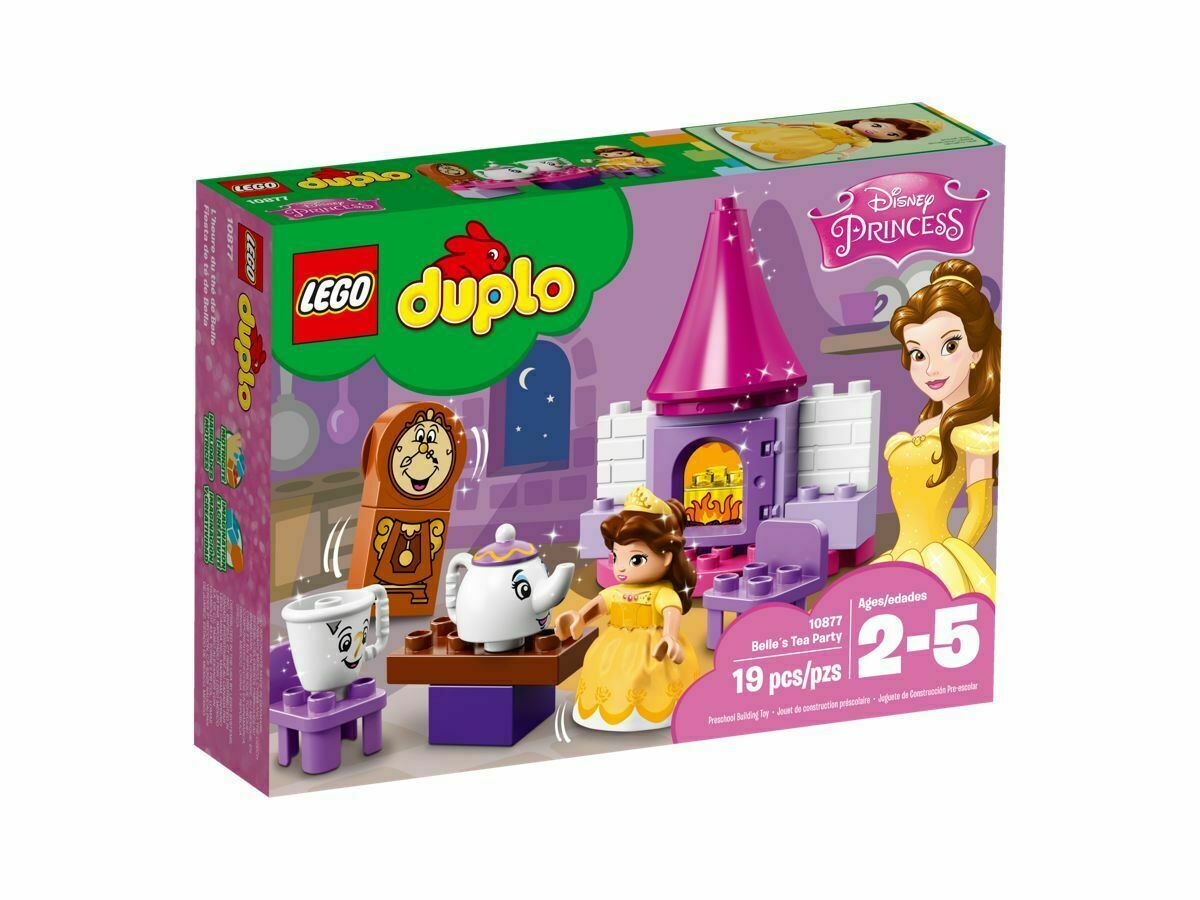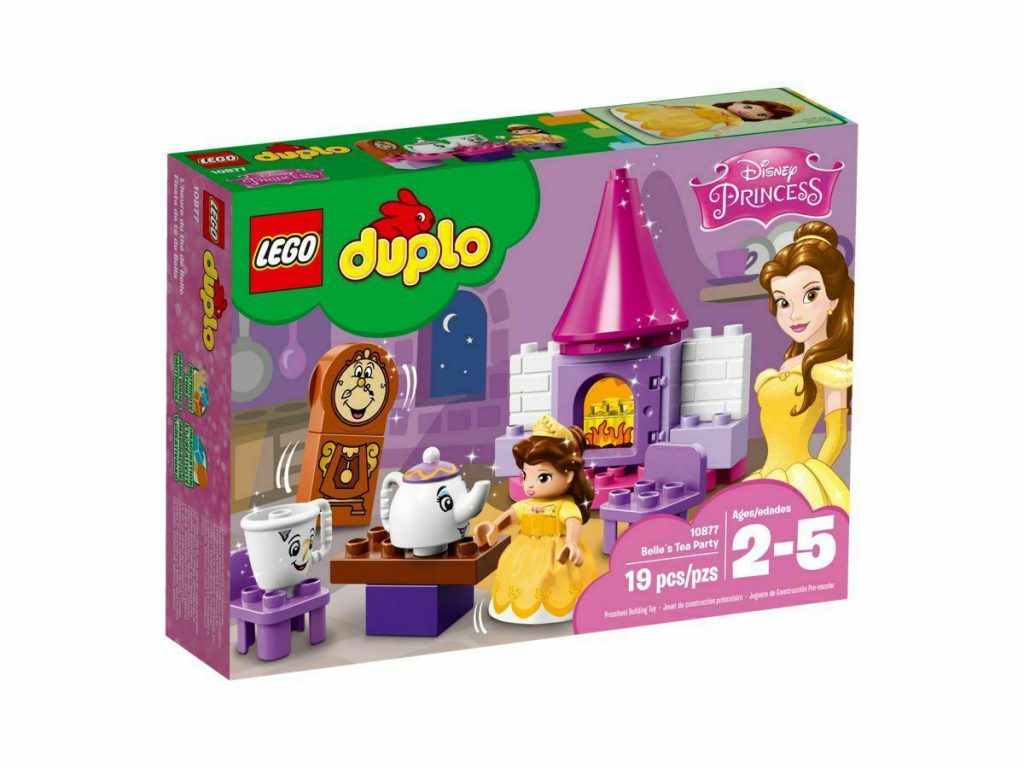 Disney Beauty and the Beast fans will love to role-play scenes from the movie or create new stories of their own. Develop early construction skills with this easy-to-build DUPLO l Disney toy building set full of much-loved characters and decorated bricks to bring the magic to life. Includes a LEGO DUPLO figure: Belle, plus Mrs. Potts, Chip and Cogsworth DUPLO figures.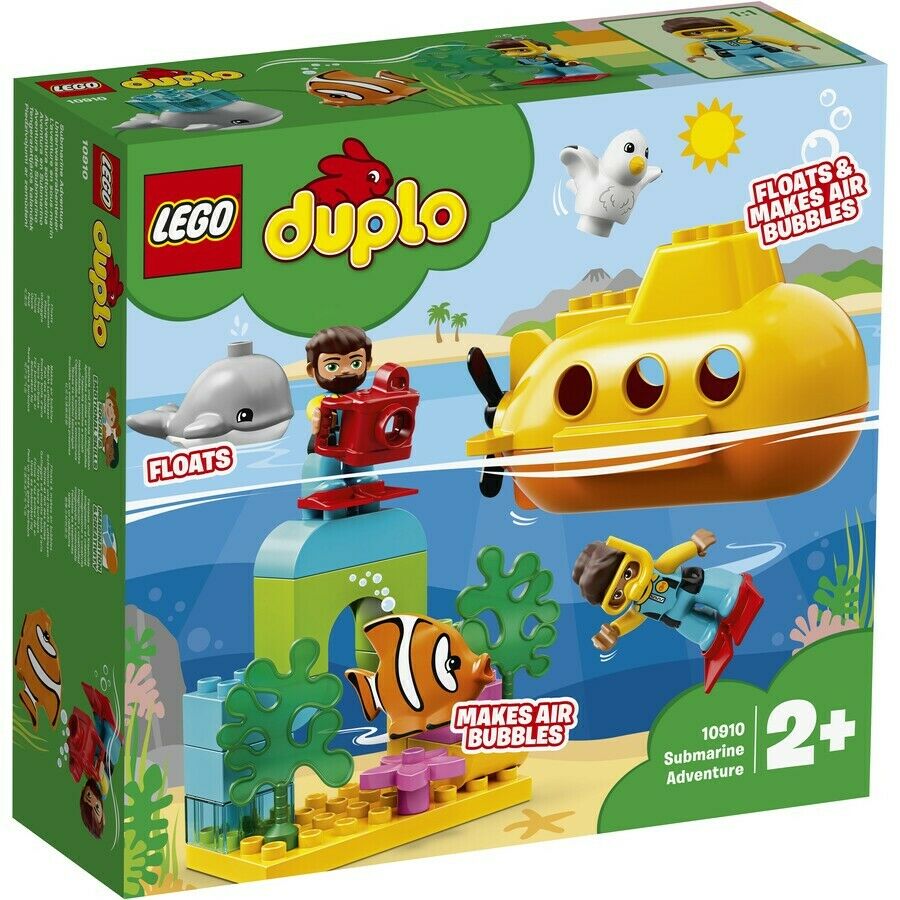 LEGO DUPLO Submarine Adventure
This educational bath toy for toddlers provides lots to learn and talk about as young children pretend to film the whale and fish with the toy camera. At bath time, the toy submarine floats and bubbles on the surface as the whale glides by and the fish blows bubbles below. With 2 diver figures to share the fun who knows where your next underwater adventure will take you and your little submariner.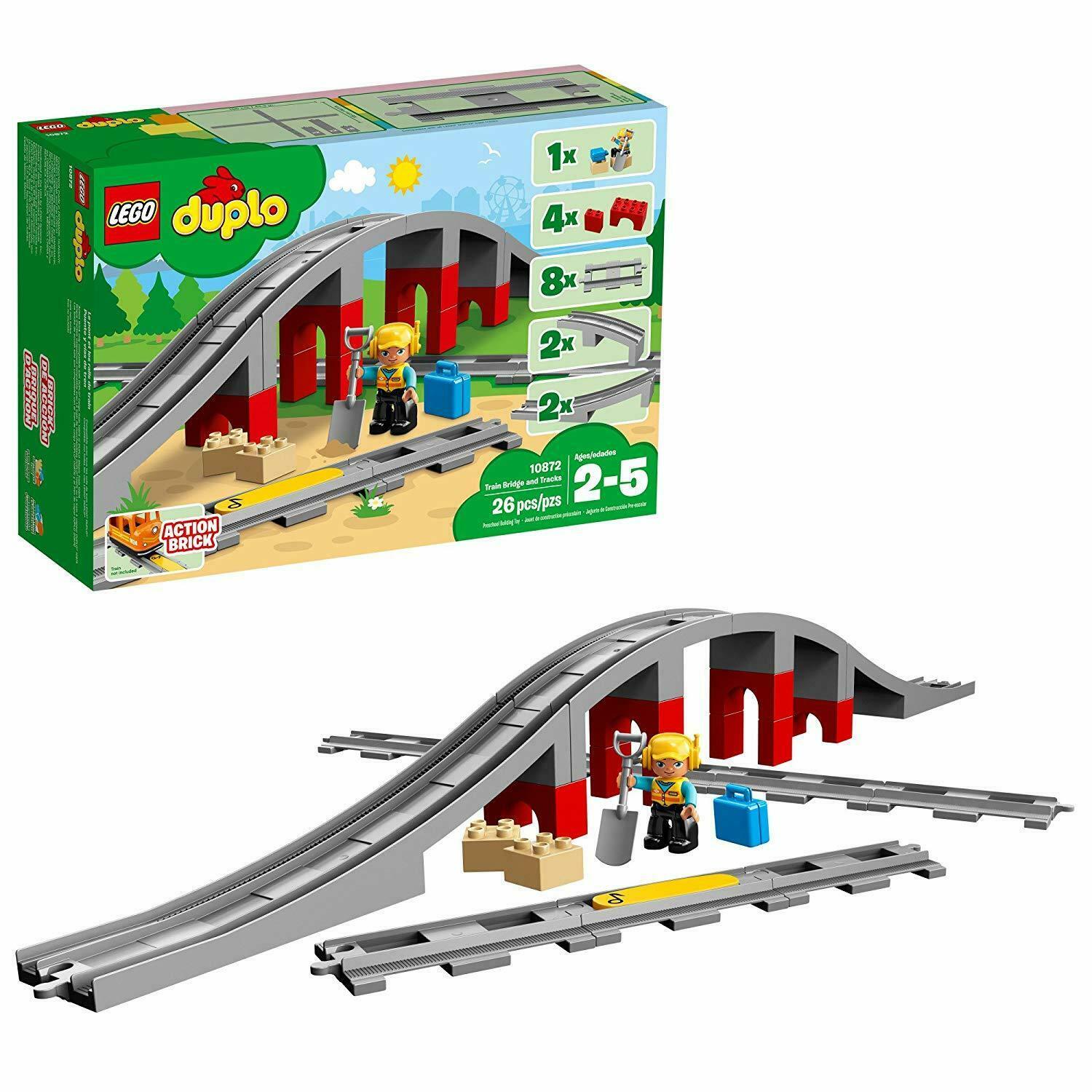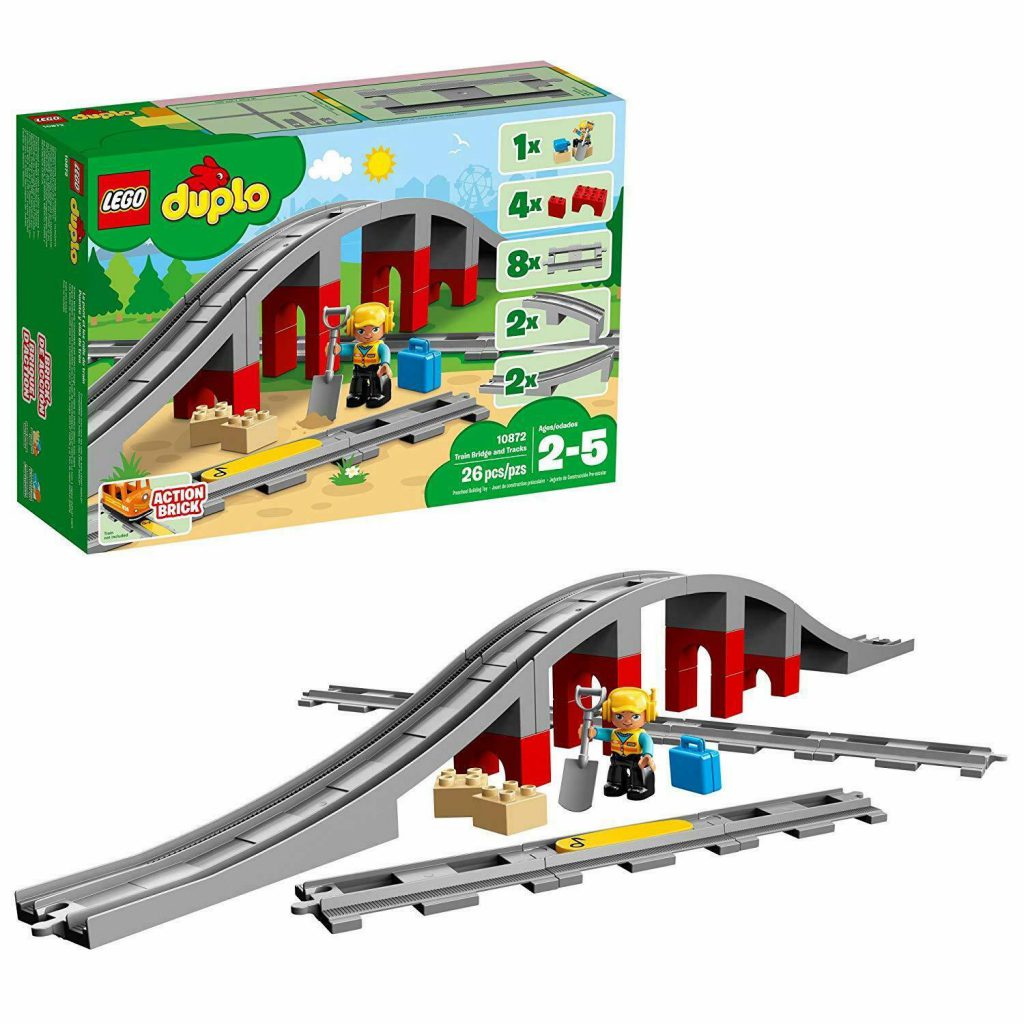 LEGO DUPLO Train Bridge and Tracks
Add this LEGO DUPLO 10872 Train Bridge and Tracks set to any new or existing DUPLO train set and develop early construction skills as your toddler builds the tall bridge and arranges the toy train track pieces in any way they like. Help your preschooler place the yellow action brick on the track to make compatible DUPLO trains sound a horn as they drive over it. Also includes a LEGO DUPLO construction worker figure, 2 loose bricks, a spade and a suitcase to extend the role-play and story-telling fun.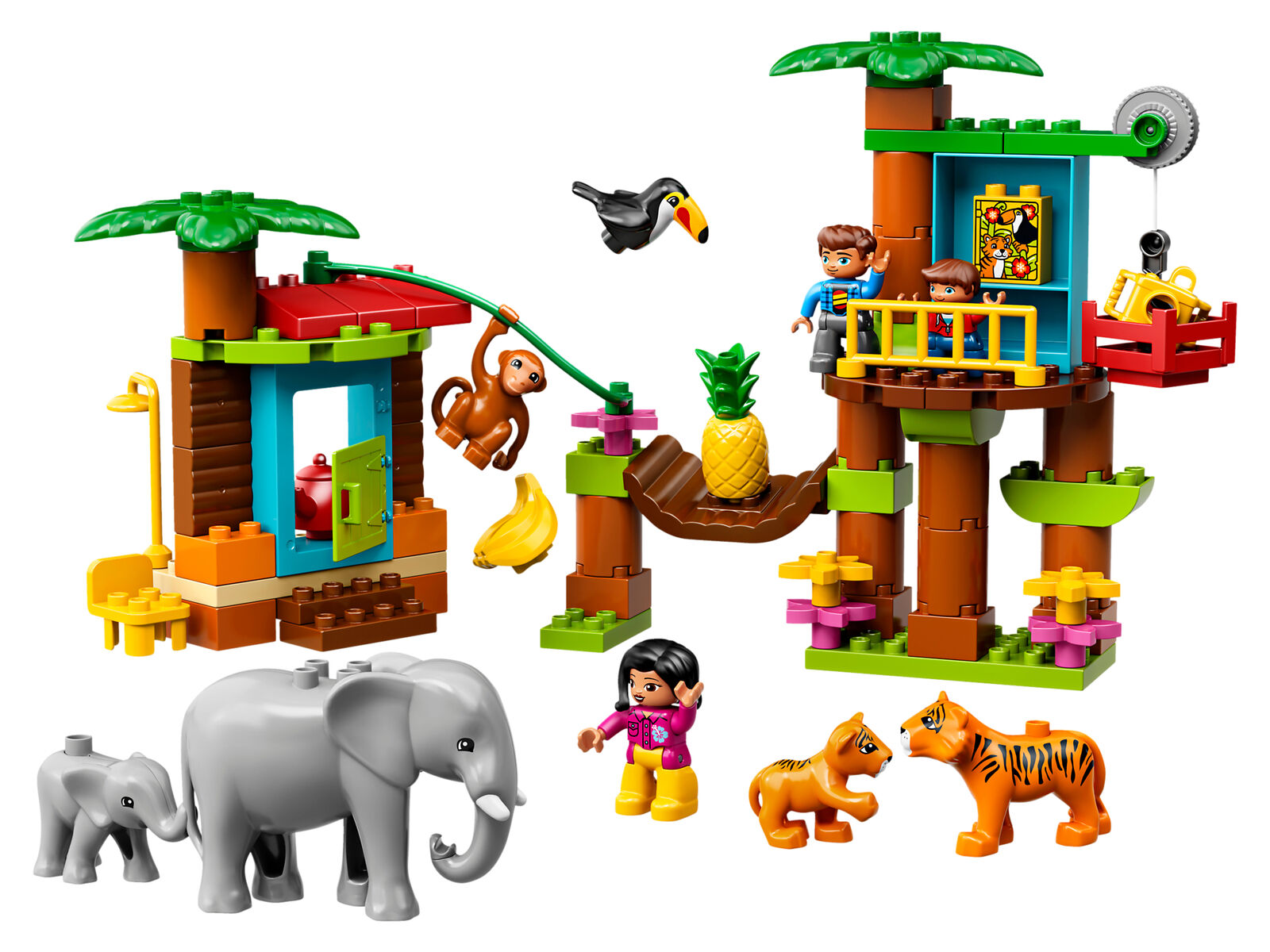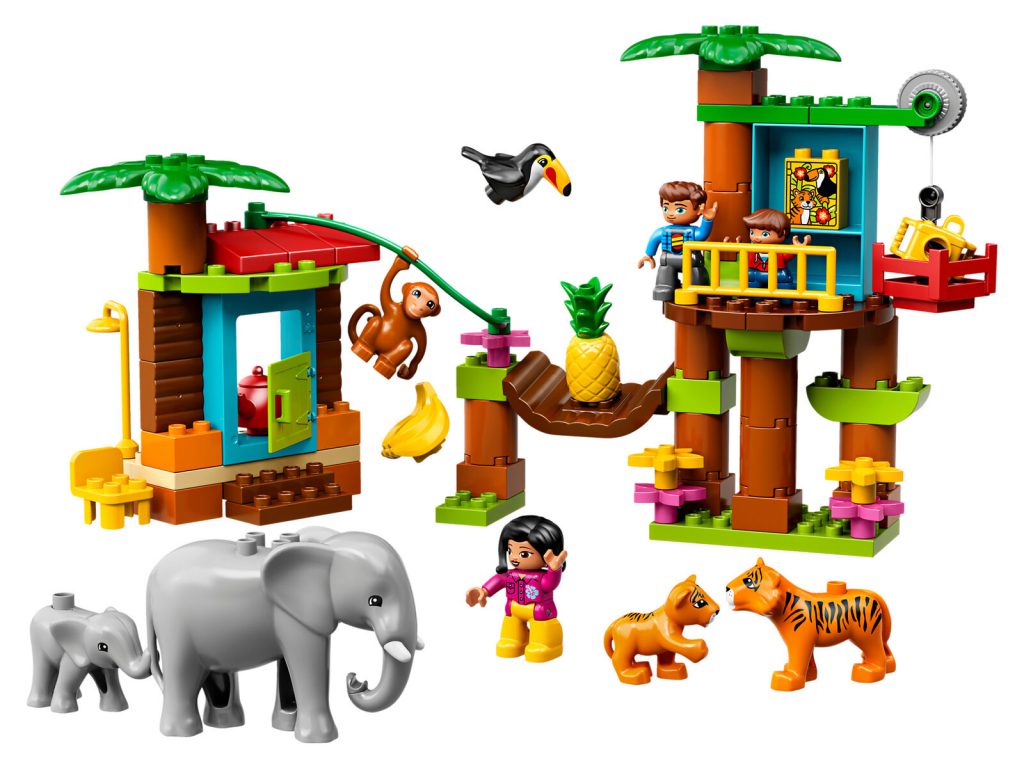 Discover jungle animals and adventure with your toddler!
Encourage your toddler's emotional development and fine motor skills with LEGO® DUPLO® Town 10906 Tropical Island, with imaginative play exploring a world of wild animals, fun features and jungle adventure! There's a pulley system to lift supplies up to the family tree house, a turning bridge to move into position and a vine for the monkey toy to swing on. With a host of colourful LEGO DUPLO animal toys joining a caretaker, a traveller and his son, this large and varied educational toddler toy provides endless opportunities for your pre-schooler to play, learn and express themselves.
Disclaimer: This article contains affiliate eBay links. This means that should you make a purchase we may receive a small commission at no extra cost to you. The reason we have chosen to include eBay links is because as parents ourselves, we appreciate time-saving, and money-saving tips. By shopping all of your favourite stores in one place, we think you'll enjoy a seamless, streamlined shopping experience.