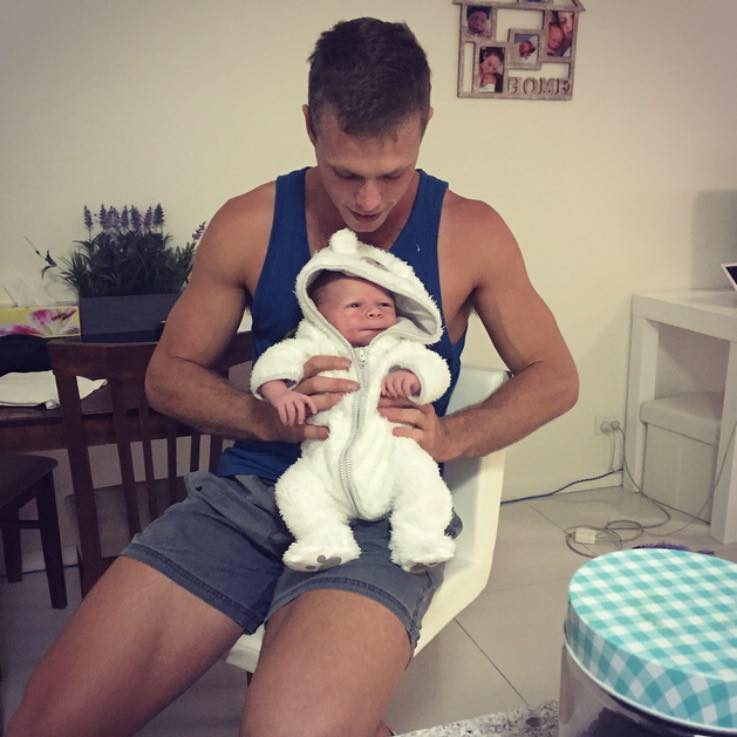 Since we shared the story of how 23 year old Tommy Connolly stepped up to help his homeless, pregnant 17 year old cousin Sarah*, the inspirational University student has experienced support and praise pouring in from all corners of the globe.
We were lucky enough to catch up with Tommy himself yesterday to learn more about how reconnecting with Sarah after 10 years has impacted on both of their lives.
We became reunited because she sent me a friend request on Facebook. As soon as I saw the request, I messaged her straight away in excitement. But that excitement soon disappeared as she tried to explain her situation."
Life was tough for Sarah (although it was the norm her). There was a never ending list of traumatic incidents recorded from the age of 7 to 16 years old…I won't repeat these things, but it's the type of stuff you'd only see in movies, or sometimes not even that. She's had a life that could easily break a person mentally, emotionally and physically, but she is the happiest, sweetest girl I know.
In terms of housing, she never knew where she was going to spend each night. She spent nights at bus stops, under bridges, car parks, spare lounges or anywhere she had shelter. She had her mums place, but it was much safer on the streets than in that house.
It didn't take me any time to come to a conclusion [to help her] The decision was made the second she sent the message.
It was a fluke that I had some money in the bank at the time. I'm usually broke, but I worked a lot the last couple months before she contacted me. I took her to lunch, bought her a phone, SIM card & credit, shoes, and clothes. From that day it was whatever she wanted or needed. We got her learners drivers license, then searched for a bigger house. So it was the bond and rent, furniture, house and baby stuff, food and anything that came up. I bought her a kitten!
With Tommy's financial help and emotional support, Sarah has been able to break the cycle and is determined to provide a better future for her own son. He has set them up in a home in a lovely new suburb, and she is looking forward to making new friends. With Tommy's help she has been able to set and prioritise some goals for herself, including learning to drive, improving her health and receiving some long awaited dental work, and studying for a future for herself and 'Baby K.' The young mum who once lived day-to-day, not knowing where she might sleep that night, is now planning a career in beauty.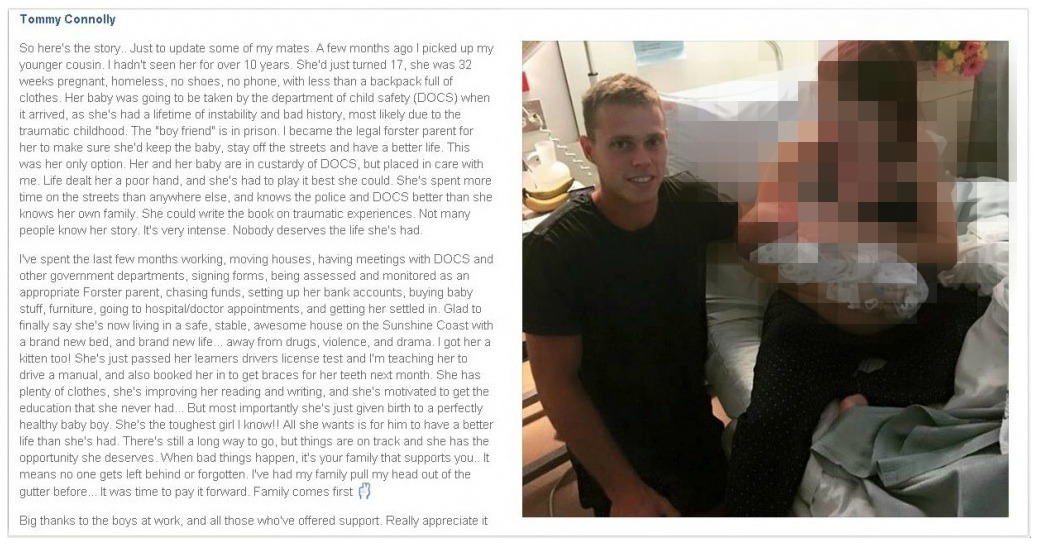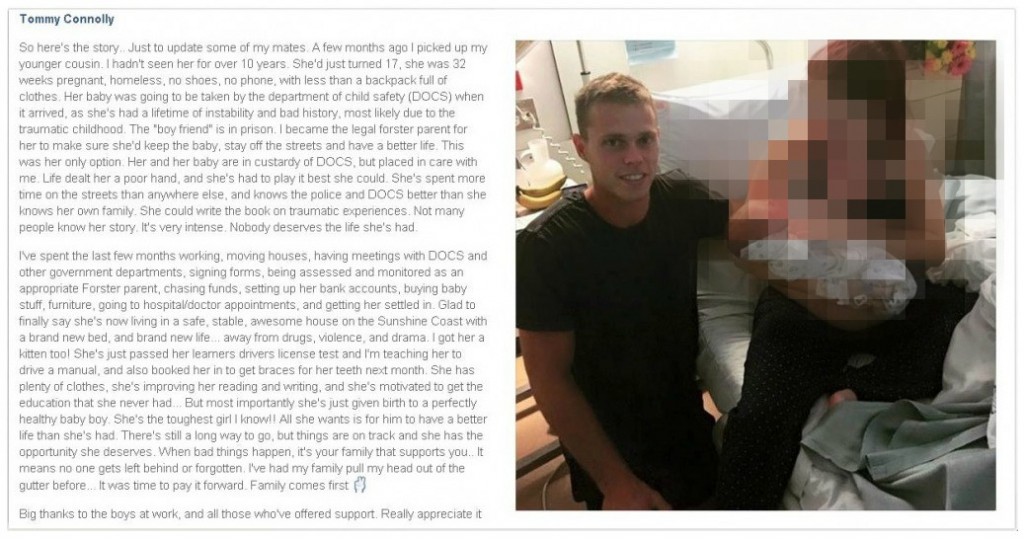 But Tommy's role in turning Sarah's life around extends way further than finding them a home to live in and teaching her to be more independent. Tommy has been with Sarah every step of the way since they reconnected, throughout what remained of her pregnancy and even in the birthing suite.
It was an amazing experience seeing a new life being brought into the world. I was the only person Sarah had, so I made sure I filmed the whole birth, as I knew this is what she wanted. I did put the camera down to cut the umbilical chord though!
Whenever I'm at home, I just help her whenever she needs me. I can change Nappies, give him a bath, burp him, change his clothes. But I can't feed him unfortunately! Haha. Sarah does most of the work and she loves doing it. She was born to be a mum. And I think [Baby K] is awesome and I really enjoy taking care of him. Most of the time I'm asking to hold him!
Speaking of the support they have recieved since their story went viral across social media Tommy said:
It's incredible. I just wish I could reply to everybody! Not many people are lucky enough to get this kind of support, so I really appreciate each and every message. I always read Sarah some of the awesome messages/stories that we get sent, and it's constantly boosting her self-esteem. We've actually been stopped quite a few times at the shopping centre and when we go out. It's strange but also really nice because it's all positive stuff.
Shortly after the story broke, Tommy's brother Liam set up a GoFundMe account for his brother – to date the money raised stands at over $28,000 in just 10 days.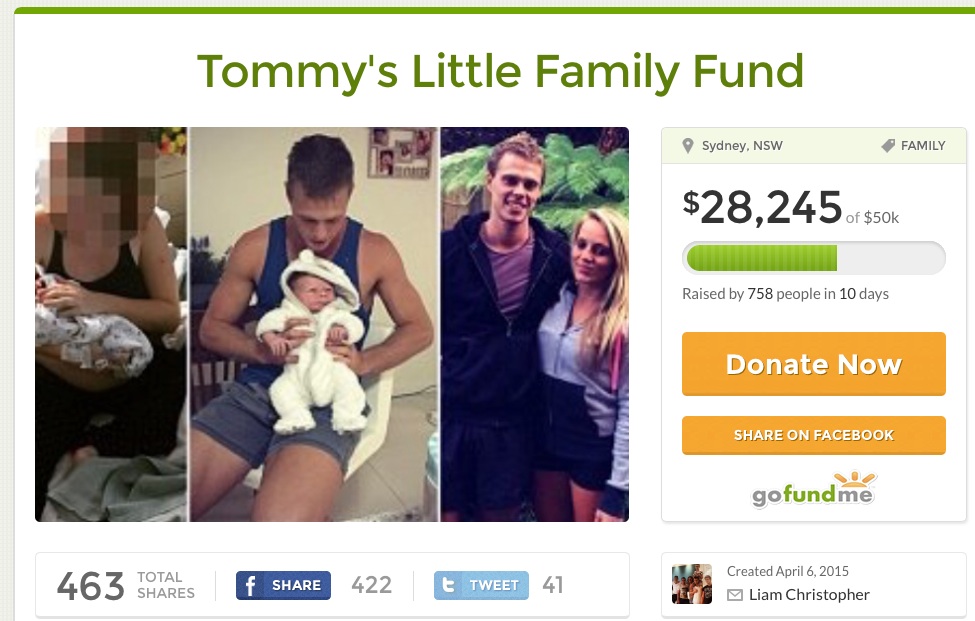 When asked his thoughts about the fund Tommy admitted that at first he was almost angry at his brother, because he hates the idea of people giving them money. If it were up to him, he insists, he would happily sleep on the couch as long as Sarah and Baby K are taken care of.
However, he is incredibly grateful and humbled by the support adding "I know a lot of people are saying that I'm amazing for what I have done, but really I would like to think it's what anyone would have done. Sarah is the amazing person here, she's overcome so much on her own – I'm just helping her along the way."
Tommy, now in his 3rd year of an education degree, will be competing in the sprinting event at the Oceania Games next month.
We're sure that you'll all join us in wishing Tommy,Sarah and Baby K the very best for a bright and happy future.
*Names have been changed.