Babies are usually an easy person to buy for at Christmas time. They're not easily fussed with what you get them and will most likely be more interested in the wrapping paper than the actual present.
Yet Christmas is a great time to give a gift to a baby to help with their toy collection as they grown.
We've found 11 Christmas Gift ideas for babies to suit a range of budgets.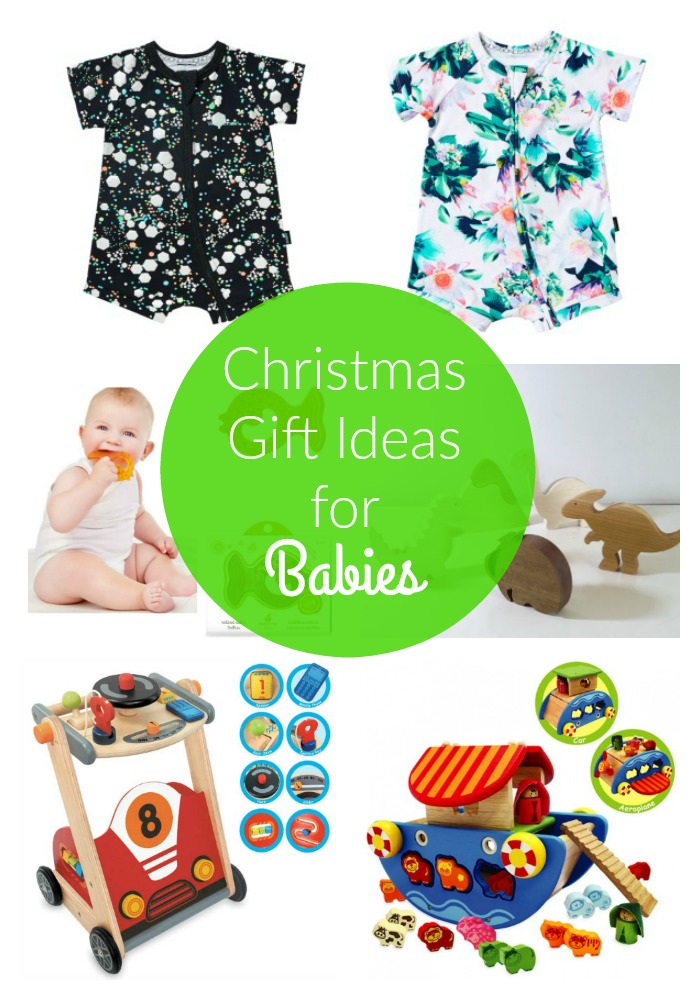 1. If the baby you're buying for is quite 'new', they will have absolutely no idea what is going on. A beautiful gift could be a handmade swaddle wrap.
2. A baby can never have too many teethers. This fish teether is light and easy enough for a baby to hold with one hand.
3. Most babies love their bath, so some toy boats they can play with is an expensive but thoughtful gift.
4. Make bath time even more fun by giving baby these mirror bath toys.
5. Wooden figurines are a thoughtful gift as they are often used as decorations in the nursery, and when baby is older, they can play with the wooden figures.
6. Babies can get messy as they start to learn to eat solids. A baby wondersuit is never a wasted gift. It helps baby look and feel cool during summer.
7. Touchy, Feely books like That's not my…. are always well received and babies love the textures.
8. Fabric Books are also a sweet gift idea and help with baby's sensory play.
9. Wooden toys suit older babies. This stacking wooden puzzle would be great fun for a nearly 1 year old.
10. The equivalent of a dolls or farm house, is this wooden Noah's ark. Your baby will get a lot of play in the future from this toy.
11. If baby is on the move, this car walker will help them practice their standing and walking.
For other gift ideas for babies, why not check out these adorable crochet rattles? If you know of a mum who is expecting, we also have a gift guide for new mums that gives great gift ideas for a mum-to-be.
Disclaimer: There are affiliate links on this post. Should you choose to purchase an item, we will receive a small commission at no extra cost to you.