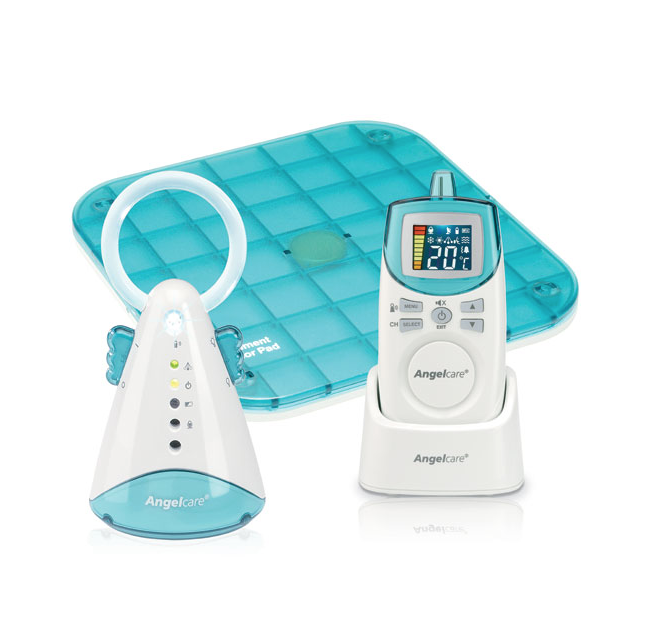 I'm sure that I'm not the only new Mum who has woken up through the night to check on her sleeping baby, in fact I bet if you ask any new parent if they've spent time worrying about their baby asleep in their cot while trying to fall asleep and the chances are they will answer yes.
The Angelcare Baby Monitor was the answer for my husband and I to ensure we were getting a good night sleep – well as much as you can with a baby anyway!    The Angelcare Baby Monitor is an award winning baby movement and sound monitor system which gives parents the peace of mind that they will be woken up if their baby needs them. Some of my favourite features of our Angelcare Baby Monitor include:
Under the Mattress Movement Sensor Pad
This pad sense every single one of your baby's movements while they are asleep and will sound an alarm if no movement is detected after 20 seconds.
Digital Display
The Parent Unit of the Angelcare Baby Monitor has an easy to read digital screen which makes checking it through the night so much easier. The display unit also includes a sound light which lets you both see and hear the sounds that your baby is making.
Temperature Display
This is a great feature of the Angelcare Baby Monitor as it allows parents to keep an eye on the temperature in their baby's room and adjust their sleeping accessories accordingly.
Nursery Night Light
The Angelcare Baby Monitor also functions as a nightlight for your baby and helps you move around their room easily when it's dark.
Portable and Rechargeable Parent Unit
No matter where you are in the house you can take the portable Parent Unit with you to ensure you are there when your baby needs you.
Audio Tic Feature
For extra reassurance you can turn on the audio tic feature to hear a soft ticking sound for peace of mind knowing the monitor is working even when your little one is sound asleep.
For more information about the range of Angelcare Baby Monitors available, visit the Angelcare website.
Disclosure: This is NOT a sponsored post.