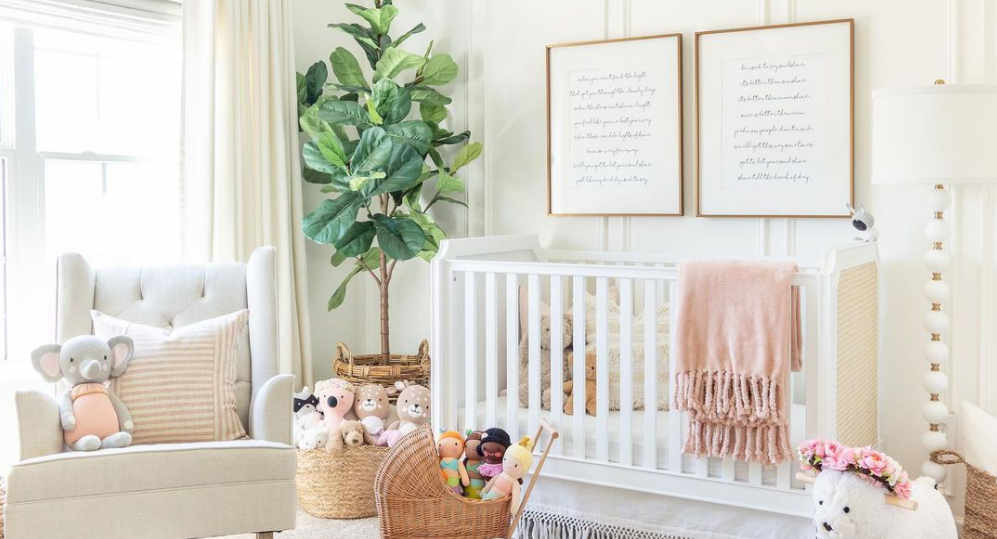 "Blood and Broken Glass Everywhere": Mum Shares Warning About 'Instagram Inspo' Nursery Set-Ups
Decorating the nursery is something that most parents look forward to. Stacking up the nappies and arranging all the little jumpsuits just so is such an exciting moment for all new parents eagerly awaiting their precious new arrival. Unsurprisingly, gorgeous designer nurseries are popping up all over Instagram giving new parents inspiration for their own child's first bedroom.
Unfortunately, though, one mum has learned of the dangers of hanging a framed picture above her child's cot too late to prevent a traumatic experience for her little one.
Explaining the scenario on Mumsnet, the anonymous mother shared a warning for parents everywhere.

Looking on with the benefit of hindsight, we can see how easily an accident like this could happen. But that isn't to say that I wouldn't have made that same mistake, too. There are so many carefully styled images saturating our social media of perfectly beautiful nurseries that include gorgeous prints on the walls, who would think that something so horrific could happen to a child?
View this post on Instagram
Other parents were quick to console the devastated mum and thank her for the advice.
"You poor thing, what a shock that must have been for you and your toddler. Is she ok?" wrote one kind contributor.
"Yep, frames above the bed are not a good idea. Nor are shelves holding up pictures, or those canopy things, or cot bumpers or lots of stuffed toys in the bed. Safest cots are clear, flat, mattresses with no hazards on," she continued.
"Don't stress now, your child will recover quickly and likely not have any damage. Plenty of cuddles and some hot tea for you."
View this post on Instagram
"Sorry to hear your little one got hurt," added another. "I think it's very good of you to share your story on here for the benefit of others. I shall pass the message on to mum groups I'm in."
And one thanked the mum for her warning as she was just about to buy some prints herself: "I've just been looking at framed prints to put over the wall in my sons' room but now I'm going to get a soft canvas print instead."

Source: Instagram and Mumsnet