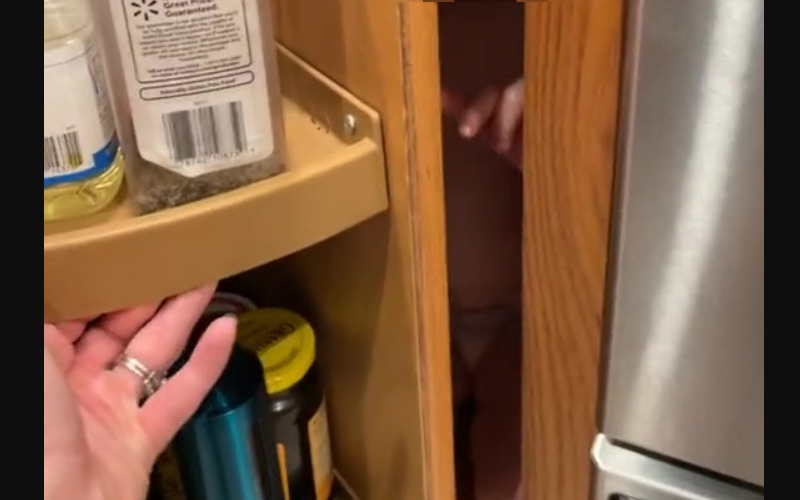 Toddlers are full of fun and mischief, that much is true. The sorts of silly trouble they get themselves into is crazy as they are hellbent on testing every single boundary they come across. Some, like my son at that age, are absolutely fearless and have no sense of the danger they might be putting themselves into.
American mum of three, Cortney Loffredo, shared a clip on TikTok of what appears to be a lazy susan-style corner cupboard in her kitchen. She captioned her video "My youngest found a new hiding spot before bath time", giving us an idea of what to expect – her toddler had managed to wriggle his way into the depths of the kitchen cupboard to avoid getting in the bath.
"Are you serious?" she can be heard saying as the rotating shelves mysteriously starts to move on its own.
Oh my goodness, those giggles! And his playful "cheese!" once he sees his family in the brightness. Absolutely delightful!
The mum revealed in the comments that he attempted to go right back in as soon as he was out. Because of course he did! He is a toddler, after all. "Again, again!" is almost their collective motto at this point.
The video has since been viewed more than 6.5 million times with people praising Cortney for her poised state.
"Nobody is talking about how this is the best hiding spot possible," commented one person.
Another added: "I would simply have a panic attack."
"Y'all are saying that she is so calm bro, that KID is so calm!" pointed out another. "I would have been freaking out!"
"The Momest thing ever said… "boys quit fighting. I'm trying to get your brother unstuck out of a lazy Susan," hilariously noted another.
Source: TikTok/cortneyloffredo