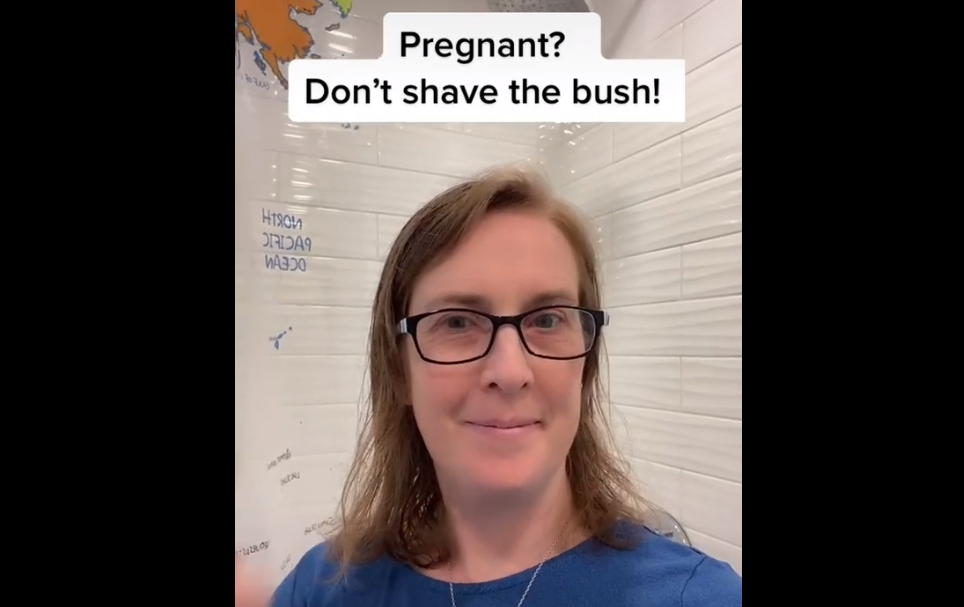 As your due date draws ever closer, you might have a To Do list on your mind that might include a little personal grooming down there. You know, in that one specific area that you can't really catch a glimpse of right now.
But in news to a lot of young mums-to-be, it is actually advised to not wax or shave before giving birth. This comes as a birth specialist has gone viral on TikTok for advising pregnant women to ditch the razors and not to bother "shaving the bush" for the big event.
A nurse, lactation consultant, and doula who goes by @nutmeg_lc on TikTok, posted a now-viral video with 3.7 million views.
"Did you know that it's actually NOT recommended to shave pubic hair after 36 weeks of pregnancy?" her video caption reads.
Though it's understandable that people might want to look and feel prepared and ready for their birth experience, the birth specialist goes on to explain why.
"Shaving pubic hair can INCREASE the risk of infection at the time of birth, even with Cesarean birth," her video continues.
But what about waxing? Is waxing a safer option?
"Waxing isn't necessary either and is usually more painful during pregnancy," she explains.
"Doctors don't care. Leave the bush alone."
Some commenters pointed out that they were shaved by nurses before giving birth and wondered why they would perform this task if it wasn't recommended.
"People think that, because they were shaved, it must be best practice. Unfortunately, medicine can be very slow to change, and we learn," @nutmeg_lc replied in a second video clearing up the misconception.
So there you have it, ladies! Don't bother to shave the bush before giving birth. No one cares and it is actually a safer option.
Perhaps have a little trim if you're feeling self-conscious about it, but leave it at that.
Source: TikTok/@nutmeg_lc