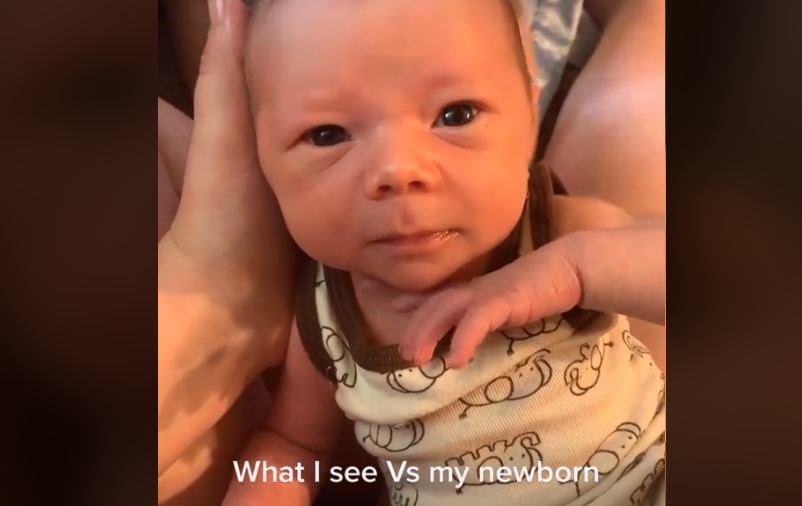 Have you ever wondered what your baby sees when they gaze back up at you when you are cuddling them?
Perhaps you might imagine them focusing on your eyes, basking in the love and adoration that is being showered upon them. Or maybe you are picturing them studying every detail of your face knowing that mum is the most important person on the planet?
Mum Alissa J. Owens shared a hilarious point of view video that accurately demonstrates exactly what our babies see from their point of view, and honestly, it made us burst out laughing.
The mother's video begins with her baby boy laying in her lap, looking up at her lovingly. It's a position that all parents would be familiar with but likely haven't considered from their little one's point of view.
"Hi!" Owens murmurs off-screen as the camera cuts to reveal a hilarious shot of her, presumably from her newborn's point of view. "So cute," she is then heard to say as her frizzy hair stands out at right angles to her head and her chins double in size as she looks down adoringly.
"Now we know why they are always laughing at us!" responded another mum in the comments.
"OMG I thought I was going to wake my husband up from laughing!", wrote another. "Too funny!"
We certainly remember those early baby days when we weren't exactly looking our best but never considered what we looked like from our baby's point of view! How funny!!
We should all remember that even on days when we do not feel that we look our best, we are the most beautiful things our babies have ever laid eyes on. And that is the truth.
Source: TikTok/Alissa J. Owens