Finding the perfect name for your baby is a fun but also daunting decision. What if the name doesn't suit your baby as they get older? What if family and friends don't like it? What if no-one can pronounce it?
That's what one mum from the US has found when she named her daughter with the unusual name, Ottilie.
Carri Kessler, and her husband Michael, chose the uncommon name, inspired by a friend with the same name in the UK.
However after three months of family and friends not remembering what their daughter's name was or mispronouncing it, the couple decided to change their daughter's name to Margot
Ms Kessler told Today, "I have a friend in the UK named Ottilie and it's beautiful, and ever since I heard that name I've wanted to use it."
"No one could remember it and no one could pronounce it," Ms Kessler said. "I was like, 'If you say it with a British accent, it sounds really good!'"
Ms Kessler had doubts about the name she chose for her daughter when the nurses at the hospital had trouble saying the name. She also had to remind her grandmother 6 weeks after the birth with her great-granddaughter's name.
"She said, 'I don't know how to say her name. I have Post-its all over the house so I can remind myself'," Ms Kessler said.
The new mum began to cringe when anyone would say her baby's name and she started to get anxious when introducing her baby to other people.
"Anytime anyone said her name, I kind of cringed," she said. "Introducing her made me sweat. And I thought, we're going to keep having to introduce her! This is going to be a problem forever."
After three months, Ms Kessler talked to her husband about changing their daughter's name and they decided to rename their baby Margot.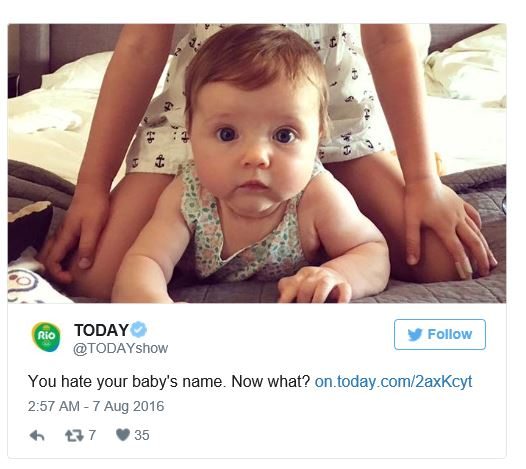 An email was sent out to family and friends to tell them of the name change and they reacted positively to the new name.
We'd love to know what you think. Would you have changed your baby's name if family and friends were struggling to remember it or pronounce it? Have you made a last minute baby name change due to how others would react to the name? Should this mum have kept her baby's name?