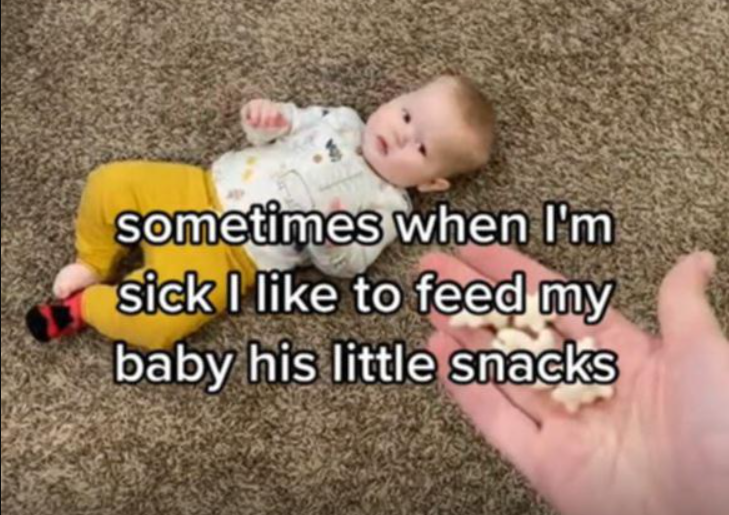 Mums do what we can to keep the family going when we are feeling sick ourselves. Life still goes on, kids need to get to school, and babies need to be fed. But one mum has come under fire for feeding her baby like a chicken by throwing his snacks on the floor for him to eat when she was feeling too run down to feed him the way she usually does.
Sharing what she probably thought was a fun parenting hack, TikTok mum Raquel Tolman, who goes by @desertbabysteps on the social media platform, captioned her clip "Survival mode when mum's sick".
In the video, Raquel can be seen tossing food at her child who is crawling about on the carpet, some of it bouncing off his little head as he moves about to eat the snacks.
After her fun idea reached more than 8 million viewers on TikTok, people had some opinions that they wanted to share, not all of them positive.
"You should have a type of mat or blanket to do this on. It's good enrichment but floors harbour bacteria," one commenter said.
Another disapproving person wrote: "She's literally feeding her baby off the f***ing ground how is that okay bc she's sick… don't be a mum if u can't take care of it."
"How lazy are you," a third asked somewhat harshly.
Surprisingly, a lot of parents were all for the idea.
"It's smart, gets them moving, keeps them thinking. 10/10 would do this," someone said positively.
"Wait, y'all are only doing this when you're sick?" asked someone else.
"These comments show who has never been sick with a child," another offered, perhaps not considering that there might be other ways to handle caring for an active baby when you are unwell. Like popping them in the highchair in front of Bluey, perhaps.
While we can see that this feeding method is obviously fantastic for increasing a baby's mobility and fine motor skills, perhaps encouraging them to forage on the floor for tasty treats might not be the best idea. This is obviously before we consider the sanitary side of eating food directly from high-traffic shag pile carpeted areas in the living room.