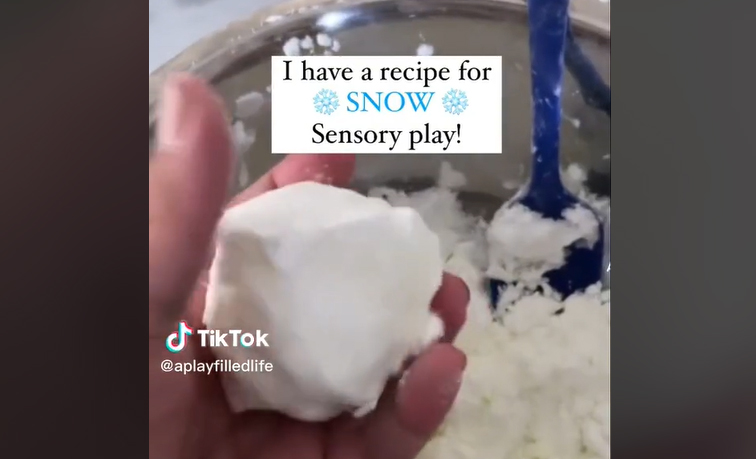 As every true blue Aussie knows, Christmas means hot summer days, cool ice blocks and days spent at the local pool or beach. We are not generally accustomed to the northern hemisphere's traditional "white Christmas" with plenty of snow to play in. As a result, snow angels, snowmen and snowball fights are not something Aussie kids associate with Christmas.
Over on TikTok, a mum has shared a simple recipe for a snow substitute that you can make and pop in the freezer for half an hour for fun sensory play this holiday season.
This entertaining activity uses cheap items you probably already have in your home and couldn't be easier!
Showing the fake snow in the background, which can even be used to make snowmen, mum of four Gina wrote: "I have a recipe for snow sensory play.
"It's soft and squishy. It moulds like snow you can build, then crumbles so you can scoop."
To make the snow, you need to combine two cups of baking soda and one cup of hair conditioner. Once mixed well, it's ready to be played with. But to make it extra snow-like, refrigerate or freeze until it is nice and chilly.
She explained that your homemade snow can be easily stored and used again and again – although she warns parents to watch their children closely as the snow cannot be eaten.
Gina said: "Store in an airtight container. When it starts to dry out, just add a bit more conditioner."
She later added a "taste-safe" version for children who really can't resist sampling the stuff!
This could also be a fun inclusion to your Elf on the Shelf adventures!
Will you give this one a go?