Five Maternity Outfits That Will Keep You Looking Good When You're Pregnant
Sponsored post
When you're pregnant, you want to look stylish and accentuate your growing bump. The clothes you choose while you are growing a baby are important as they need to work with your as your belly expands and they need to be comfortable so that you can walk and sit with ease. Choosing classic patterns and colours will ensure you're on trend. Many of these pieces from Marks & Spencer can be intermixed to create an array of different outfits so you're not left feeling you have little to wear. A few standard key pieces can take you a long way.
Maternity Outfit 1 – Striped Tunic and Skinny Jeans
This outfit is a classic that you will be reaching for on a daily basis. It's a chic, yet trendy look that never dates. Add a scarf for more interest and colour.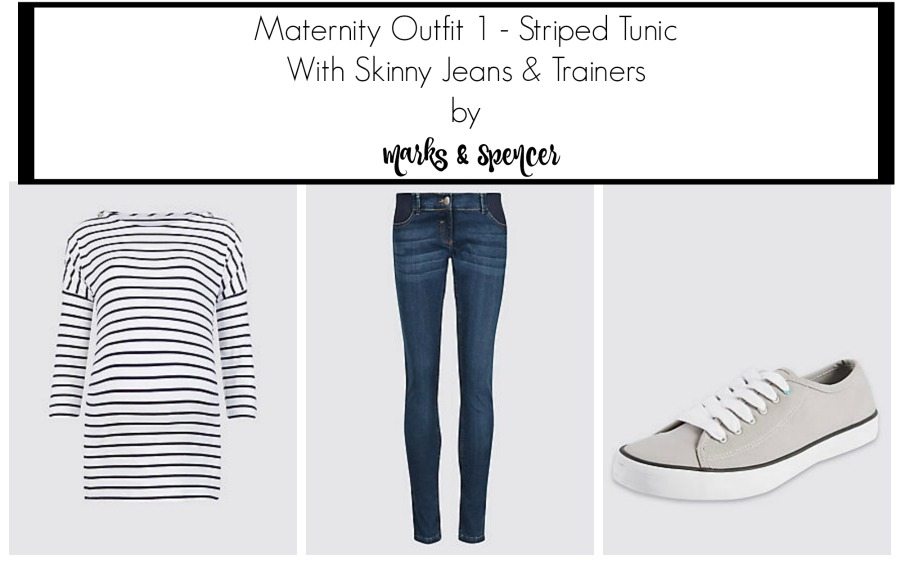 Top: M & S Collection Maternity Striped Feeding T-shirt with Modal 
Jeans: M & S Collection Skinny Maternity Jeans 
Shoes: M & S Collection Lace up trainers
Maternity Outfit 2 – Tencel Tunic, Black Leggings and Tan Boots
Chambray and denim dresses are very in this winter and the softness in this shirt will ensure you don't 'overcook', as you will have a little heater in you as your baby grows. Leggings can be worn with other tunics and dresses to create a whole variety of looks. Add tan with denim and you will always looks good. A flat ankle boot won't restrict your ankles if they put on fluid during your pregnancy.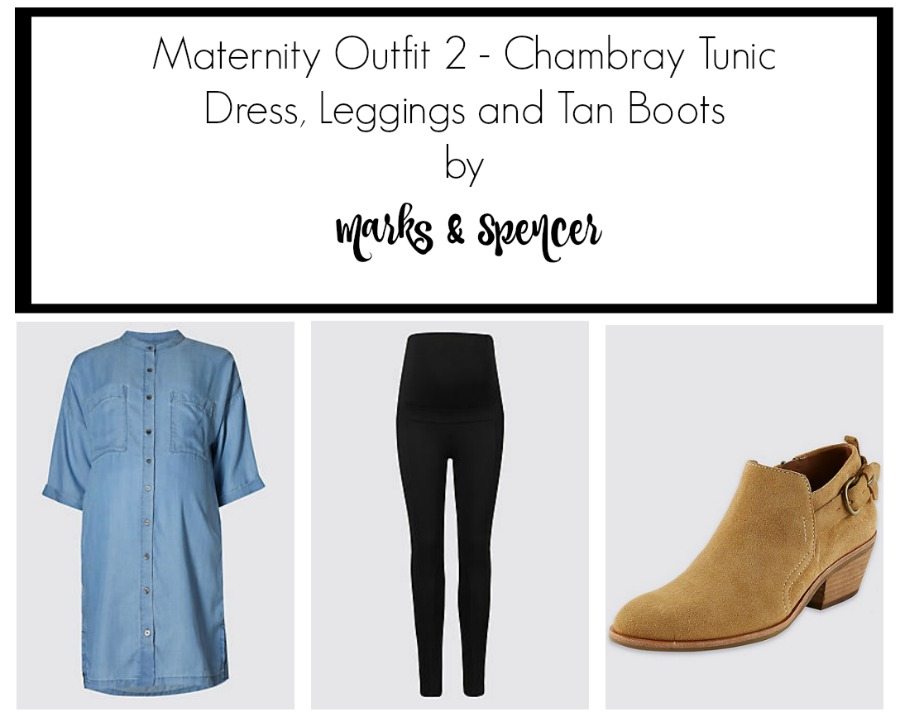 Tunic: Tencil Maternity Longline Shirt
Leggings: BodyCon Black Leggings
Boots: Suede Ankle Boots with Insolia
Maternity Outfit 3 – Denim Jacket, Black Dress and Scarf Outfit
A simple black dress can be dressed up or down during pregnancy, so it's worth the investment in getting a short sleeve one. Worn on its own during summer with a long necklace, or layered with a scarf and denim jacket for winter.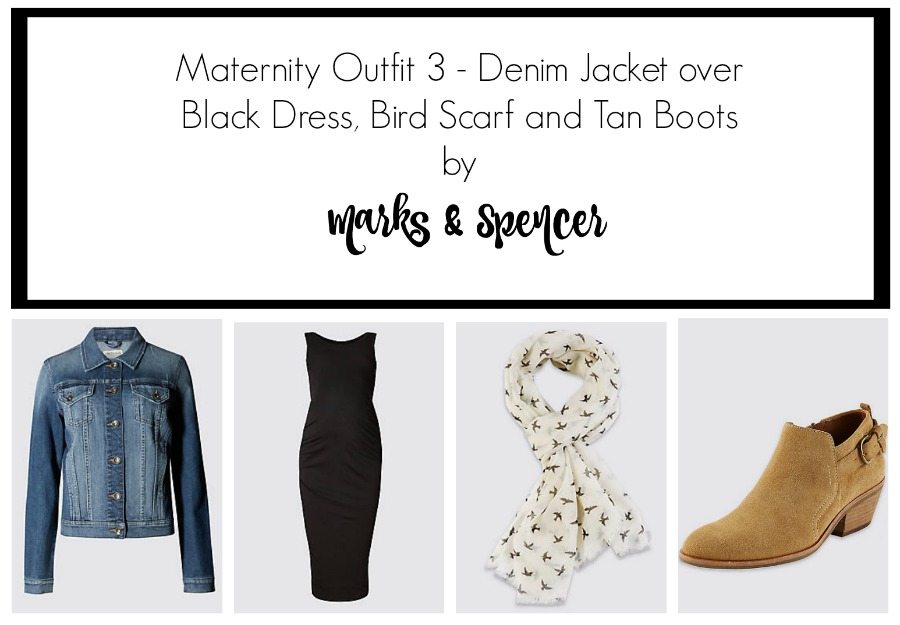 Jacket: Indigo Collection Button Down Denim Jacket
Black Dress: Maternity Modal Blend Sleeveless Ruched Dress
Scarf: Ditzy Bird Print Scarf
Boots: Suede Ankle Boots with Insolia
Maternity Outfit 4 – Work Outfit comprising of a tunic and black leggings and court shoe
A simple work outfit can include black pants or black leggings with a geometric print tunic. (swap the leggings for black pants if you work in a corporate environment). Add a block court shoe with a low heel and you're good to go. The tunic can also be dressed down with skinny jeans.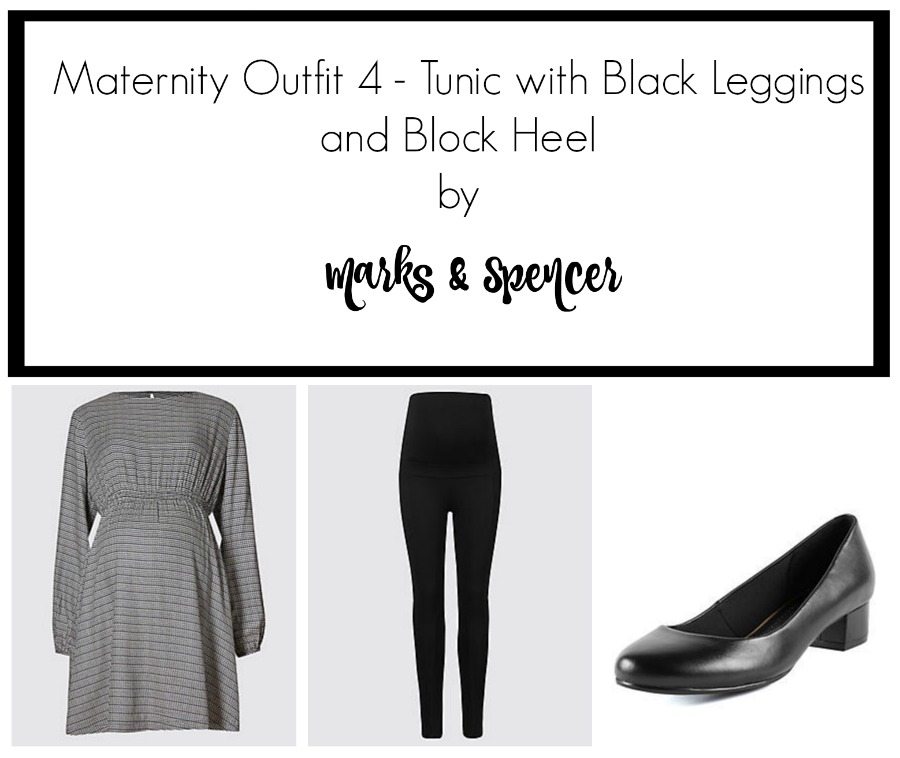 Tunic – Maternity Geometric Tunic
Leggings: BodyCon Black Leggings
Shoes: Black Court Shoe with block heel
Maternity Outfit 5 – Casual Stripes and Khaki Outfit
For the days that you just want to lounge or need a comfortable outfit that works with running around after a toddler, this is the perfect go-to outfit. Navy and khaki look fab together and are the perfect colours to wear this winter season.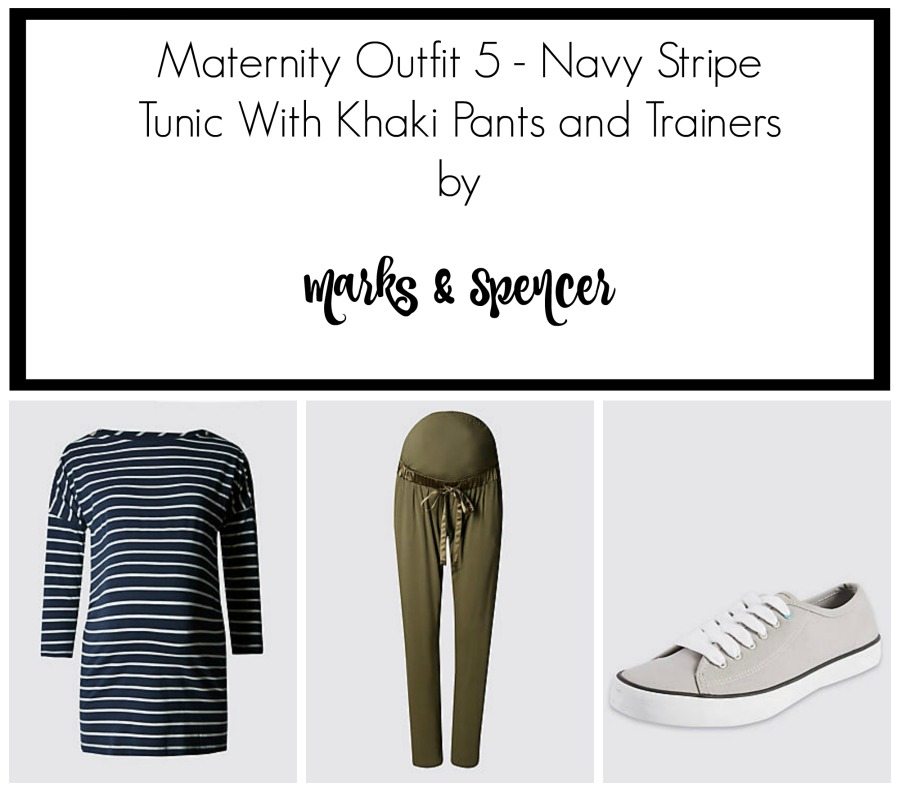 Top: M & S Collection Maternity Feeding Striped Top with Modal in Navy
Pants: Maternity Tapered leg trousers in Khaki
Shoes: M & S Collection Lace up trainers
Which is your favourite outfit? What are your fashion must-haves during pregnancy?
Disclosure: This is a sponsored post.