Grieving Mum Shares Heartbreaking Plea to Tech Companies About Their Targeted Ads After a Stillbirth
*content warning: this article discusses stillbirth and infant loss*
Targeted ads that are designed for your specific needs might seem like a good thing on the surface, but sometimes they are just not.
While you are pregnant, you might fill your feed with loads of keywords and hashtags that give information to tech companies like Facebook, Instagram, Twitter and Google that they then use to show you custom delivered ads. This might be handy if these advertisements are actually of interest to you, but what if something devastating happened resulting in those ads becoming a constant reminder of your heartbreaking loss?
Gillian Brockell, a video editor at The Washington Post, issued an open letter on her Twitter account recently. Her heartbreaking words highlight just how pervasive the targeted ads can be to someone who has just recently suffered a loss. Brockell delivered her stillborn son at the end of November, about eight weeks before her due date. She says she's been inundated with targeted ads since.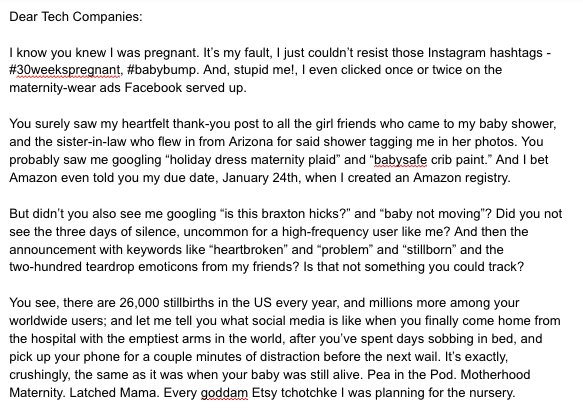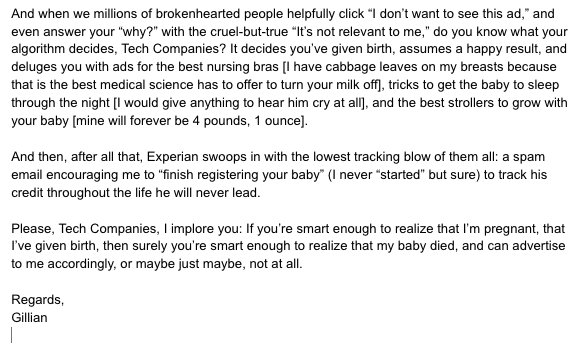 She certainly makes a very good point, doesn't she?
While it can seem to be a silly request to some, the point is, these tech companies are tracking us with keywords and browser searches. Why can't they include other keywords in their algorithms to ensure sensitivity at a devastating time?
While she was in labour on November 30th, she shared the news that her son would be stillborn with her Twitter followers. This should have been enough to tip off the tech companies tracking her pregnancy that it would be a good time to switch off the baby-related advertising.
Some sad personal news pic.twitter.com/ZkBOB7oqUq

— Gillian Brockell (@gbrockell) November 30, 2018
It's really not too much to ask, is it?
An open letter to @Facebook, @Twitter, @Instagram and @Experian regarding algorithms and my son's birth: pic.twitter.com/o8SuLMuLNv

— Gillian Brockell (@gbrockell) December 11, 2018
We extend our sympathies to Gillian, her partner Bobby, and their families.
Source: Twitter/Gillian Brockell