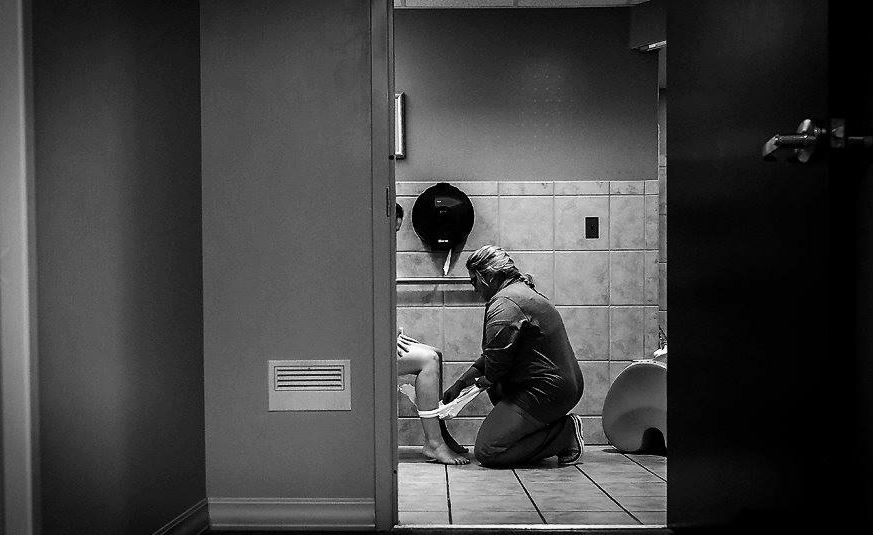 This Viral Photo Acknowledges The Important Work of a Midwife
Nurses and midwives can often be the forgotten heroes during and after a birth. Despite the things they see and the smells and bodily fluids they come into close contact with, they do their job in ensuring a new mum is cared for, despite her dignity being on show.
The recognition of the part nurses and midwives play post-partum has been put in the spotlight because of an image, that was shared with a personal story.
Katie Lacer of MommaKT Shoots Photography, took a photo of a mum who had just given birth and was getting help from her nurse to visit the toilet and put on her mesh underwear, with a cold-pak to ease her pain.
Lacer explained of her photo, and what she saw take place, "Her nurse didn't hesitate to kneel in front of her to help her slip into her exceptionally flattering postpartum mesh panties and cold pack after helping her clean up a little bit."
"It was a quiet moment that I just happened to turn around and see. It wasn't planned or expected. I was nearing the end of her birth story and it seemed fitting that I would include the moment as a solid end point."
The photo was taken at Clark Memorial Hospital in Indiana. It was then shared, with permission, by Jill Krause, a mum of four who writes the blog Baby Rabies.
Her Facebook post thanked the nurses who cared for her after she gave birth to each of her children.
Krause wrote alongside the photo, "I'll never forget the faces of the nurses who followed me into the bathroom after delivering each baby."
"That moment when I was so vulnerable, so tired, scared, shaky. My swollen belly deflating, and my modesty long gone. They treated me with such kindness and dignity."
Krause could resonate with the photo, as she had a similar experience after her own births.
"After each baby, they helped me to the bathroom," she said. "The first time, they literally showed me how to do everything ― right down to putting the ice pack on my mesh undies. By the fourth baby, I knew how to do all this, but she was still in there with me, helping, assuring me any mess I made was fine, telling me not to clean up the blood that dripped on the floor, and encouraging me with a big smile and kind eyes. It sounds like a small gesture, but it meant the world."
Krauses post was published on the 14th September and has been shared over 68,000 times.
Lacer felt flattered that Krause wanted to share the photo with her story, and says the reaction has been absolutely incredible.
HuffPost reported the photographer saying, "We both want to serve other women, other mothers, and the bottom line is that women helping women always works, always."
"All of these amazing women and partners that are talking about their postpartum care are opening up a door to share about a part of the birth experience that we often dismiss, and it's time to acknowledge it."
So if you are a nurse or midwife, who has helped countless mums pre-birth, during birth and post-birth – thank you. Your help during our most vulnerable time is appreciated and our recovery is due to the care you give to us, when we need it most.