A Month in My Life – A Cycle of Fertility Treatment
When I started my journey into the unknown world of Fertility Treatment it was exactly that; Unknown.
I had absolutely no idea what a 'cycle' would entail, so for anyone about to join me in this journey let me tell you what a month in the life of fertility treatment looks like.
(This is what my fertility specialist has recommended and advised for me, yours may be a little different xx)
Day 1 – Today I got my period. This means my last cycle failed and I am now in the throes of severe PMS, period pain and sadness all at one.
Day 2 – Call my Fertility Specialist and let him know we failed again.
Day 3 – Time to start again! Despite having bad period pain and a broken heart it's time to get up and start again. Injections start tonight!
I am on FSH injection which will hopefully make my body produce follicles that grow into eggs.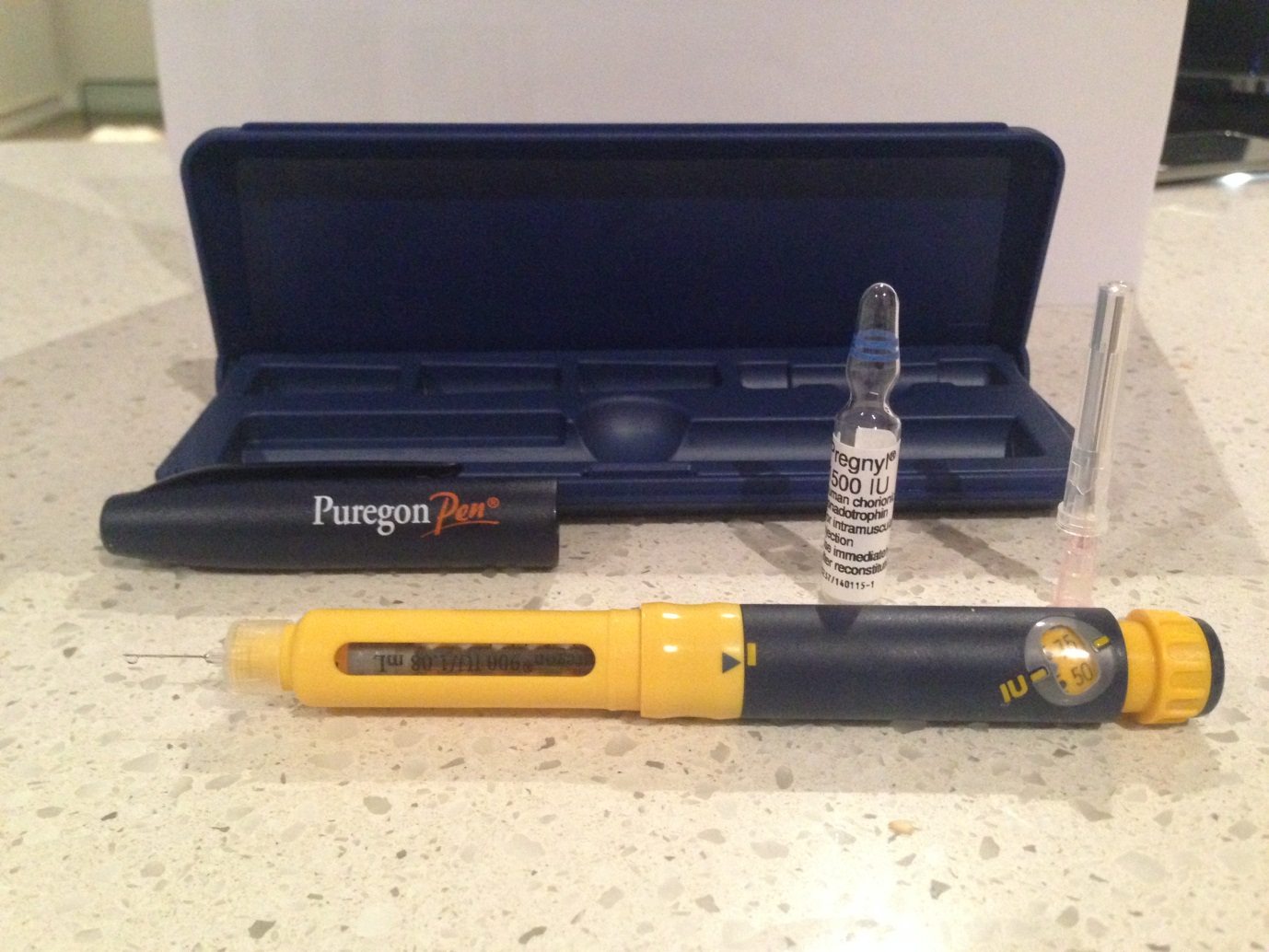 Emily's injection pen and medications
Day 4 – Second day of injections, the side effects haven't hit yet (my partner is thankful)
Day 5 – More injections, still feeling normal-ish
Day 5 – Oh hello side effects, I've been waiting for you! Are we happy or sad today?!? Another Injection.
Day 6 – Off for an internal ultrasound at the specialist, follicles are slowly growing. He tells me to increase the dosage. I tell my live-in-lover and he has a look of fear because the last time we did that I chased him around with my injection pen. (Thanks hormones). Another injection.
Day 7 – Woke up knowing that I was in a foul mood already. Kept that mood going solidly throughout the entire day. Another injection.
Day 8 – I feel bloated and flat. My tummy is bruised and tender and trying to find a spot to give the needle is making me cry. I try ice on it first but it slips out of my fingers and I bawl like a baby.
Day 9 – Specialist again, another internal ultrasound. They are growing nicely and it's go time. He tells me when to have sex and because I am feeling so god damn sexy right now with my bruised and bloated pin cushion of an abdomen I rush straight home in excitement to get going with the looooove making. Not. It's a chore at this point, for both of us. But we do it, high five when it's over and watch an episode of SVU
Day 10 – I feel really terrible today, my tummy is swollen and I'm bruised on the right side, I think it's the needle but bloody hell it hurts! I feel nauseated and I'm vomiting every hour. All day long. As soon as I give myself the needle, I bruise and bleed and within an hour my tummy is so swollen and sore that all I can do is cry. We call the local emergency and they advise us to come straight it.
I'm mildly overstimulating, and spend the next 3 hours in emergency getting checked out.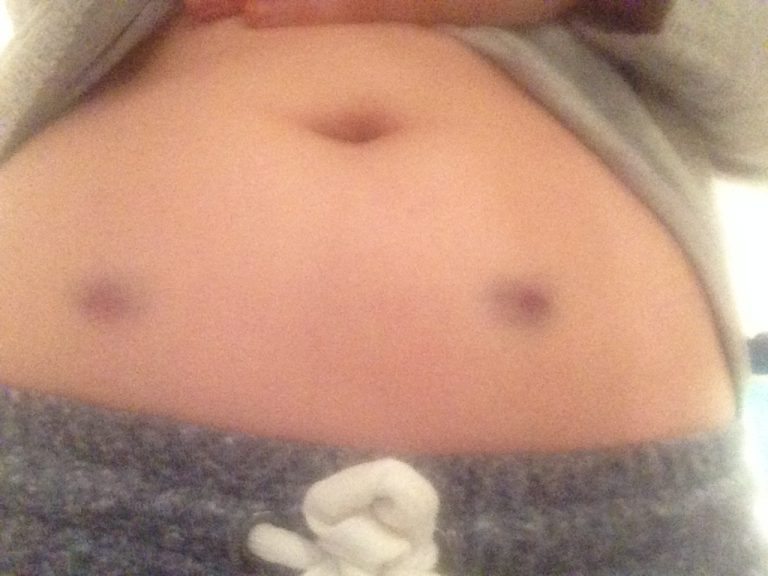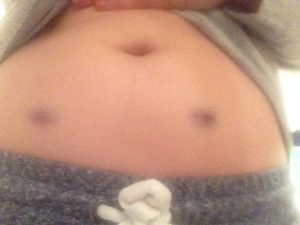 Emily's Abdomen when she was overstimulating
Day 11 – more needles, more sex.
Day 12 – Another appointment, another internal ultrasound. It's worked. I grew a follicle. Go me! Woop woop! Now it's time to make my body ovulate! Another injection.
More sex.
Day 13 – more sex.
Day 14 – yep you guessed it. Sex. Today I should ovulate, it take 30 hours for the last injection to work so I'm trying to centre myself to see if I can feel it dropping. Like a chicken dropping an egg.
Day 15 – don't make me say it… More … You know what
Day 16 – and again
Day 17 – yep again.
Day 18 – another injection, this time it's to help the 'hopefully' fertilised and implanted egg stay put throughout the Luteal Phase.
Day 19 – we high five because guess what?? No sex!!!!! And no injection!
Day 20/21 – time to lay low and rest
Day 22 – The final needle, the last one to help the little one stay implanted.
And then we wait. And wait. And wait some more. Until my period comes and we start all over again, or it doesn't and we see those two little lines on the test again.