Woman Calls Police and Child Services on a Mum for Allowing Her 8-Year-Old Daughter to Walk Her Dog Alone
A mum has opted to go public and fight back after a neighbour called the police and child protective services on her for allowing her 8-year-old daughter walk her dog alone.
Corey Widen, mum to Dorothy, says she was just trying to teach her daughter a little independence and responsibility — a lesson that ended with a visit from a patrol car with red and blue lights flashing outside their family home. During an appearance on Good Morning America, Widen says she could see her daughter out of her front window for most of the little girl's walk around their suburban Chicago neighbourhood, in the US.
They realised that it was a neighbour that had called to report that a child — incorrectly assumed to be five years old — was walking the dog, adorably named Marshmallow, alone. Wilmette Police Chief Kyle Murphy tells The Washington Post that after meeting with Corey and Dorothy, he determined there was no wrongdoing on the mother's part.
"I was really scared," Dorothy says. "I saw the police just there, like the police's car and I heard the sirens going off." Unfortunately, the police visit wasn't enough to satisfy the neighbour's concern, because the Illinois Department of Children and Family Services received a call as well. An investigation into the Widen family was open for almost two weeks, before eventually closing unable to find any evidence of negligence or wrongdoing.
But understandably, the mother and daughter were shaken from the incident.
Widen says walking the dog is her daughter's only chore, and she will keep letting her do it.
"Every 8-year-old is different, every neighbourhood is different, every parent is different, so you can't make an overall judgment like that," she said. "We live in a beautiful neighbourhood, we're very fortunate…It's safe, it's clean, it's beautiful.
"This was something we did to start giving her more independence, because I didn't feel that she had enough," she said. "So I wanted to make that step of her being away from me a little bit more."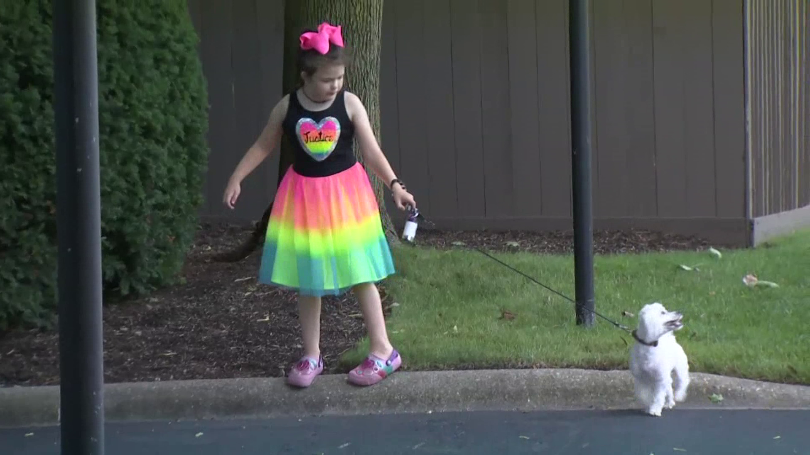 This begs the questions all us mums are no doubt asking ourselves right now — at what age is it okay to allow your child to walk around your suburb without a parent present?
According to many Australian state laws, that age varies between ten and twelve, and comes under the umbrella of "leaving a child unattended".
There is a range of considerations taken into account when applying this rule, including the maturity of the child, the distance the child is travelling, how long they are out for and whether the area is inner city, suburban or rural.
Fair enough, we can't have children out roaming city streets until all hours. But how do we teach independence without actually allowing the child to do things independently? We need to keep them safe, but our ultimate goal is to raise our children into confident, independent adults. We have to start somewhere.
It seems to me that allowing an eight-year-old to walk her little dog around her own neighbourhood while her mum watches from a window is the ideal first step towards her learning to do things on her own. There are many children in our area that do just that. I would be more at ease with the scenario if there were a group of children rather than just one, and if my 7 to 13-year-old children ask to "go around the block", I usually say yes, as long as they stick together.
Dorothy's neighbour could have helped by watching out for her, quietly lending a second pair of concerned eyes to the situation, instead of calling the authorities.
That's what I would have done, anyway.
What do you think? Do you allow your children a little independence in their neighbourhood, or will you wait until they are aged ten to twelve as per police advice?