Win a TicTocTrack GPS Watch
As my little ones grow and begin to discover the world for themselves I find myself becoming torn between wanting to give them space to explore and become independent little people, whilst doing everything I can to keep them safe and out of harm's way. Having 4 children now I find myself needing eyes everywhere which can sometimes be a little overwhelming and keeping watch over them all of the time can be challenging when they are usually in opposite directions. I remember my Mum once, or probably many times, saying that she wished she had eyes in the back of her head and now I understand why!  Luckily for our generation there are some great products available to help make us parents' jobs a little less stressful and I've been busy testing out the TicTocTrack GPS watch over the last few weeks to find out what kind of difference technology can make to parenting in the 21st Century.
When we received our TicTocTrack GPS watch I was delighted to find that it was all set up and ready go! We received a lovely welcome email with the watch that provided all of the information we needed.  The TicTocTrack website was very informative and it took very little effort to find our way around the watch and learn how to use all of the great features, which made the whole process smooth and easy….just what a busy parent needs when receiving a new product!
The TicTocTrack GPS watch comes in some fantastic bright and fun colours, making them stand out and really appeal to kids of all ages. The size of the watch is ideal for little wrists and has enough holes to ensure that it isn't loose.  The straps are also long enough to also comfortably fit an adult wrist. I'd initially worried whether my son would take it off if it wasn't comfortable but, as the wrist band is made out of a really soft rubber, it doesn't bother my son at all…in fact he wears it very proudly.
The TicTocTrack watch can be used in either the digital or analogue modes, which is great for older kids who want a cool looking watch that looks, at a glance, like an adults smart watch but also offers a learning platform for younger children who are just figuring out how to tell the time and my youngest certainly enjoys having a 'big kid' watch when he borrows it for our little kids big days out.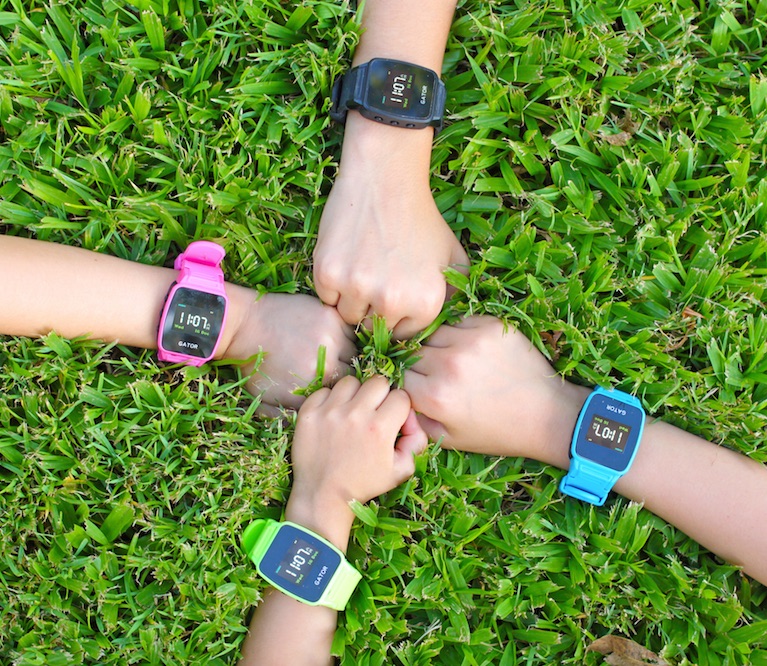 While my son is enjoying his cool new watch, I am enjoying the peace of mind that it gives me. The TicTocTrack GPS watch allows me to set up safe zones at any time or any place, so that I am alerted when my child leaves the area they are meant to be in, which has been of great use when leaving the kids at friends parties or on School excursions and, while I don't expect my kids would venture off outside of where they should be, it is good to know that I have a way of knowing if they do.
Aside from the obvious benefits that having a tracker watch has in the unlikely and unthinkable worst case scenario, allowing me to locate my child quickly, from either my desktop or my phone, the TicTocTrack watch has some great everyday practical benefits too. Such as: checking in on my son during the day, seeing if the bus is running on time on the way home from an excursion or just letting my child know I am on my way. This makes the watch a great way of offering both peace of mind and a convenient tool to help juggle and manage everyday life.
My favourite added benefit of the TicTocTrack GPS watch is that it is a great way to stay connected to my child when I am not there and I have enjoyed being able to send them little messages and reminders like; 'Dad's picking you up today', 'Have a great day, love Mum' or 'Your brother has your hat for you'. The watch is also a great way for my son to stay connected to me and if he ever needs me he knows that he can get in touch with me anytime, anywhere by just holding down the button on the side, which sends an alert to my phone and up to 2 other pre-programmed numbers, this then activates the microphone so that I can listen in to find out what's happening or call him back to talk to him.
For me, the TicTocTrack GPS watch is a fantastic way of allowing me to stay connected to my son, by passing on messages and reminders and giving him the means to get in touch with me if he needs it, giving him a little more independence and feeling of control, which is growing increasingly useful as my children all start to participate in various activities and I juggle more and more drop offs and pick ups at different locations.  It also means that I can delay the inevitable day that my eldest child gets a phone (which he'd probably loose) for as long as possible. While I personally find that for me the watch has far more practical uses than the one it is specifically designed for, it certainly is good to know that it's there if I ever did need to track down my child quickly and, while we don't like to think about it, every second really does count, therefore it offers great peace of mind.
Disclosure: The author was gifted this product for the purpose of giving an honest review. All thoughts and opinions are her own.
Giveaway
Thanks to TicTocTrack we are offering our fans the chance to WIN a TicTocTrack watch worth $179.95! Simply enter below and good luck.
Win a TicTocTrack GPS Kids Watch