10 Healthy Snacks for Toddlers
We all know that toddlers can be super fussy when it comes to food. These 10 Toddler Approved Snacks are healthy… and will keep your toddler happy too!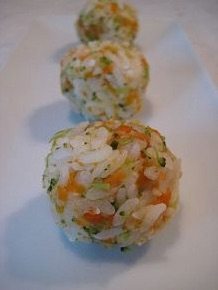 Japanese Rice Balls
While your toddler may turn their nose up at nori rolls, they are sure to love these Japanese Rice Balls. The carrot and broccoli add a much needed vegetable boost, while the inclusion of white fish is great for your child's health.

Snowman Cheese
If you love getting handy with craft paper and a marker then these cheese snacks are for you! Your toddler will love these super cute snowmen.
Apple Snacks
Most toddlers love the combination of apple and peanut butter (and really, what's not to love!). Add a few raisins and some oats to the peanut butter centre for an added energy boost.

Bear Toast
Does your toddler turn up their nose at breakfast time? They are sure to fall in love with this gorgeous Bear Toast. Simply spread peanut butter over a piece of toast, add some sliced banana and blueberries and you have a healthy (and ridiculously cute) breakfast ready in no time at all.

Frozen Yoghurt Fruit Pops
For a quick and easy snack that is perfect for summer, why not whip up a batch of Frozen Yoghurt Fruit Pops. Simply dip chunks of your child's favourite fruit into a bowl of greek yoghurt and honey. Sprinkle over chopped nuts, dried fruit or sprinkles and place into the freezer for two hours or until set. Yummy!

Carrot & Zucchini Muffins
We love any recipe that involves smuggling vegetables into our kiddies food and these Carrot & Zucchini Muffins are perfect for that! Made with lots of healthy ingredients, both you and your toddler will love these!

Frozen Yoghurt Mini Drops
The warmer weather means that your toddler will be wanting some cooler snacks. Avoid the temptation of an ice-cream by making a batch of these Frozen Yoghurt Mini Drops. Simply place a tub of yoghurt into a ziplock bag and cut a tiny hole into one of the corners. Squeeze tiny drops of the yoghurt onto a baking tray and place into the freezer for 2 hours to set. This is such an easy and healthy snack that is perfect for hot days.

Sushi Roll Sandwiches
We all know that toddlers often refuse to eat a full sandwich. So why not make Sushi Roll Sandwiches by flattening a slice of bread with a rolling pin, filling with your child's favourite sandwich ingredients, rolling up and cutting into bite size pieces. These little mouthfuls will be gobbled up in an instant!

Peanut Butter Oat Bites
Peanut Butter Oat Bites are great for a quick and easy snack on the go. Packed with oats, peanut butter and raisins, they are perfect for long car trips, lunchboxes or an afternoon snack.

Banana Toast
This is like French Toast for toddlers! Made with banana, bread milk and cinnamon, these little bites make the perfect breakfast (or lunch for that matter!).