Now that the school holidays are in full swing, it's likely that you've already started to hear the dreaded 'I'm bored!' coming from your little ones mouths! Yep, we've all been there. So we've come to the rescue with an awesome list of 10 ways to fight school holiday boredom. We've got something to suit everyone, from inside activities to outdoor adventures, and free ideas to those that will cost you a few dollars!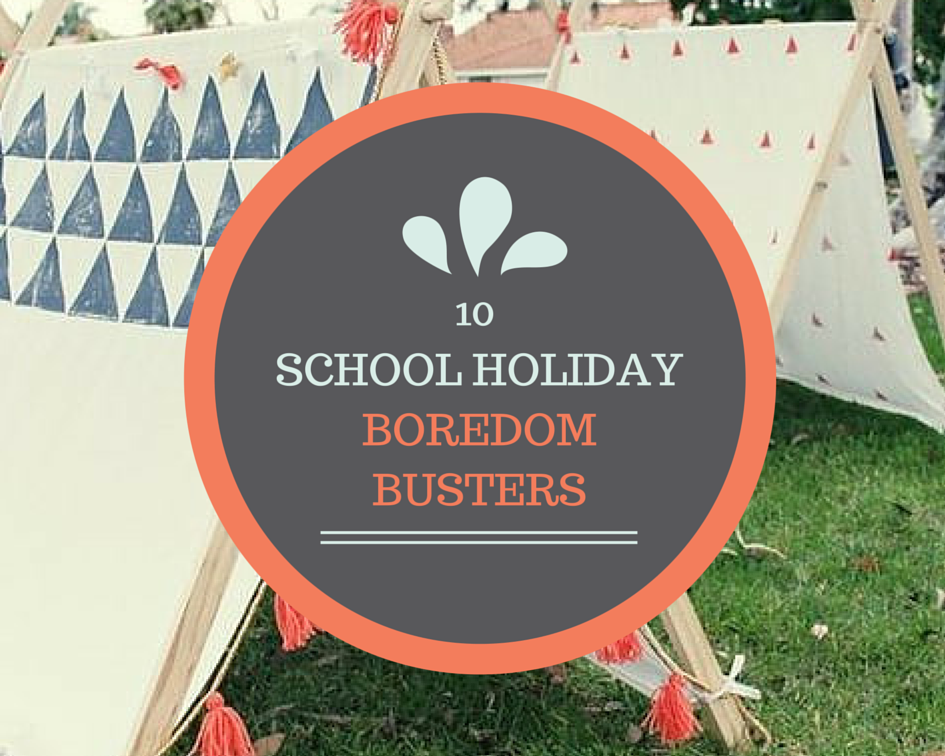 Indoor Activities
1. Build a cubby
Cost: Free
Make your home (or at least your lounge-room) a fortress for one whole day. Have the kids work to create an amazing cubby using the furniture, sheets and anything else they can get their hands on. Eat lunch in the cubby, play card games and let your little ones imagination run wild with role play.
2. Have a 'sleepover' and movie night
Cost: $5-$10 for DVD hire and popcorn
Grab out your blow up mattresses and sleeping bags and have a sleepover in your lounge-room. Make a big batch of popcorn and let each of the kids choose a movie for the whole family to watch.
3. Have a board game challenge
Cost: Free
Most of us have very fond memories of playing Monopoly or Scrabble as kids. Whip out all your old board games and have a day of family fun! Play in teams or individually depending on the age of your kids. For an added incentive you can always add in fun little prizes for the winners!
4. Have a craft day
Cost: Free ($5-$10 if purchasing items from your local discount shop)
Collect  all of your old scraps of paper and materials, some scissors, markers and pencils. Let your kids imaginations run wild by creating their own artwork pieces and cards. Check out more great school holiday craft ideas here.
5. Create a magic show
Cost: Free
All kids love magic shows… so let them become the magician by putting on their very own magic show. Whether they're showing off a card trick or pulling a toy bunny out of a hat, it's sure to provide lots of school holiday entertainment.
Outside Activities
6. Build a vegetable garden
Cost: $10 for seedlings
The school holidays are the perfect time to get outside and build a vegetable garden. Take the kids down to the local nursery and let them pick out some seedlings to plant.
7. Visit your local botanical gardens
Cost: Free
Botanical gardens are a great place to spend a few hours during the school holidays. Explore the gardens, play on the equipment, pack a picnic lunch, wander the walking tracks and so much more. Best of all, it won't cost you a cent!
8. Go on a family bike ride
Cost: Free
Pack some lunch in a bag and set off on a family bike ride. Choose a route thats nice and flat so that your little ones legs won't get too exhausted. Have regular breaks and point out interesting things along the way.
9. Go Camping… In Your Own Backyard
Cost: Free
Just because all of the caravan parks within a 500km radius are booked out over the holidays, doesn't mean you can't have some camping fun at home. Set up your tent, sing camp songs, have a BBQ dinner and snuggle up in your sleeping bags under the stars.
10. Visit the beach
Cost: Free
The beach isn't just the perfect place to visit during the summer holidays. In fact, exploring the beach at other times of the year means that you can check out the amazing rock pools, build sandcastles, look at the fish and sea creatures… all without the usual hustle and bustle of the summer crowds!
Are your little ones already getting bored these holidays? What are your favourite holiday boredom busters?