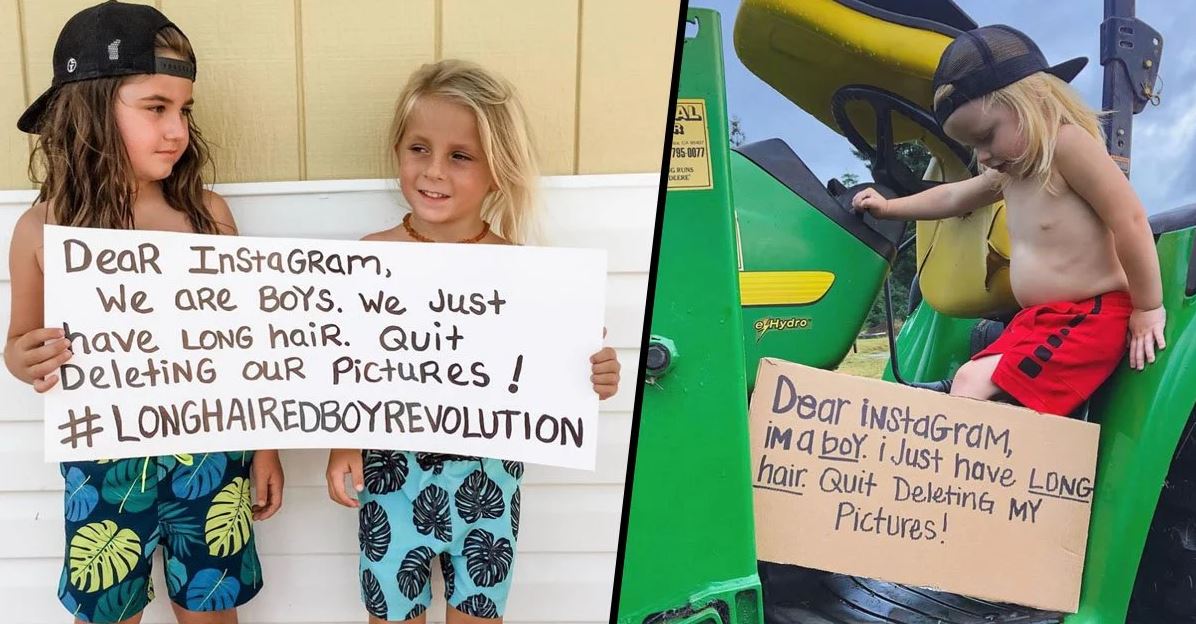 Angry Mums Protest Against Instagram for Constantly Deleting Topless Pictures of Their Long-Haired Sons
It is well known that Instagram has a no-nipple policy. Well, that's not quite true — they have a no female nipple policy. Male nipples are more than welcome on the popular social media platform.
So where does that leave photos of boys whose Insta snaps are constantly being deleted because they have long hair and are presumed to be girls?
One of the flaws in Instagram's censorship algorithm means that little boys with long hair are being penalised. Photos of topless little boys that have long hair are being removed from the site, causing mums and dads across the world to protest angrily. The hashtag, #longhairedboyrevolution, has been causing waves for months now.
Parents are rightfully annoyed that their children are being sexualised after they have posted innocent photos of their little boys enjoying themselves in the sunshine with their shirts off.
Mum Victoria Jean shared this adorable photo of her long-haired son with this caption, explaining the entirety of the issue in a nutshell.
Dear Instagram, my son's nipples are not "inappropriate"
Just when you think humanity has taken a step into the modern-day. Free the nipple they say!
Let women breastfeed their babies where ever they want, let them post pictures and videos, let it be normalised.
But then,
Report, flag and take down photos of our long-haired boys because they are shirtless and we can see their nipples. Just because his hair is long doesn't make him a girl.
Also since when is a child's body "inappropriate" even if they were girls, way to sexualise our children.
This needs to STOP! Shirtless children.. boys or girls, breastfeeding photos, birth photography. These are our children. It is not sexual. It is not inappropriate. Grow up and get a grip. If my child's body or mine offends you, don't look.
View this post on Instagram
The mum of this little boy, Noah, posted on Instagram, writing: "Blanket algorithms or auto robots are not the answer. I understand the need for a monitoring system to be in place but deleting family photos, accounts, and freezing people from accessing their accounts is not right."
View this post on Instagram
For families, Instagram can be like a virtual photo album, full of special memories that may not be saved elsewhere. To have some outside party dictate what photos are deemed appropriate or not doesn't seem fair.
View this post on Instagram
Which leads to the very good question: shouldn't any topless child be censored?
Anatomically, there is no difference between the nipples of a boy or a girl. Why does Instagram insist on only censoring the boy's images?
No child should be sexualised in this way.
Either free the nipple and monitor, censor and remove overtly sexual images only or ban all nipples male/female/boy/girl/everyone.
Pick one, Instagram.
Source: Instagram