How One Ordinary Brisbane Mum Saved A Very Sick Baby
It was an ordinary day that turned into one of the most amazing days of one mum's life. Kate was on her lunch break when she got a call from Logan Hospital on the outskirts of Brisbane. They wanted her permission to save a baby's life. The bub has leukemia and thanks to a small gesture by Kate back in 2012, she'll get the life saving medicine she needs.
But Kate is not a doctor. She's an ordinary mum from Brisbane.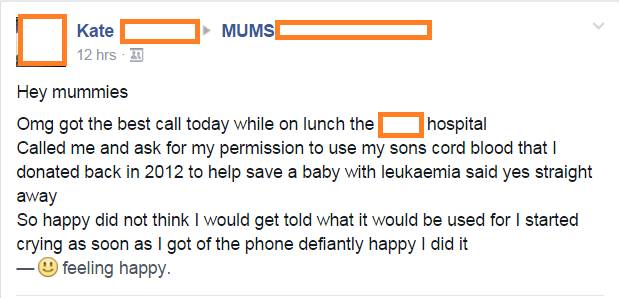 This could be you!
Although only selected hospitals allow you to donate your cord blood, if the time and place are right, you could save a baby's life… just by filling in a form and letting your hospital know at your antenatal visits. If you're using a private OB, just let her know to tell the hospital and then complete the donation form.
There are selected hospitals in all states that accept cord blood donation if you give birth during business hours. There are "AusCord" registered hosptials. For a full list of AusCord registered hospitals in Australia, visit this site.
Unless you're the parent of a child with leukaemia then you may not understand! I am so thankful that some one donated theirs – I wouldn't have my daughter today! Now my son battles leukaemia too and I pray he won't need one but at the end of the day he may one day need one so I am so thankful that people do donate.
Larissa Klein, Brisbane Mum.
Story by Dana Flannery.- www.talkaboutcreative.com.au