Little Boy Receives a £15 Paycheck After "Assisting" the Electricians Working at His House
In what can only be described as the most heartwarming story we've come across in a long time, a little boy has received a paycheck after pestering a couple of electricians working at his house for six weeks.
It is extremely hard to keep little ones out of the way when you have tradies in the house. Especially little boys who see big grownups playing with all the tools like Bob the Builder. Their curiosity gets the better of them at the best of times, never mind when there is cool stuff to watch and ask questions about!
"Quite possibly the sweetest act of kindness I've ever seen!!!!," writes mum Laura-Nicole Anderson on a Facebook post that has been commented on and shared thousands of times.
"We have had the electricians in every other week for the past 6 weeks and Theo has been obsessed with them!!! He has hounded them with questions, kindness, and constant offers of help!!
"I laughed that they would be sick of the sight of us and happy when the work was finished. One of them popped over today to finish something quickly and surprised Theo with this!!! His first ever job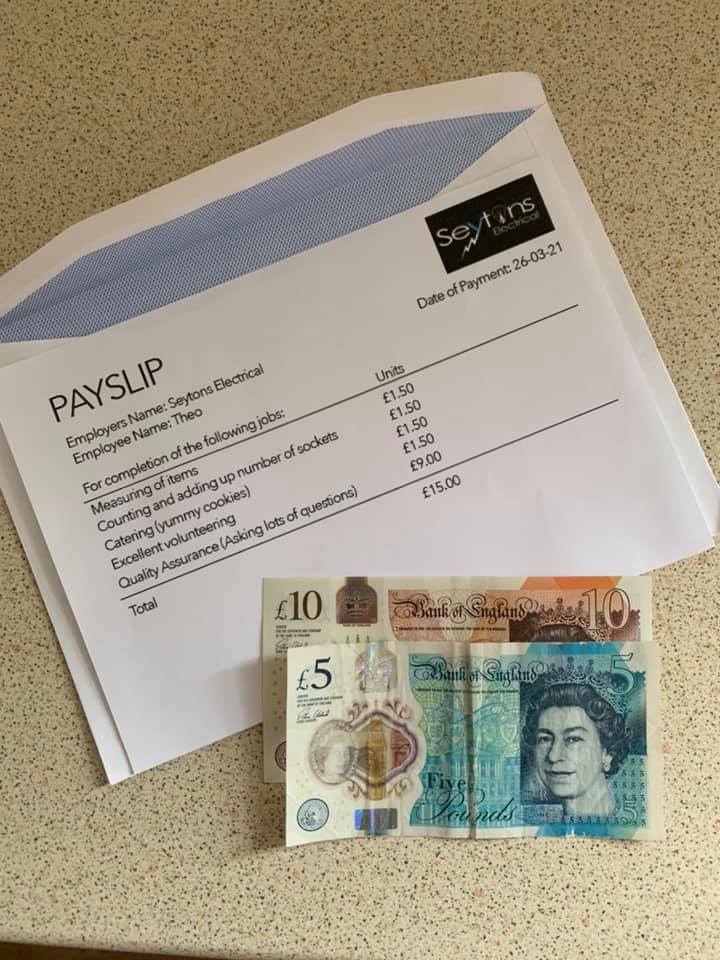 "Thank you Seytons Electrical!!!! You have made Theo's day!!"
And that breakdown in full, just in case it's tricky to read …
Measuring of items – £1.50
Counting and adding up number of sockets – £1.50
Catering (yummy cookies) – £1.50
Excellent volunteering – £1.50
Quality assurance (Asking lots of questions) – £9

Total £15
How simply lovely!
What a wonderful gesture for a curious little boy who was obsessed with the clearly patient and kind men that came to work at his house.
Well done on earning your first paycheck, Theo! And good on the nice people at Seyton's Electrical!