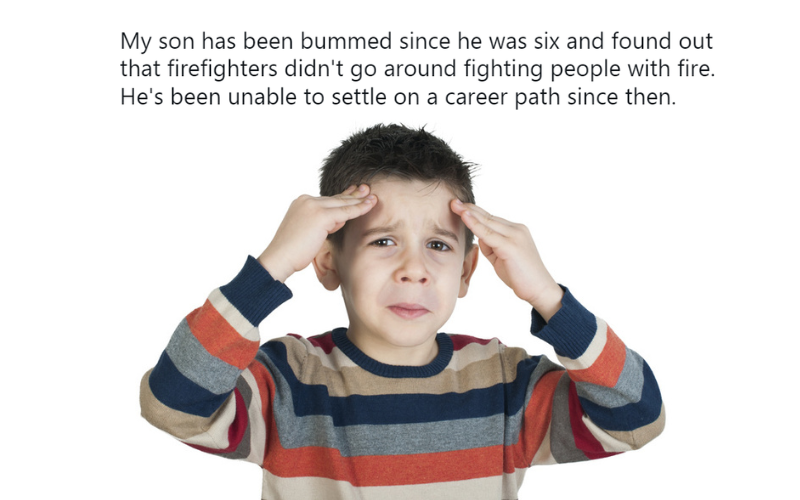 It's easy enough to misunderstand things as an adult, I seem to get the wrong end of the stick all the time! Stepping inside a child's mind, we can only imagine the sorts of things they think up to make sense of adult conversations.
So it comes as an instant heartwarmer when a parent shared a tweet about a misunderstanding between her and her four-year-old daughter about travelling via ferry rather than a fairy.
4 year old is livid because she thought we were travelling by FAIRY.. not FERRY 😬

— Daisy Haggard (@daisy_haggard) July 11, 2022
Honestly, the visuals alone are hysterical! How did the little girl think a fairy would transport an entire family from point A to point B? With her magic wand, or by physically carrying them across? A delightful scenario, either way.
This tweet inspired other parents to share their own amusing stories of their children misunderstanding them, and we can't stop giggling at their innocence and rationale.
I feel your pain… our twins were livid a few years back on our first family holiday when they realised we were in Portugal… not Paw Patrol.

— Paul Sheeh*n (@PaulNut) July 11, 2022
My daughter was devastated she didn't have a school unicorn 🦄 I'm not sure what she thought when we tried in on and brought her dresses at M&S… but the lack of school unicorn definitely ruined day 1 at school!

— Peter (@Finchi82) July 11, 2022
This happened when I was little and my parents kept saying we were taking our dog to the animal doctor. The doctor was not an animal. I was crushed.

— Amy B 🌞🌙⭐️🌻 (@amybuchwald) July 11, 2022
My two year old granddaughter, at the airport, kept saying "aaargh" at pilots walking by. She thought they were pirates

— Steve Watson (@stevewatson1952) July 11, 2022
My son has been bummed since he was six and found out that firefighters didn't go around fighting people with fire. He's been unable to settle on a career path since then.

— Kim Hunt Harris (@KimHuntHarris) July 12, 2022
While taking my daughter to a restaurant in Vancouver during our trip there, she saw a man in the dining room wearing a turban. She leaned into me and whispered; "the Genie is eating here"
4yo are the best

— crypto newb (@KawaVulcanRider) July 12, 2022
When my nephew was 3 he was asked to be in a wedding. When he saw his tux he was so upset.
He was fully expecting a bear costume since he was the "ring bear".

— Maureen 🍀🐈‍⬛☮️ (@grapesOT) July 11, 2022
My youngest at about three could not be consoled when, after a long car ride, we announced our arrival IN Wales, at which point she discovered that we were not living WITH whales for a few weeks.

— MadMaudlin🎶 (@herdirtytoes) July 12, 2022
Mine was brutal. When I was little I was told our beagle was being put to sleep. A week later I asked, " When is Peanuts going to wake up?"

— Mark Parisi (@OffTheMarkComic) July 11, 2022
I took my 4 year old to a cat art exhibition and she could not contain her disappointment when she realised the paintings were done by boring old humans, and not cats wielding paint brushes.

— Louise McG (@mrs_mcgettrick) July 11, 2022
Our now grown twins are named Susan and Mary..when they were 2, we took them to a state fair and rode the merry go round. Susan then asked to ride the Susan go round..dumb 1st time parents, instead of dubbing something with her name, we said there isn't a Susan go round…

— Lynn (@Lynn_CatsRule) July 11, 2022
A friend of my kids (also about 4 at the time) saw a group of women in Niqab at the playground and asked "What are the wizards doing here?"

— Frau Zeitlos (@FrauZeitlos) July 12, 2022
Similar when we moved to Sweden it finally dawned on my kids that Gothenburg was not Batman's home town. They were devastated🤣

— Jane Kroese💙 (@ReallyJaneK) July 11, 2022
My mum mentioned once that we were having leg of lamb on Sunday. Daughter got overexcited. Thought she said Legoland.

— Back to Nat (@fantasticpru) July 11, 2022
Same. And imagine my 5 year old disappointment about the reality of a "car pool".

— cc (@wiseacregeek) July 12, 2022
Reminds me of when my daughter was devastated the coach that took her on the preschool trip to the farm was 'just a bus'… she had been watching a lot of Cinderella and expected horses and footmen!

— Collette (@ColletteAlt) July 11, 2022
Have your children ever misunderstood something that has turned into family folklore? Let us know in the comments!