Did you know that there is a natural solution to travel sickness? Something that is easy to apply and has no side-effects?
Thanks to Sea-Band, as you take off in your plane, train, boat or automobile this Easter holiday, you'll be able to rest easy knowing that nausea, due to travel sickness, won't be joining you.
Sea-Band have a special Family Pack of children and adult Sea-Bands for just $49.95 inc. GST (until 7/4/2015) to ease your worry this Easter holiday. The pack contains 2 x Adult Sea-Band packs and 2 x Child Sea-Band packs – just head to the iHealthSphere website to order and receive them in time to get on the road.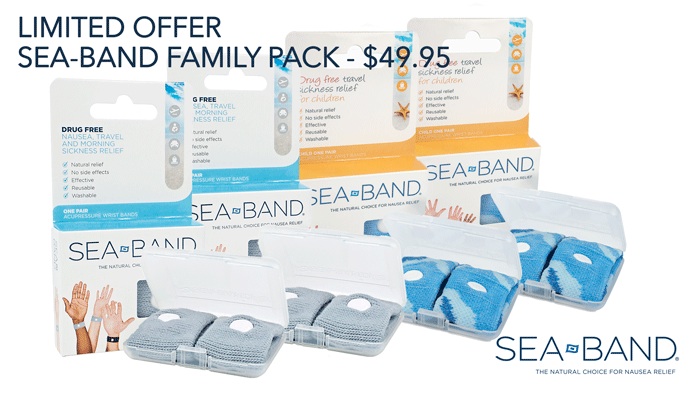 Sea-Bands are also available at your local pharmacy. 
What Causes Travel Sickness?
Nausea is caused when balance messages from your inner ear are mismatched to the messages from your eyes. This confusion in your brain leads to travel sickness. So, your eyes may be telling you that you are sitting still in a car or plane but your body still senses that there is movement. The mismatch causes the nausea, dizziness, sweating and vomiting of travel sickness!
Children between the ages of 2-12 years are more susceptible than adults to this imbalance and the resulting motion sickness. That's not ideal for long Easter holiday road trips!
Who Should Use Sea Band?
Clinical trials show that children suffer more than adults from nausea associated with motion sickness in everyday situations such as car and bus travel and more often if there are stronger stimuli. By the time you're an adult, most of us have grown out of this but more than 30% of adults still do suffer!
So, at some time on your Easter holiday someone is going to feel the effects of motion and travel sickness.
Nausea is also common with anxiety, anaesthesia, migraines, medical conditions and their treatments. More information is on the website.
Why Sea-Band?
With Sea-Band technology, you can alleviate your child's symptoms without harsh medicines or side-effects and it is easy to apply. Many people will notice an effect within 5 minutes, even if your child is already feeling nauseated.
Even the kids will be able to do it. Because they are comfortable to wear they can be worn continuously. Sea-Bands are washable and reusable, so you can use them whenever you travel.
The best thing? They have an unlimited shelf life and no need for special storage, so you can use them for years to come.
Sea-Band is so convenient, you can keep them in your medicine kit, glove-box, travel bag and handbag to use in any situation where nausea hits!
How does it work?
For four thousand years acupressure has been used to treat a range of ailments. For the past 40 years Western medicine has made huge advances in understanding how the benefits of acupuncture and acupressure work.
In Chinese Medicine, sickness is a result of an imbalance in the flow of protective and nourishing energy called 'Chi' through the body. Chi moves through your body through twelve channels, called meridians, beneath your skin. Along these meridians are thousands of acupoints where "chi' is concentrated and is where energy can enter and exit the body. By applying pressure to these points, any blockages of the flow of chi can be re-balanced and reductions can be restored.
Applying pressure to the Nei-Kuan ("inner gate") P6 pressure point on the wrist has been shown to ease nausea without the need for needles or medication.
Sea-Band's knitted elasticated band with in-built pressure button is designed to apply continuous pressure to this point.
Simply wear a Sea-Band on each wrist to restore your chi.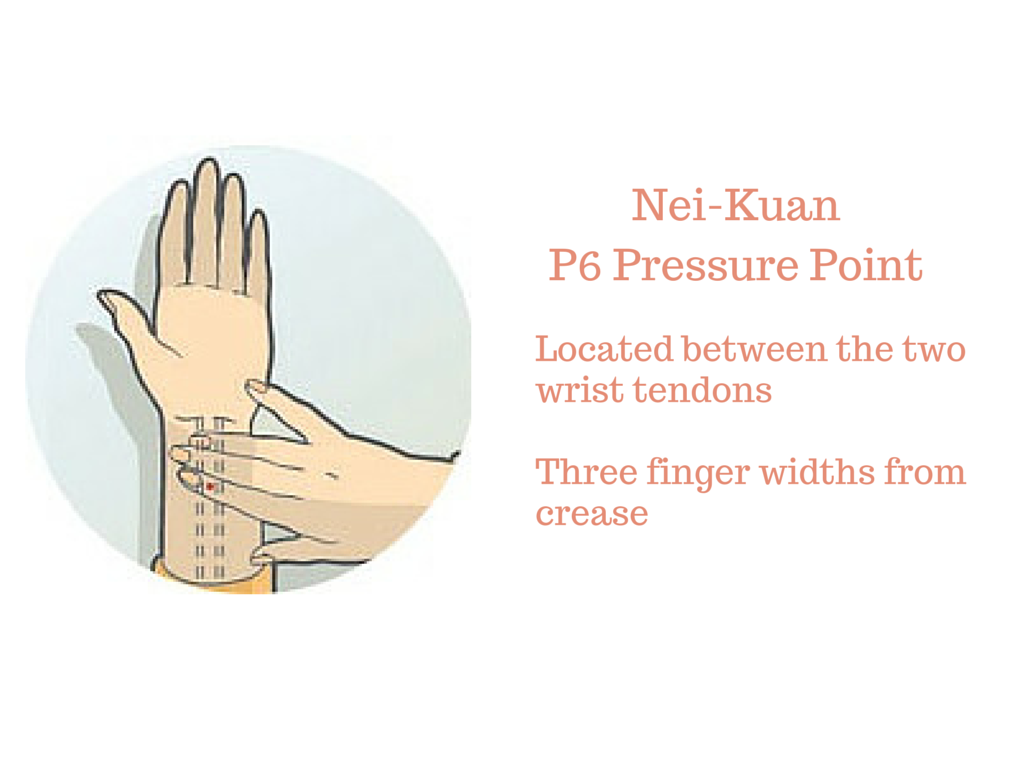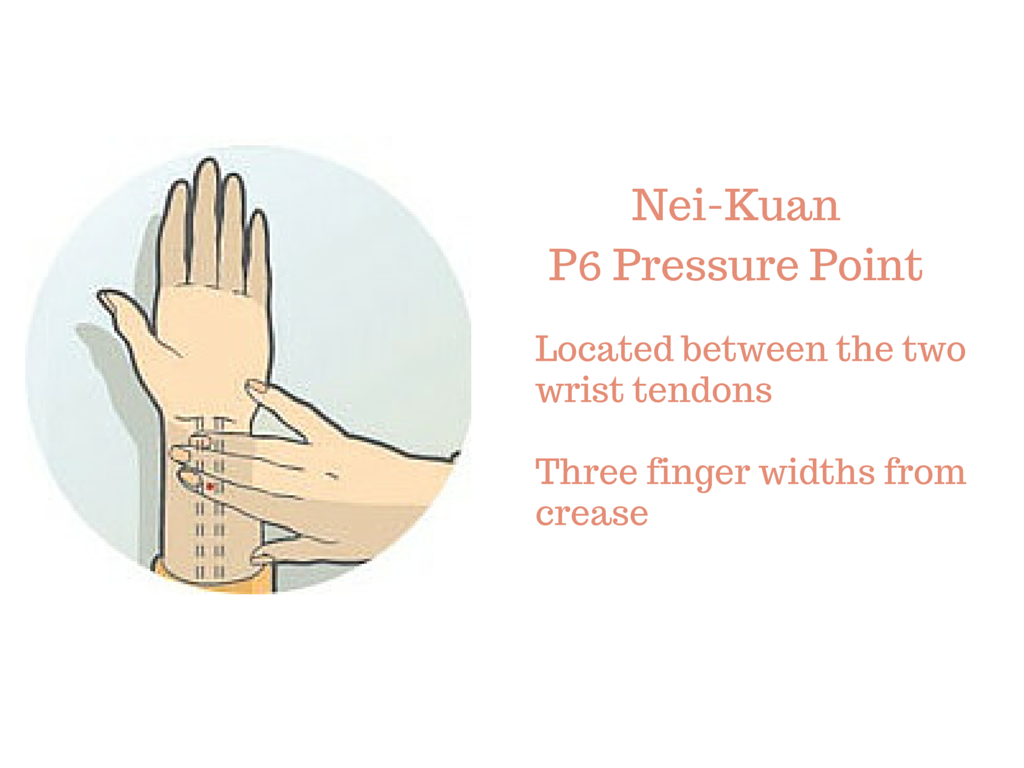 Western medical experiments and clinical trials suggest that acupressure and related techniques activate a set of events that improve symptoms of nausea. These include the stimulation of micro-blood vessels in the immediate wrist area and the release of chemicals within the body that tell the central nervous system to dull the symptoms and remove the cause of the nausea i.e. the mismatched balance signals within the brain.
Top Tips for Preventing Travel Sickness
As nausea is caused by balance messages becoming confused in your brain, try sitting at the front of the car, bus or train.
Always face the front so you can see the direction of travel.
Get fresh air! Open a window or stand on the boat's deck.
Take a walk in the isle of the plane.
Avoid hunching over if you are sitting for long periods.
Eat only simple foods prior to travel.
Keep occupied by playing games but remember to take breaks to look out of the window. Sea-Band have a special Easter Holidays kids' travel game. Download the game from the Sea-Band Facebook page. Click here to get one.
Move to a spot in a vehicle where you will experience the least motion, such as over the wings in an aeroplane or in the centre of a boat.
Some people find that closing their eyes is the best way to avoid sensory mismatches.
Anxiety can also make the symptoms worse. Try relaxation techniques to help reduce symptoms.
Most importantly, wear Sea-Bands when travelling!
So, take the stress out of your Easter plans, you can take care of the whole family with a special Sea-Band family pack available from iHealthSphere for a limited time only. Sea-Bands are also available at your local pharmacy.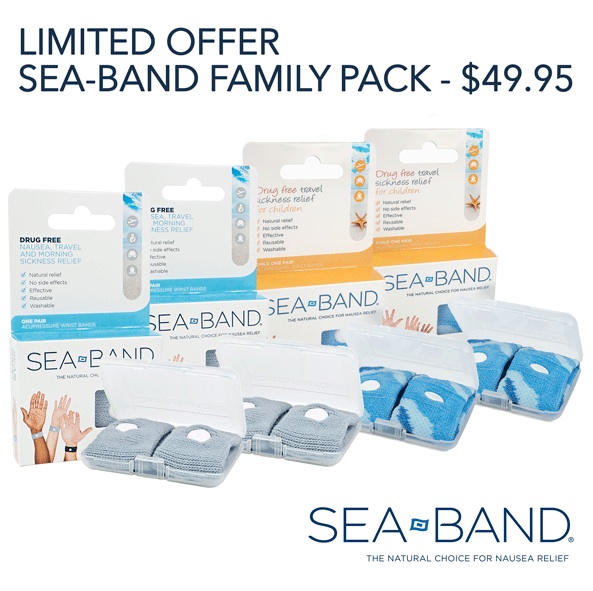 To keep up-to-date on all of the ways Sea-Band can help with travel sickness and hear from Sea-Band converts, simply 'Like' the Sea-Band Facebook page for regular updates.
Sea-Band is making life better for families this Easter by giving a lucky reader the chance to win a $500 EFTPOS gift Voucher to spend on their Easter holiday.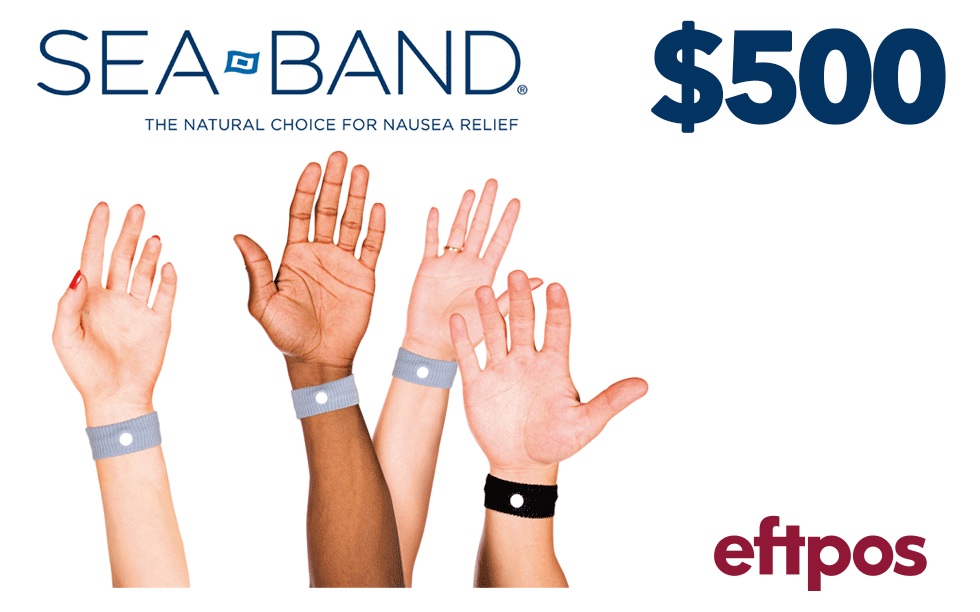 For more information about Sea-Band, see the website and "Like" the Facebook page.
 Disclosure: This post is sponsored by Sea-Band.
a Rafflecopter giveaway