Thule Urban Glide Sports Stroller Review & Giveaway
The juggling act of having babies, children, work, school runs, maintaining the home, preparing meals etc. etc. often doesn't leave much time for us Mums, so getting fit again after having children had started to take a back seat. Whilst I have come to terms (mostly anyway) with the different body shape being a Mum has given me, I knew that I had to find a way to get fitter in order to find the energy I need to be the Mum I want to be to my precious little ones. That is where the Thule Urban Glide came in to play and gave me the perfect opportunity to kick start my own personal active Mum challenge.
Over the last couple of Months I have been road testing the Thule Urban Glide sports stroller and have to say that it is a great choice for a Mum at any fitness level– whether you are super fit and love to run or getting there like I am. The Thule Urban Glide caters for my families needs, providing not only a great jogging stroller but also a stroller that suits everyday life.
Our family loves taking coastal walks and trekking through the bush, so we certainly put the Thule Urban Glide through its paces on some off-road tracks, which it handled really well. The maneuverability was amazingly easy and smooth, which was certainly aided on occasions by the option to have the front wheel swivel rather than being permanently fixed, like other jogging strollers that I have tried in the past. Having the swivel wheel option also meant that I could use this stroller every day, for school runs, a trip to the shops, a stroll to the beach or a day at the zoo and then with a simple flick of the switch on the front wheel I could lock it off and enjoy picking up the pace along one of my favorite tracks.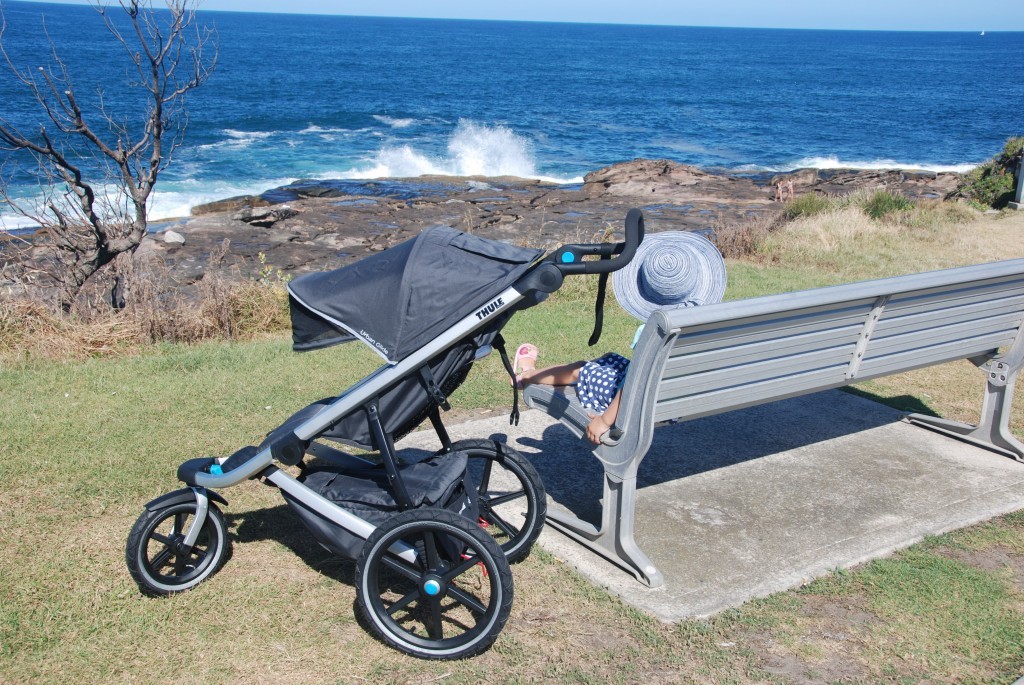 The Thule Urban glide has great rear wheel suspension, which meant that all of our outings were smooth and comfortable for our precious little passenger, which was great to know that every stone and bump was going unnoticed especially when Little Miss had finally dropped off for a much needed nap.
The thing that really took me by surprise about the Thule Urban Glide was just how light and streamlined it is in comparison to other strollers in its category that I have tried in the past. The Thule Urban glide was perfectly big enough to fit my 3 1/2 year old in comfortably and it has a robust and sturdy frame giving me peace of mind that my little one was safe and secure, without the bulkiness and added weight that sports strollers usually seem to have. I was equally surprised to find how quick and easy the Thule Urban Glide is to fold with just one hand, which is always a blessing, if like me, you often had a small child on your hip.
The Thule Urban Glide certainly caters for all of our families' needs, with its adjustable height handle allowing us to switch easily between users while allowing my tall husband and I to both push the stroller in comfort. The canopy has multiple positions, so that my little one can stay well shaded in whichever direction we are heading, while a little viewing port allows me to keep an eye on my precious cargo. The padded seat has a vented top and reclines smoothly to multiple positions allowing my little one to have a comfortable nap on the go. The Thule Urban Glide also has both parents and little ones in mind with the really large storage basket with zippered water resistant cover underneath for Mum/Dad to store and keep clean and dry everything you need in order to leave the house with little ones, while having handy little mesh pockets for in the seat so that my little one could keep her own personal stash of things she needs to hand while we are out.
We have certainly been loving using the Thule Urban Glide, which is standing up to all of our tests and proving a great choice for our family who are always out and about exploring the great outdoors. It's also proving a great companion for me on my mission to stay active and build my fitness levels again after having children.
This is a sleek, sophisticated looking stroller that suits both everyday life and also allows you to enjoy running with the wind in your hair with your little one comfortable, safe and secure in front of you, So, if you are looking for all this with the added benefit of being light and easy to set up and pack down, I would highly recommend the Thule Urban Glide.
Written by Julie Williams
Thanks to Thule  we are offering our fans the chance to win a brand new Thule Urban Glide worth $749, in a choice of three gorgeous colors. Simply enter below and good luck.