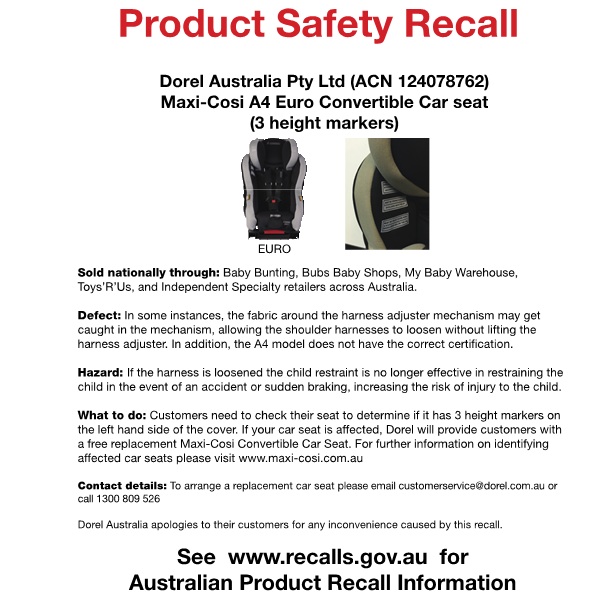 Britax Australia would like to reassure its customers that the current child restraint recall is not relating to any of their car seats.
Britax Australia acknowledge that they do have products that feature the word 'Maxi' within their name but that these are not to be confused with the current Dorel 'Maxi-Cosi*' recall.
The Britax Safe-n-Sound Maxi Guard SICT, Maxi Rider AHR and Maxi AHR ** are not being recalled and consumers can continue to use with confidence.
Britax Safe-n-Sound Child Seat manufacturing processes are the most stringent in Australia delivering a quality product that can be relied on.
Narenna Bloomfield, Marketing Manager of Britax Australia said, "We want our customers to feel reassured that our brand is one that they can trust in their day-to-day lives and most importantly in the event of a crash when it really matters."
"We have been building Child Seats longer than anyone in Australia. In fact we were first to manufacture and gain certification for child restraints over 40 years ago which was originally granted by Standards Australia now SAI-Global."
"We are also the only Child Seat manufacturer in the Southern Hemisphere with a crash test facility. This testing facility helps us to innovate, build and validate so that all our products continue to save lives," said Ms. Bloomfield.
Britax Australia's laboratory operates as one of only four crash-test sleds in Australia, making Britax the only car seat company in Australia that crash tests its own products for both new product development and quality assurance.
If consumers would like further clarification about their Britax Safe-n-Sound 'Maxi' branded car seats, Britax Australia's customer service team can be contacted on 1300 303 330 or by emailing au-custserv@britax.com
* The Maxi‐Cosi trade mark is owned by Maxi Miliaan B.V., The Netherlands and used by Dorel Australia Pty Ltd ** Maxi Guard, Maxi Rider and Maxi trademarks are owned by Britax Childcare Pty Ltd.