Parents Shocked After Their Baby Started Walking at Just Six-Months-Old
The average age for a baby to start walking is around a year old, but one couple have been left shocked after their little girl found her feet at just six-months-old!
Grace and Ryan Minter, both 27 from Liverpool in the UK, were with their baby Freya last month when their little one unexpectedly started walking.
"Freya was able to stand up whilst holding on to our fingers for balance, by the time she was four months old," Grace said. "We could tell she was desperate to walk from then but it wasn't until she was six months old that it actually happened."
Look at little Freya go!
"Her face was priceless when she took her first two steps, she had the cheekiest grin, Ryan and I couldn't believe it. At first, I thought it was a fluke, but then when she continued to walk a few steps here and there, I was amazed," mum Grace told the Mirror.
"She has completely skipped crawling and has walked straight away but she hasn't quite mastered how to get around things yet, she tries to go over them. We need eyes at the back of our heads now as she is so quick and always wants to be involved."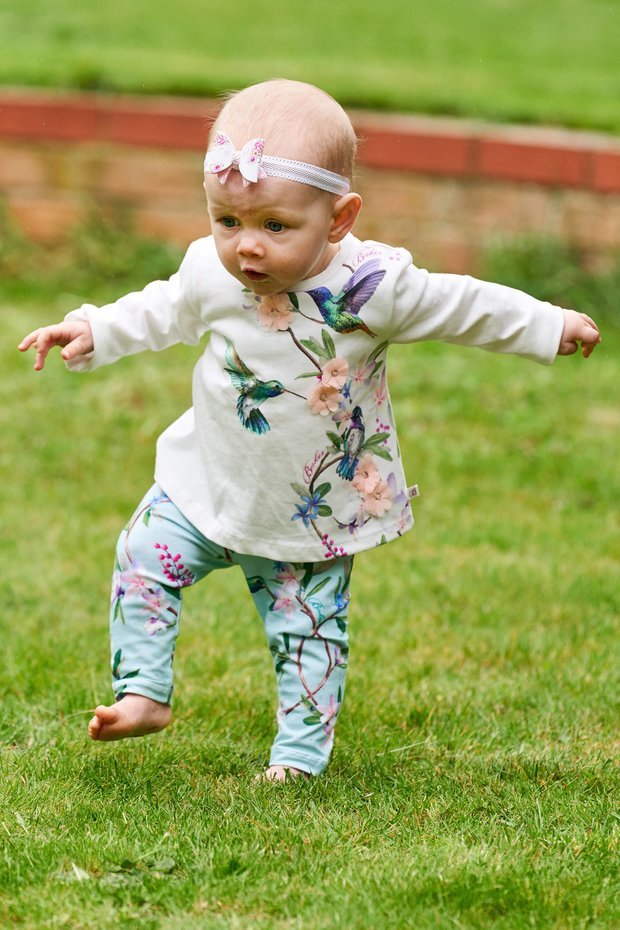 "We brought her a walker but her feet don't even touch the ground, so we didn't attempt to use it again, so she has learnt all by herself.
"She is our first child so we don't know any different but we're so proud of her."
Typically, babies begin to crawl between 6 and 10 months, although some may skip the crawling phase altogether and go straight to pulling themselves up on furniture and cruising along, before eventually walking at around 12 months of age. Some babies take a little longer to find their feet, and others, like little Freya, start earlier!
"People have been amazed by her walking at playgroup and they love how her face is either one of sheer determination or a great big smile.
"Who knows what she'll do next, Freya is now seven months and we have no doubt that she'll continue to keep smashing her milestones."
What a little sweetie! Go Freya!
Source: The Mirror